The TPLEX is finally completed, while SCTEX and NLEX are prepared for the new normal.
Great news for folks living, or those who regularly travel to the northwest side of Luzon. The final part of the Taclac-Pangasinan-La Union Expressway (TPLEX) has been scheduled to open this June.
Linking Pozorrubio, Pangasinan to Rosario, La Union, this last TPLEX segment called Segment 8 is 11.45 kilometers in length. It was originally scheduled to open in April, but was delayed by the lockdown measures implemented to curb the spread of the COVID-19 outbreak. The formal ceremony of the aforementioned final section has been reported to take place by the last week of this month (June 2020).
The new section of the TPLEX is a great boon for motorists heading to La Union
According to San Miguel Corp, the TPLEX will also integrate other major toll roads like the Subic-Clark-Tarlac Expressway (SCTEX), and the North Luzon Expressway (NLEX). The latter two are operated, and maintained by the Metro Pacific Investments Corporation, while the Private Infra Development Corp., a subsidiary of the San Miguel Corporation, holds concessions for the 88.56 kilometer long, four lane TPLEX.
Apart from the impending completion of the TPLEX, motorists heading up north will also be pleased to know that the management of the NLEX, SCTEX, and TPLEx are prepared to maintain health and safety standards for both expressway users, as well as their employees amid the "new normal."
For starters, the NLEX Corporation is already conducting Rapid Antibody Testing for the COVID-19 on its 1,600 employees. Second, all personnel are required to wear face masks at all times, and facilities like tollbooths, and customer service centers are regularly disinfected, and are now equipped with barriers.
>>> Related: Increased toll fees applied for popular expressways in the Philippines in 2020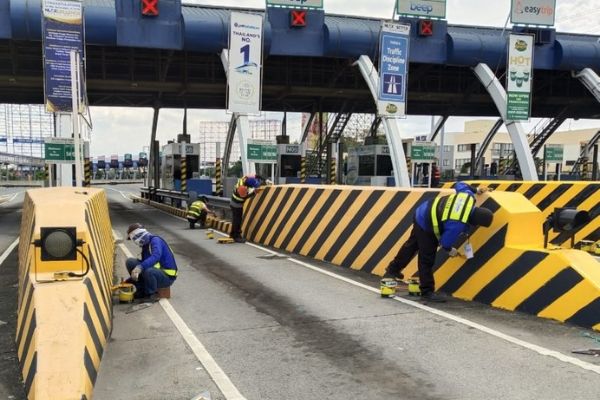 Workers repainting the cement islands on one of NLEX Corp.'s toll plazas
Apart from those precautions, the said company has also initiated enhancements works on both the NLEX and SCTEX. These include fixing cracks, improving visibility, and fixing and installing guardrails, fences, as well as repainting road markings, specifically the concrete islands found on toll plazas.
For more motoring news, keep reading here on Philkotse.com.

Cesar G.B. Miguel
Author