This will parallel ongoing efforts at vehicle electrification.  
Motorsports have been traditionally used to enhance both performance and the driving experience for the consumer. This time, five of Japan's masters of mobility are using this field to extend lifespan of the combustion engine itself, in an era of increasing electrification.
Joint Press Conference by Kawasaki Heavy Industries, Yamaha Motor, and Suzuki
Toyota, Subaru, and Mazda believe that there is still a place for internal combustion engine (ICE) cars in the impending new world order. The three automakers, along with motorcycle stalwarts Kawasaki and Yamaha, jointly announced in a press conference that they will be pursuing carbon-neutral fuel options, which started with this year's Super Taikyu Race in Japan. 
Mazda is fielding its Bio Concept Demio hatchback in the ST-Q category, which uses a 1.5-liter SkyActiv-D engine that runs on 100 percent diesel fuel derived from biomass. The company will conduct verification tests and conditions to assess the viability of this next-generation diesel fuel for expanded applications.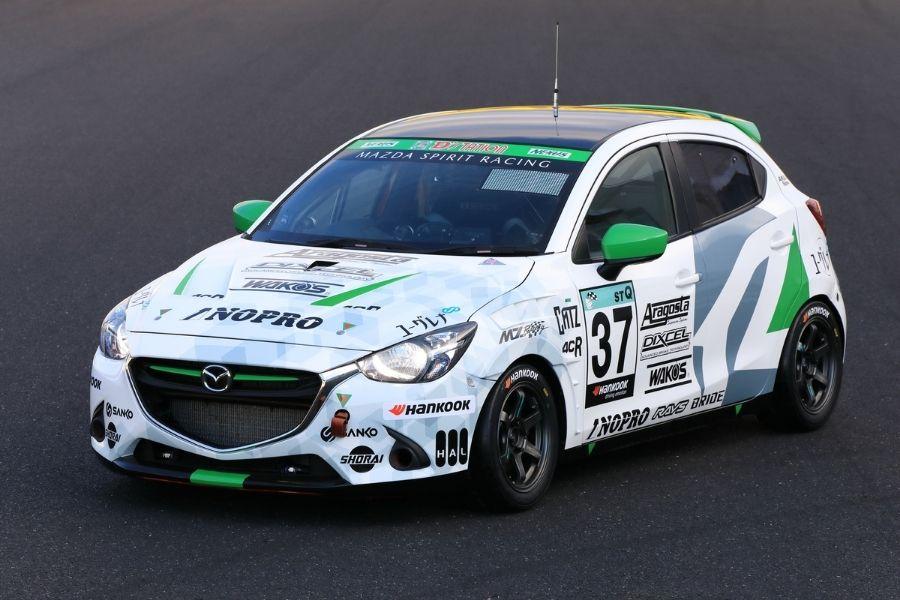 Mazda competed in this year's Super Taikyu Racing event with a Demio that runs on biomass-derived diesel 
Meanwhile, Toyota and Subaru plan to use the 2022 edition of the Super Taikyu Race to test biomass-derived carbon-neutral synthetic fuel. This will be used in race-ready versions of the GR 86 and BRZ sports cars, which are mechanically identical. 
They will be joined by Toyota's hydrogen-powered Corolla Sport, which premiered at the Fuji 24 Hours in May 2021. The company said that it has made progress with the experimental vehicle, which now matches the GR Yaris in terms of power output and boasts a refueling time of 1 minute 50 seconds. Toyota president Akio Toyoda himself was one of the participants at this year's race, taking the wheel of the hydrogen Corolla as part of a team comprising four drivers.
The hydrogen Corolla Sport now boasts the same power output as the GR Yaris
These efforts on hydrogen technology run parallel with developments in electrified mobility by the two carmakers, with the jointly developed Subaru Solterra and Toyota bZ4X battery electric vehicles (BEVs) on track for a global debut in mid-2022.        
Meanwhile, Kawasaki and Yamaha have also started talks revolving on hydrogen fuel. Kawasaki Heavy Industries plans to export liquefied hydrogen using the world's first purpose-built hydrogen carrier, the Suiso Frontier. Yamaha is developing a hydrogen engine for use on its product line, with reports that Honda and Suzuki are also planning to come on board as well.
We fuel your knowledge with more industry updates at Philkotse.com.  


Joseph Paolo Estabillo
Author