Toyota Hybrid Electric Vehicles on tour in Philippine Universities
Toyota Motors Philippines holds their campus tour in MAPUA University. Leading the charge for Toyota is the Prius C Hybrid.
In light of the impending prominence of hybrid and electric vehicles in the Philippines and in the global market, Toyota Motor Philippines held and will continue on holding Hybrid Electric Campus tour events all around the country.
As a start, Toyota visited a campus we all know and some of you may be a graduate of - MAPUA University, specifically their Mechanical and Manufacturing Engineering department or MME for short.
During this event, many faculty, staff, and students not only of MAPUA's MME had to opportunity to get to know hybrids, specifically the Prius and Prius C in a more detailed and technical view.
It's also the aim of the campus tour to provide a better understanding of the environmental friend and much more sustainable hybrid powered vehicles and the benefits it comes with in terms of ease of use, safety, and many more.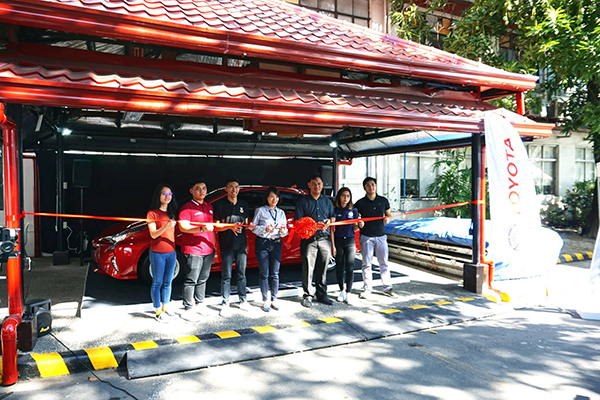 Students of MAPUA MME and Toyota representatives take a picture with the star of the show to kick off the event
As Toyota Motor Philippines' vice president, Cristina Arevalo said their goal in the context of the campus tours is to raise the public's awareness of hybrid vehicles and their advantages.
She had also stated that there was no better way to start Toyota's advocacy other than reaching out to young people who will eventually buy and even design and manufacture vehicles themselves in the future.
To make things more exciting and serendipitous, Toyota decided to hold their first campus tour in MAPUA's MME which was celebrating their 79th anniversary. During the event, Toyota's engineers and experts from their well-known Santa Rosa Plant each gave lectures detailing different topics ranging from how different sources of energy can affect the environment to how the Toyota Prius can further decrease our carbon footprint.
A symposium was also held after the aforementioned lecture as the students had, of course, their own questions regarding the topics discussed.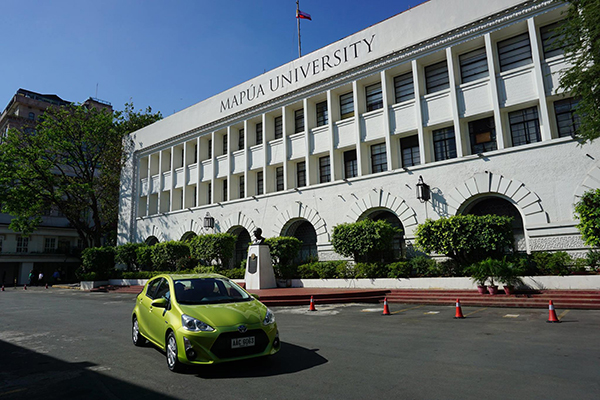 The Toyota Prius making its way on the test drive route in the MAPUA Intramuros campus
With regards to the Toyota Prius and Toyota Prius C hybrid models themselves, the students were given a hand on the opportunity to test drive. On the drive itself, students were aided with a person from Toyota with regards to the vehicle's operation, features, and to answer any question from the student that may come up. The test drive in question was held inside the campus through a short route and was attended by many curious and interested students.
Among those curious and interested students, one said that driving and getting to know the Prius hybrid has been an eye-opener for him. He says that one can barely hear the engine starting and running because it was so quiet and the self-charging system undeniably convenient.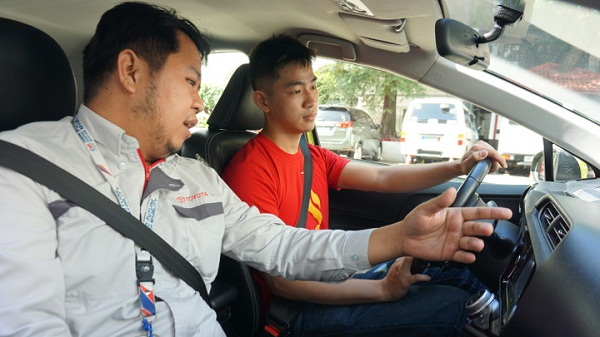 A student is exploring the new Prius hybrid
All throughout the event, the students were able to appreciate and understand Toyota's hybrid system, how the combustion part works hand in hand with the electric part but not only that, it would suffice to say that they had a fun time all in all.
With the MAPUA being the first in Toyota's lined schedule of campus tours, the esteemed car company plans to visit the University of Santo Tomas and De La Salle University in the coming months.
This activity overall was deemed as a success and was totally in line with Toyota's overall intention in promoting a sustainable future in terms of transportation.
Author
Cesar learned how to drive a car years before he got his license. Today, he's still looking for that perfect '90s Japanese coupe to drive into the sunset while listening to Crazy Little Love by Nuage. Also has a thing for badass off-road vehicles and weird engine swaps.