It pulls off that classic car look.
The Suzuki Swift, as it is currently, is already a classy looking hatchback. On top of that, many favors it for its relatively affordable price, its tested reliability, and it's well-known ability to handle city driving situations.
At the 2020 Bangkok International Motor Show, however, Suzuki is displaying a version of its hatchback that goes beyond the "normal" Swift. This is just sophisticatedly gorgeous, and it highlights the European inspirations for this hatchback made by the Japanese marque.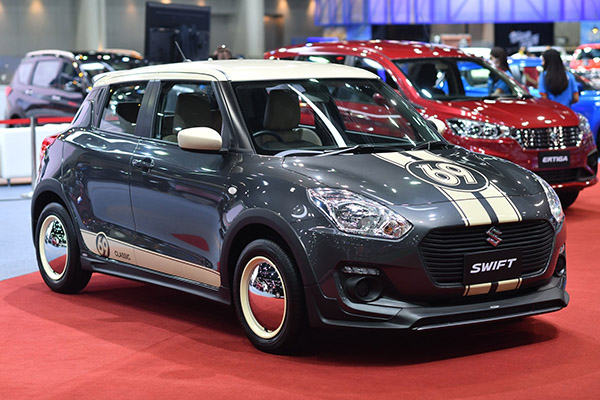 Very attractive looking indeed
So what's so unique about it? Well for starters, this particular Swift rides on a very stand out set of wheels. Now, these wheels have a "Smoothie" chrome classic wheel design, which is more common on hotrods, as well as classic cars. It's got this single piece convex design that does not have gaps or holes in it. And of course, for that extra classy look, it's chromed out.
>>> Related: 2020 Bangkok Motor Show pushes on with July 15 kickoff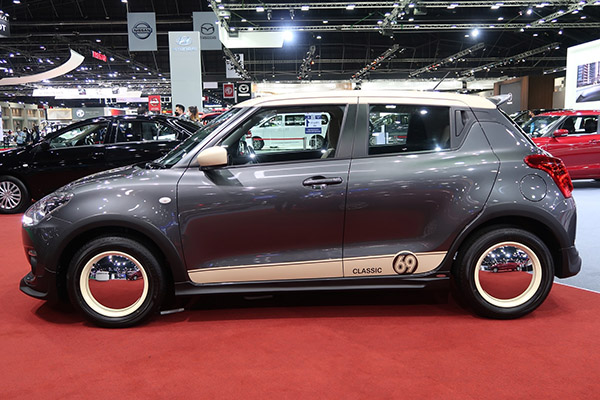 Those wheels just complete the look
Apart from the wheels and tires, this Suzuki Swift was also given a two-tone paint-job with a cream white roof combined with a fantastic looking bluish body color.
Apart from the two-tone, it also has racing stripes, because again, it's a homage to that classic Euro look. Down below just above the side skirts, it was also given a side racing stripe with the number "69" on it.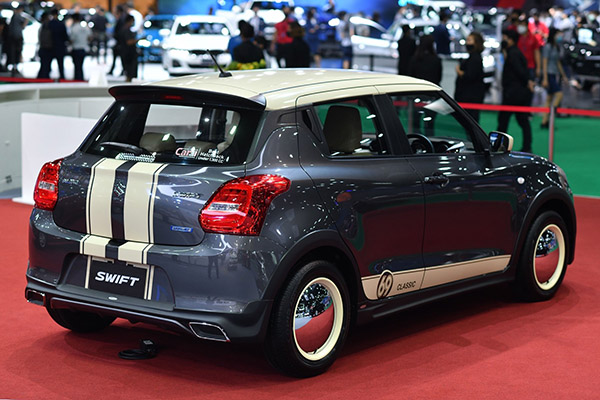 Racing stripes can definitely make any hatch look sportier
On the inside, the familiar shapes of the dashboard, steering wheel, and interior door panels are there, but it's now enhanced by a cream white trim, and cream white leather seats.
>>> Related: 2021 Suzuki Swift: Expectations and what we know so far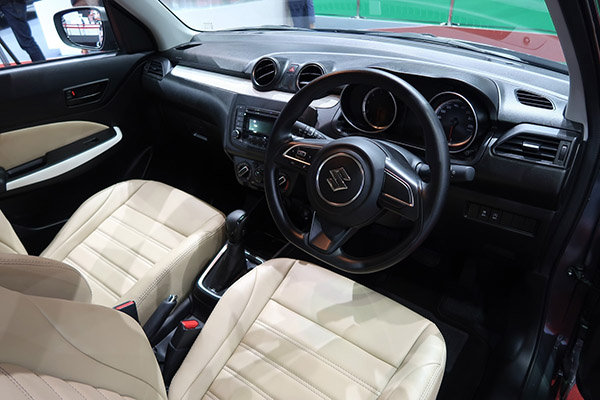 It looks great, but just don't spill a cup of soda on those seats
On top of being unique looking, this particular Swift also uses the 1.2-liter DualJet gasoline engine, which can make 89 horsepower. It's much more powerful than the K12M engine found on locally available Swift variants, and it's something that is not available in the Philippines.
For more automotive news, keep reading here on Philkotse.com.
Know more about Suzuki Swift 2021

<p>The <strong>Suzuki Swift</strong> is the company&rsquo;s entry into the growing demand for a reliable subcompact hatchback. Amidst its mighty engine, sporty style, and spacious cabin, this beautiful car is surprisingly affordable. Now on its fourth generation, this automobile got stronger, being dubbed as an affordable <a href="https://philkotse.com/mini-cooper-5-door-price-philippines" title="Mini Cooper Philkotse Car Guide">Mini Cooper</a> with its European vibes. Also, compared to its predecessors, the updated model is noticeably wider and lower, providing added security by getting a good balance on the road.</p>

Cesar G.B. Miguel
Author