It can put out 514 hp and about 580 Nm of torque.
In the world of engine swaps, 2JZ swaps are pretty common. For many racers around the world, this said engine which was originally from the famed A80 Toyota Supra is the go-to engine when it comes to making drift cars, drag cars, etc. As such, it is usually seen on a wide array of cars, from Nissan Silvias, a replacement for busted up RX-7 rotary engines, and even on the current fifth-gen Toyota Supra.  
Lord Frightening (Our 2JZ Swapped Ford F-150) RUNS! Dyno Session and… Backwards Wheels? (Source: Hoonigan)
The dudes at Hoonigan however, cooked up something rather special. Instead of the aforementioned "recipients" of a 2JZ transplant, these guys decided to slide it in the engine bay of an old 1999-2004 Ford F-150 Lightning.  
Now the F-150 Lightning was already a fast car with its supercharged 360 horsepower, 5.4-liter V8 engine. Hoonigan's turbo 2JZ powered truck, nicknamed the "Ford Frightening", can produce up to 450 horsepower on its first dyno pass. On the final pass, they managed to squeeze out 514 horsepower and around 580 Nm of torque from the said 2JZ mill. That's amazing, but equally scary at the same time.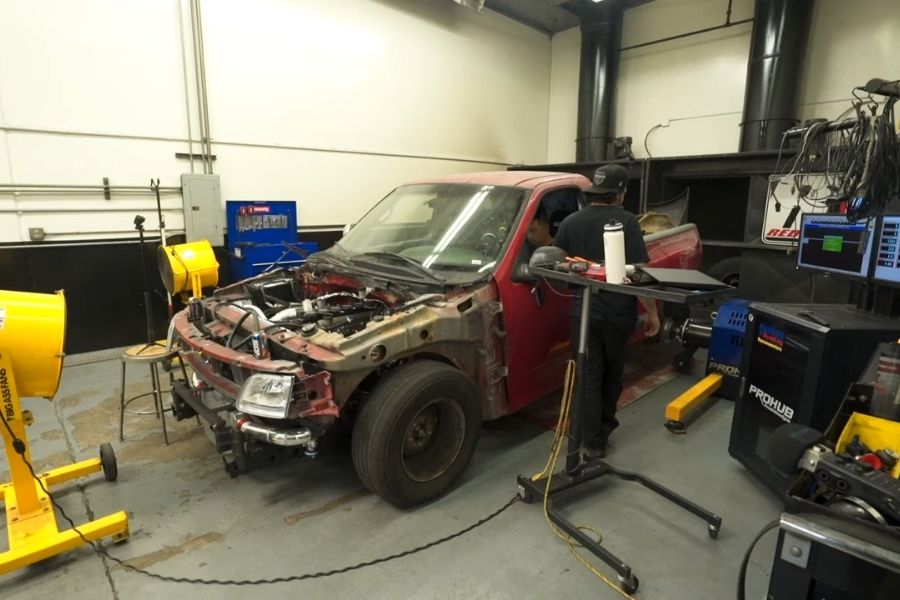 Hoonigan's "Ford Frightening" at the dyno [Photo source: Hoonigan]
The final dyno results of course involved a lot of tuning, as well as several performance parts. These include a Mishimoto aluminum performance radiator, Mishimoto universal intercoolers, among others. Handling was also taken into consideration as they also added in a Belltech coil spring kit, and Belltech street performance shocks and struts for the front and rear. 
Of note, the 2JZ powered Ford Frightening is actually a tribute project dedicated to Paul Walker. Walker's character, Brian O' Conner, drove a Ford F-150 SVT Lighting in the first movie of the Fast and Furious franchise as a utility truck for the fictional "The Racer's Edge'' automotive specialty store. For those living under a rock, Paul Walker passed away on November 30, 2013, when his 2005 Porsche Carrera GT crashed in Santa Clarita, California. He was riding as a passenger during the crash.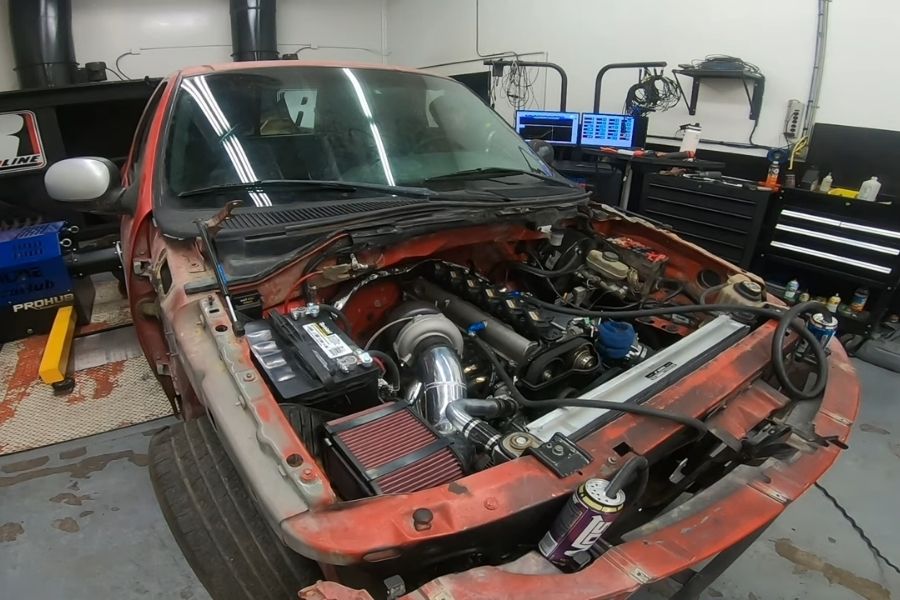 The 2JZ inline-6 mill fits perfectly on the F-150's roomy engine bay [Photo source: Hoonigan]
Just like the movie truck, Hoonigan's 2JZ F-150 will be used as a shop truck. Considering the power it makes though, one can say that apart from hauling parts and tools, it can definitely be a fun truck for those who can handle it. 
For exciting car news, the latest car reviews, and helpful car buying and selling tips, keep it here on Philkotse.com. 
Know more about Toyota Supra 2021

<p>After years of waiting, the all-new Toyota Supra has finally arrived. Thanks to Toyota Motor Philippines, this highly anticipated sports car is brought to the Philippine market. In terms of sports cars, the Supra has long been considered as the brand&#39;s ultimate. The current generation Supra has finally been revived with German DNA into its parts. It&#39;s no wonder the overlook of the Toyota GR Supra is very impressive. The aesthetics are also geared towards tuners, modders, and enthusiasts. Its dimensions and chassis are similar to that of the Z4. However, the brand provided twists in terms of styling, design, and everything else in between. The interior of the MkV Supra is absolutely a collaborative effort but with traces of the Toyota brand. The Supra available in the Philippines comes with a 3.0L twin-scroll turbocharged in-line 6-cylinder engine. The fifth-generation Toyota GR Supra has remarkable design elements, including LED headlights with six lenses, a 19-inch forged aluminum, as well as, dual exhaust pipes. It also comes with a list of standard features, such as a heads-up display, touchscreen infotainment setup, multi-information display gauge, and a sound system composed of 12 speakers. The current generation is the 5th generation of Toyota GR Supra. In the Philippines, the prices of the supra depend on the variant color. It is available in eight colors: Matte Storm Gray, Deep Blue Metallic, Ice Gray Metallic, Silver Metallic, Lighting Yellow, Black Metallic, White Metallic, and Prominence Red.</p>

Cesar G.B. Miguel
Author