Share your Mazda story for a chance to win a fancy dinner after ECQ
Like fancy dinners in nice fancy places? Share your story about your Mazda
During the length of the enhanced community quarantine, many car communities are undoubtedly cut off from each other. They can't do meets, nor can they hold meetings.
It's a sad state of affairs but alas, there's nothing we can do about it. Going out right now is risky due to the threat of the novel coronavirus, and gatherings aren't exactly the best way to practice social distancing, are they?
Mazda's way of connecting with their fans
Like many car brands in the Philippines, Mazda has a large and very loyal following. As such, they provided a concerted way for Mazda owners, Mazda fans, and the company to get connected.
Called the My Mazda Story, the company is encouraging Mazda owners to share their car-related stories in order to become closer even while we're stuck in our respective homes.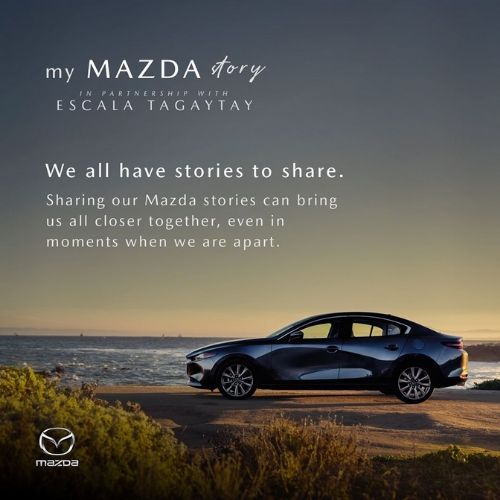 MIss talking with your Mazda buddies, then join up
If you join and share your own "My Mazda Story," you can get a chance to win a sumptuous dinner for two at the posh Escala Tagaytay after the enhanced community quarantine is lifted, of course. 
To join, just pay a visit to Mazda Philippine's official Facebook page, and leave a comment on the post announcing the My Mazda Story event. 
Also, if you're really interested as to how Mazda owners are dealing with the quarantine, you can stay tuned to their posts on the official Mazda Philippines fan page and other official Mazda social media sites like Instagram and Twitter.
My Mazda Story has been around last year
If you're the type to look at other car communities outside of the Philippines, then you'll know that the #MyMazdaStory campaign has been around since 2019.
The most prevalent use of the said hashtag is in connection to Mazda Canada and Mazda USA, where countless Mazda owners shared their day to day activities surrounding their Mazda cars on Twitter, Instagram, and Pinterest.  
>>> Related: Mazda U.K. launches contactless damage repair quote service via photos
Of course, owners of older Mazdas are welcome to join, too.
So yeah, this just goes to show that Mazda owners are very staunch loyalists who really love their cars. So, will you join the Philippine version of the My Mazda Story?
Keep reading here on Philkotse.com for the latest automotive industry news.
Author
Cesar learned how to drive a car years before he got his license. Today, he's still looking for that perfect '90s Japanese coupe to drive into the sunset while listening to Crazy Little Love by Nuage. Also has a thing for badass off-road vehicles and weird engine swaps.