Southbound motorists traveling along this route, be advised.    
The North Luzon Expressway (NLEx) is among the country's major thoroughfares known for the breadth of its four- to eight-lane span, ensuring continuous and ease of access for motorists traveling between Manila and various destinations in Northern Luzon. That's why instances of traffic congestion that occur anywhere along its 84-kilometer length are bound to make it to the news.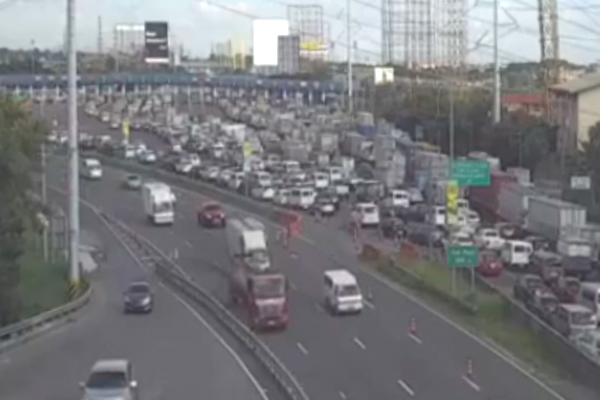 Traffic buildup at the NLEx Bocaue southbound tollgate caught motorists by surprise
One such example happened on Thursday, July 16, when only 16 out of the 20 designated cash lanes at the Bocaue Southbound Toll Plaza were opened. It may not sound like much since there are still a good number of operational toll booths, but it was enough for traffic to build up, catching motorists by surprise.
An advisory released by NLEx Corp. explains that some of the tellers manning the booths had to be subjected to mandatory COVID-19 quarantine measures, both for their safety and that of the motorists passing through the expressway regularly. Efforts to keep all 20 cash lanes open, the company said, have been ongoing since the week prior to prevent traffic congestion.
A new bridge at the Bocaue Interchange and the Balagtas Interchange Southbound Exit is also being constructed as part of enhancements to the Bulacan road network, contributing to the congestion.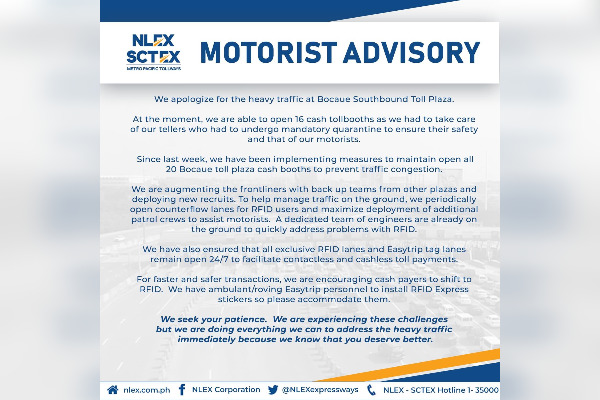 NLEX Corp. has released an advisory explaining the congestion 
The course of action taken so far includes augmenting their frontline personnel with support teams from other plazas along NLEx, as well as fielding recruits to man the toll booths. Counterflow lanes for access by RFID users are also periodically opened, with additional patrol crews sent out to provide motorist assistance.
The company assures the motoring public that an engineering team has already been deployed to promptly address issues that could arise from using the RFID system. Meanwhile, all exclusive RFID and Easytrip tag lanes will remain open 24/7, to enable contactless and cashless toll payments. This is probably as good a reason as any to convince those still paying toll by cash to switch to RFID, and NLEx Corp. has assigned roving Easytrip personnel to help interested motorists in installing RFID Express stickers.
Keep going with the latest motoring updates on Philkotse.com.


Joseph Paolo Estabillo
Author