It comes with a V12 Lego-spec engine and functional AWD drivetrain that can be controlled within its cockpit.
Lego and Automobili Lamborghini have partnered to bring a Sián FKP 37 Technic model, designed with functional parts to further enhance the experience of owning one.
The Lamborghini Sián FKP 37 was unveiled online in September 2019 and is known to be the Italian automaker's first hybrid production vehicle. Now, the said supercar is getting a Lego version, a 3,696-piece, 1:8 scale model Sián FKP 37.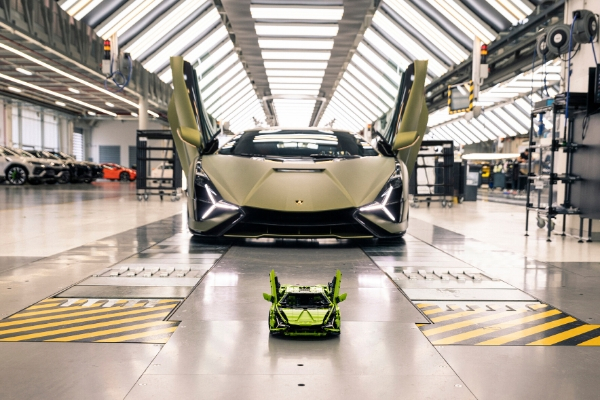 The Lamborghini Sián FKP 37 alongside its Lego version
"The Lego brick is an icon in the same way as a Lamborghini super sports car is," said Stefano Domenicali, Chairman and CEO of Automobil Lamborghini.
As of this writing, the 1:8 scale model of the supercar will only be available directly from Lego stores and LEGO.com/Technic-Lamborghini starting this June. It will then be available in retailers worldwide from August 1, 2020.
"They both embody the pursuit of design perfection through constant research and development, create different emotions with every interaction, and are valued by generations.
Each Lamborghini car can be unique, thanks to our Ad Personam personalization program and the specific driving style of each owner, just as Lego bricks provide builders of all ages with endless possibilities for creation," he added.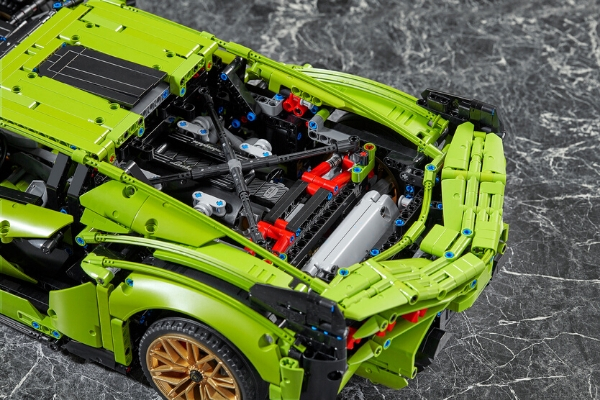 The V12 Lego-spec engine
The Sián FKP 37 Technic model comes with working steering wheels, functional AWD drivetrain, and a manual transmission with paddle shifters along with a forward/reverse selectors.
It also has scissor doors that can be raised and lowered, functional rear wings, front trunk with a room, a double-wishbone suspension, and a Lego V12 engine.
If you plan to get one yourself today, Lego currently priced it at $379.99 (Php 19,136) and limits it to three orders only. To put things in perspective, that price tag would relatively get you a 40-inch Android TV or even a new smartphone.
>>> Related: Lamborghini is saving the planet apart from making supercars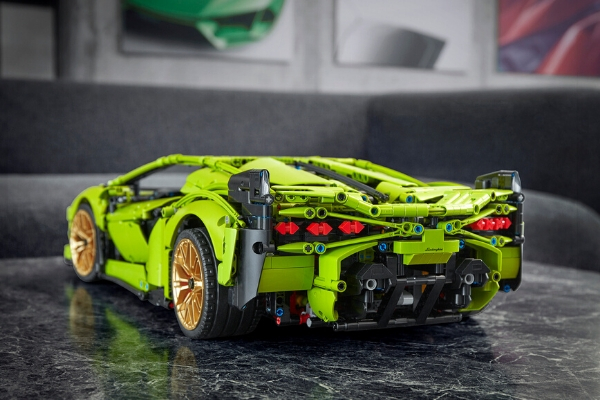 Striking details are also seen at the back
However, Stefano Domenicali is proud to present the Sián FKP 37 Technic model as it will surely bring an awesome experience to its buyers – giving them a whole new perception when it comes to Lego bricks and the engineering marvels of Automobili Lamborghini.
Here at Philkotse.com, we value your interest in the automotive industry. You can visit our website to find out more.
Know more about Lamborghini

Automobili Lamborghini S.p.A. or simply Lamborghini is an Italian luxury sports carmaker currently owned by the Volkswagen Group through Audi. Its visionary founder, Ferrucio Lamborghini initially opened a business assembling automobiles that are used for farming from military vehicles in 1946. His company was a success producing tractors fitted with two to four-cylinder diesel engines. In 1954, a motor engine with direct injection was added in their lineup. In the 1960s, his venture was one of the biggest manufacturers of agricultural machinery producing 400 vehicles monthly.

Rex Sanchez
Author