[16th MIAS - What to expect] Jeep Gladiator might be debuting at 2020 MIAS
The Wrangler's pick-up truck brother, the Jeep Gladiator 2020 is coming! And it might be debuting at 2020 MIAS.
Jeep Gladiator 2020: It's coming and it's going to be awesome!
Numerous sources, including Jeep Philippines, have reported its coming since last year. Now it can be told: The Jeep Wrangler-based Gladiator pickup is coming to our shores by mid-2020. And there's actually a very good chance that it will make an appearance at the upcoming 2020 Manila International Auto Show. 
So, what's it like?
This is the first article of our pre-event series called 16th MIAS - What to expect. As the official media partner of this year's MIAS, Philkotse.com will be updating car enthusiasts with exclusive news on the latest car launches and other event highlights. Make sure to follow us on our Facebook page Philkotse.com, our Youtube channel Philkotse or on our Philkotse.com website for more exclusive feature stories!
Jeep Gladiator 2020 review – How good is the Jeep's latest pickup off-road? | Autocar
Jeep Gladiator 2020: Exterior
Looking at the Jeep Gladiator 2020, you'll notice that it shares many styling cues with the Wrangler; it's very muscular and angular for that utilitarian look.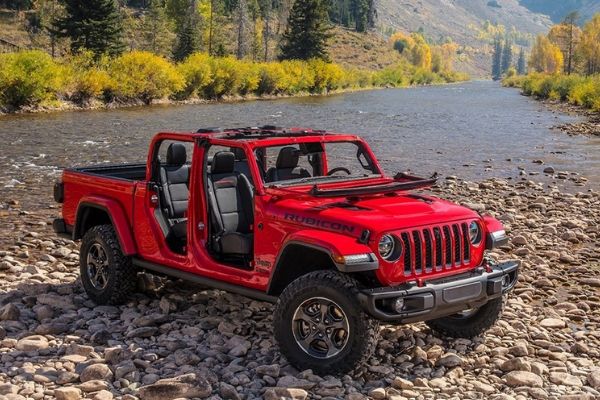 Like the Wrangler, the Gladiator can go anywhere
The same goes for the interior, with the flat dashboard and surfaces dominated by tough plastic, consistent with projecting an image of robustness.
Despite the toughness it exudes, the Gladiator also has sophisticated features like voice command and a touchscreen infotainment system with Apple CarPlay and Android Auto connectivity. US-spec models also offer remote engine start capability.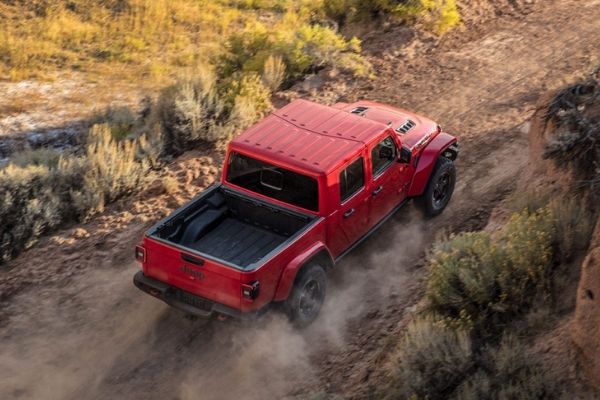 Despite having a sizable cargo bed, the Gladiator didn't compromise on passenger capacity
Beyond appearances though, the Jeep Gladiator 2020 shares the same platform as the Jeep Wrangler JL, even offering the same transmission choices: a six-speed manual and an eight-speed automatic gearbox
The lone engine option is a 3.6-liter Pentastar V6, rated at 285 horsepower and 352 Nm of torque. Complemented by a robust frame, powerplant enables the Gladiator to tow more than 3,000 kgs.
>>> Newest from Jeep: Jeep Compass 2020 gets an update in India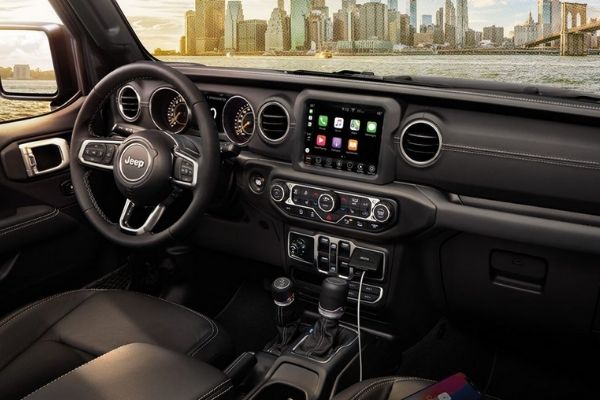 The interior is simple but it's got everything you need
Jeep Gladiator 2020: Pricing Speculations
As of this writing, Jeep Philippines has yet to release pricing details for the Gladiator. Note that the pickup is actually more expensive than the Wrangler in the U.S. market. But with our current tax laws favoring pickups, there's a chance that the Gladiator will be priced more competitively when it's released here.
>>> Click here to get the latest changes in Jeep Philippines price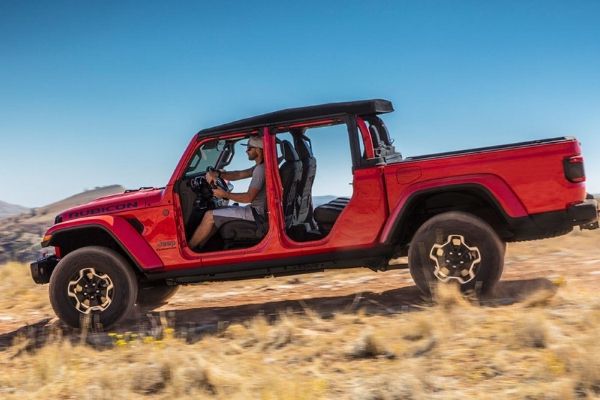 Like the Wrangler, you can take the doors off. It's a Jeep thing!
We look forward to seeing the Gladiator's glorious boxiness in the metal at the 2020 Manila International Auto Show.
For more automotive news, keep reading Philkotse.com.
Author
Cesar learned how to drive a car years before he got his license. Today, he's still looking for that perfect '90s Japanese coupe to drive into the sunset while listening to Crazy Little Love by Nuage. Also has a thing for badass off-road vehicles and weird engine swaps.