Philippine market will witness the launch of Honda HR-V 2018 crossover in August.
According to Honda Philippines, the restyled model of Honda HR-V 2018 will be rolled out on 23rd August. However, official announcements regarding its specifications have not been made yet.
Honda HR-V 2018 facelift was already released in Thailand but we can't be sure whether Philippines-spec HR-V version bears much resemblance to it or not.
Trailer of Thai-spec Honda HR-V
For Thai market, the subcompact crossover undergoes mainly aesthetic changes including redesigned wheels, some subtle modifications in fascia, a new pair of headlights and foglamps as well as a restyled grille. This model also employs 1.8L i-VTEC engine to produce max speed of 141 hp and peak torque of 172 Nm.
Till now, Honda gives almost no clue about the upcoming crossover for our country apart from a photo of the car upper part with the highlighted slogan: "Drive your desire."
The latest subcompact crossover arriving in the Philippines were Suzuki Vitara last year and Hyundai Kona earlier this year. For the moment, you can have a look through Honda's hint and imagine your desirable facelift.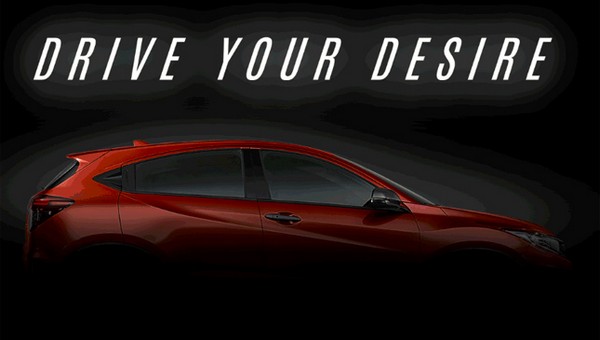 Honda HR-V facelift revelation
>>> See more updated for the Honda HR-V:
Know more about Honda HR-V 2021

The Honda Cars Philippines Inc. introduced its new-generation subcompact crossover Honda HR-V for the local market. The crossover is configured to suit the comfort of a sedan, confidence, and toughness of an SUV. Its name stands for High Rider Vehicle. It served as an all-around coupe for individuals looking for a vehicle with high ground clearance, excellent road visibility, and complete safety features. It is also equipped with massive cargo space, wide tailgate, and similar Utility Long and Tall (ULT) seats established on the Honda Jazz that enables it to configure the cargo when loading or unloading highly. The new Honda HR-V is developed based on the concept of the brand's "Dynamic Cross Solid," making it acquire SUV-like lower body and strong cues of coupe-like 'aero-cabin' on the outside. At the front, the Honda HR-V comes with a solid wing face design with unified lights and grille, LED dual projector headlights, and LED daytime running lights (DRL). Standard sporty 17-inch alloy wheels are found across the range as well. In addition, the car's 1.8-liter i-VTEC engine that can be found under its hood produces a maximum 141 hp power output and torque power of 172 Nm.
Recent posts