New Honda HR-V Sport 2019 rolled out, powered by 1.5-liter turbocharged
It is likely the 1.5-liter turbocharged will alter naturally-aspirated i-VTEC turbo of powering Honda HR-V Sport 2019
Honda had us waiting when they broke the news about releasing their VTEC turbo. This was their statement about new Honda HR-V 2018  way back in August. For now, It looks like they finally felt like it was time they gave us the update we have been waiting for.
Introducing as the newest addition to one of Honda's most patronized line-up of vehicles, the new Honda HR-V Sport 2019 is still neat and classy in design but atrocious in engine power. This new model is one of the few unique takes on the usual crossover and we're here to take a closer look at it.
Honda HR-V Sport 2019 is still neat and classy in design but atrocious in engine power
We've noticed a few differences that make the 2019 HR-V more stylish. Take a look at this list that we made below:
1. Honda HR-V Sport 2019 Exterior 
Black elements detail the vehicle's body exterior that makes a more aggressive appeal to the eye.
The front grill and air intake are now painted glossy black color.
Other parts have also been colored black -- namely fog light bezels, the caps for the side mirror as well as the 18-inch alloy wheels.
There have also been some dynamic styling that took place with the body kit parts. These include the side skirts, a more menacing rear bumper, two exhaust pipes painted black and a front splitter.
2019 Honda HR-V Sport Review and Test Drive 
2. Honda HR-V Sport 2019 Interior
Once you step inside, you'll recognize the essence of the model's predecessors but with little tweaks.
The roof lining is totally blacked out.
The fabric leather seats are two-toned as well as the dashboard trim.
Red stitching is a very obvious addition to the steering wheel.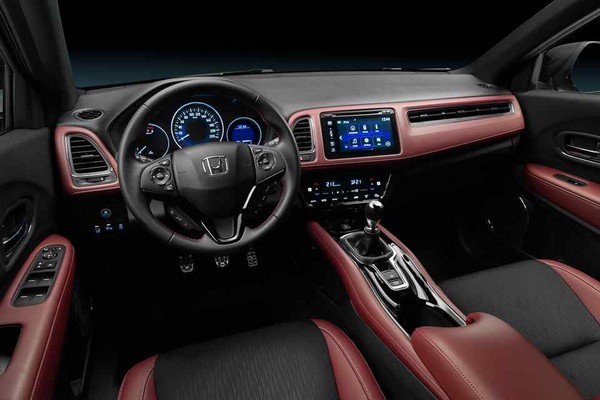 The Interior is designed with two-toned leather seats as well as the dashboard trim
3. Honda HR-V Sport 2019 Powertrain
This model carries a 1.5-liter turbocharged engine with four-cylinders, sharing the same one with Honda Civic.
Some changes were also applied to the chassis. Honda says the HR-V is now better at making sharp and tight turns.
According to the latest auto news, the newest 2019 Honda HR-V Sport will only hit the European showrooms. Nonetheless, keep calm and hope for the chances that Filipinos can enjoy the new powerful crossover. 
Author

Hanna is one of the most competitive swimmers in the country during her day. It was not long before she discovered her passion for the automotive industry as well. Nowadays, she balances her passion through writing as well as coaching.
Recent Posts