The Honda CR-V 2018 can be all things to all customers – if they opt for the right variant for them.
When we informed that the diesel-powered Honda CR-V 2018 finally arrives, priced from as low as P1,569,00 and the newest compact crossover has stepped up its game by using a couple of new tricks: diesel engine and seven seats, many car lovers sent messages of excitement to us, showing an interest in our upcoming review about the fifth-generation Honda CR-V. Of course, we all know everyone's purchasing those damn things.
>>> Full review Honda CR-V 2018 diesel 7-seater
2018 Honda CR-V launched in the Philippines
Yep, Filipinos are purchasing shitload of this go-anywhere vehicle. According to car news, the segment is not having signs of slowing down in the near future as there have been more crossovers coming to the Philippines for a short time only. In fact, the total sales of SUV and crossover have surpassed far other segments' sales, making them one of our best buddies on the road.
The Honda CR-V 2018 sales even have gone through the roof. This newest crossover has signaled an intention to alter the fact that it's never really been perceived a dynamic model for a younger audience. Now, let's start to discover the beauty of the diesel 7-seat CR-V with Philkotse.com.
1. Honda's first diesel-powered vehicle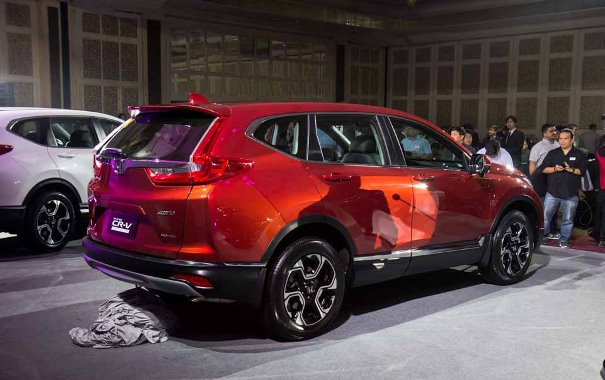 The new Honda CR-V hides something unique underneath the sleek hood – a diesel engine
While it seems to be indistinguishable from the Euro-spec models in terms of design, the new PH-market Honda CR-V hides something unique underneath the sleek hood – a diesel engine. The arrival of this runabout vehicle marks the first time the Japanese car brand unveils a diesel-powered vehicle in the Philippines. The new motor promises excellent fuel economy and genuine driving pleasure at the same time. Plus, its low-emissions character makes it an ideal choice for today's lofty emission standards.  
2. More agile chassis
The Honda CR-V 2018, apart from its vaunted diesel engine, comes with a new chassis that was cleverly designed to be more agile. Since this crossover has always been little more than an upgraded AWD Honda vehicle (All-Wheel Drive), the 2018 version sticks to the same strong recipe, meaning it inherits many of the AWD model's powerful drivetrain and chassis components. The AWD models with such features are truly great vehicles, so the CR-V 2018 follows this is too.
3. High ground clearance
Although the old Honda CR-V sits a little bit high off the ground (up to 198mm-plus), the crossover keeps a ground hugging, hunkered down stance. To increase the enduring performance capability, Honda gives the all-new Honda CR-V a higher ground clearance of 208mm.
The All-New Honda CR-V: See The Extraordinary
4. Superior interior
The cabin of the all-wheel-drive CR-V might quite hit the same marks as its' attractive appearance and follow the design language in the current Honda Civic, but there are a few upgraded materials found sprinkled in some key places. As with the Civic, there's a versatile center console. Moreover, you're also quite impressed with the back of the volume control – a quintessential device for shutting up the radio.
>>> Related: List of Honda CR-V for sale a affordable prices on Philkotse.com
5. Effective yet brisk performance
Apart from the top-in-class and roomy interior space, what's actually new for the CR-V is what's under the metal. The Honda CR-V 2018 is equipped with a new turbo diesel engine mated to an equally fresh 9-speed automatic transmission. Each engine-tranny combo, particularly the non-gasoline variants, promises fantastic fuel economy combined with responsive power and smooth ride when needed. The term "punch" truly is the best description of this new motor's character.
6. Roomy cargo space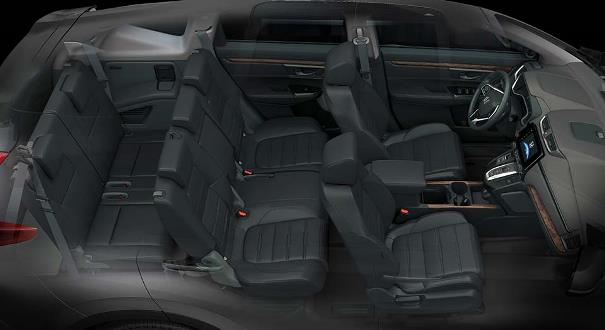 Apart from having more gears than normal compact SUVs, the all-new Honda CR-V now comes available with a roomy third row
Much news was announced at the beginning of this year when it was launched that the Honda CR-V 2018 would sacrifice storage options and instead come with manually folding third-row seats. Would the area be ample? Is the fifth-generation CR-V biting off more than it can chew? Well, that place is indeed a large luggage room. 472L of cargo and stuffs can be accommodated in the back with the third-row seats folded, while around 967L can be towed with the third and second row folded.
7. Adaptive cruise control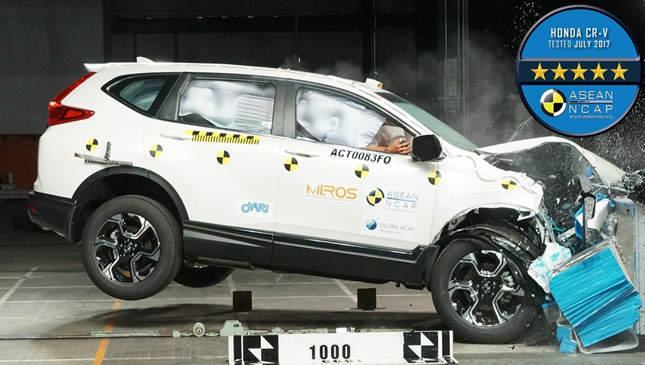 Honda CR-V 2018 scored 5-star rating from ASEAN NCAP
And as for safety, the CR-V 2018 naturally comes with Honda's award-winning safety system. In case you're unaware, the Honda CR-V 2018 scored 5-star rating from the ASEAN New Car Assessment Program (ASEAN NCAP) crash test with a total of 88.80 points. Besides the familiar stability control and SRS airbags, the cushy runabout vehicle is fitted with high-tech features such as road departure mitigation, lane-keeping assist, adaptive cruise control and other Honda Sensing suite for its higher versions. All these are engineered to provide a pleasant, safe and happy journey.
8. Extra legroom in the third row
While the Honda CR-V 2018 has seven seats, fitting full-size adults in the third row is probably a stretch. Honda designers had the foresight to include little room for legs and heads, but it still requires contortion to place your feet in the third row. If you're on the hunt for a diesel-powered vehicle with seven seats, you might consider taking a look at this one.
Please check the table below for the new Honda CR-V 2017 prices in the Philippines:
| | | | |
| --- | --- | --- | --- |
| Variants | Fuel Type | Transmission | Price |
| Honda CR-V 2.0 S CVT | Gasoline | CVT | ₱1,539,000 |
| Honda CR-V 1.6 V Diesel 9AT | Diesel | Automatic | ₱1,569,000 |
| Honda CR-V 1.6 S Diesel 9AT | Diesel | Automatic | ₱1,759,000 |
| Honda CR-V 1.6 SX Diesel 9AT AWD | Diesel | Automatic | ₱2,049,000 |
Latest updates on upcoming Honda cars can be found in our Complete guide to the Honda Philippines' local lineup.
Know more about Honda CR-V

<p>The Honda CR-V is a compact crossover current sold by Honda Philippines Inc. It is now in its fifth-generation model, but the CR-V in general&nbsp;has been around since the 1990&#39;s.&nbsp;</p> <p>Currently, the CR-V has two engine options. The first one&nbsp;is a 1.6-liter diesel, which can make up to 118 horsepower and 300 Nm of torque. All variants with this engine uses a nine-speed automatic transmission. The top-spec trim has an all-wheel-drive drivetrain, while the rest of the trims are front-wheel-drive. The second engine for the CR-V is a 2.0-liter inline-4 gasoline mill capable of producing up top 152 horsepower and 189 Nm of torque. This engine is only available on the entry-level S variant where it is paired with a continous variable transmission.</p> <p>Of note, the top-spec CR-V for the Philippine market is equipped with several driver-assist features like adaptive cruise control, lane-keep assist, road departure mitigation, lane departure warning, among others.&nbsp;</p> <p>The entry-level CR-V S and the CR-V S diesel variant can fit up to five occupants. The CR-V V and the top-spec SX can seat up to seven occupants.&nbsp;</p>