Bert Lessard, the FP Managing Director, predicated Ford was feeling ecstatic to bring the Ford Ranger 2019 to our country.
The Ranger Raptor 2019 will be taken for reservations, Ford Philippines (FP) revealed. So, it's high time you saved money for this pickup masterpiece.
The announcement of the reservations also means Ford will soon let their fans informed of the price, so if its price range may be within your reach, get ready to pay a visit to a Ford dealership and all we are waiting for right now is when the Ranger hits our showrooms because Bert Lessard, the FP Managing Director, predicated the American automaker was feeling ecstatic to bring it to the Philippines.
>>> Also read: The Ford Ranger Raptor 2018 Begins Production in Thailand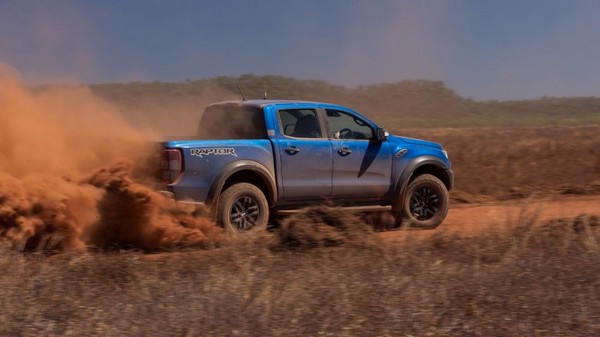 Bert Lessard, the FP managing director, predicated Ford was feeling ecstatic to bring the Ranger Raptor 2019 to our country
He showed his hope that Ford dealers in the Philippine market join hands in accepting reservations. He suggested inviting the car enthusiasts to the dealerships for an advanced booking. It's all for the customers' sake due to the fact that there should be no one other than Ford dealers who devotedly give the best advice on picking a model for their best knowledge of Ford products.
Don't forget to stay tuned with Philkotse.com for the latest car news about the Ford Ranger Raptor 2019's price will be soon announced by Ford Philippines.

Know more about Ford Ranger Raptor 2022

The Ranger Raptor 2022 by American truck maker Ford is the brand's entry to the midsize pickup truck segment in the Philippines. It is priced in the local market at Php 2,048,000 for the sole Raptor Ranger 2.0 Biturbo 4x4 AT variant. Powering this truck is a 2.0-liter Bi-Turbo diesel engine that is capable of generating 210 hp and 500 Nm of torque. This is connected to a 10-speed automatic transmission with paddle shifters.
In terms of dimensions, the Ranger Raptor is 5,398 mm long, 2,028 mm wide, and 1,873 mm high. Other key numbers include the wheelbase at 3,220 mm and ground clearance at 283 mm. The closest competitors of this American truck in the Philippines are the Nissan Navara PRO-4X and Toyota Hilux GR Sport.
Recent posts