The new price tag of the Ford Ranger Raptor 2019 is now P1,998,000 instead of P1,898,000 as initially announced.
Ford Philippines has already made an announcement that the all-new Ford Ranger Raptor 2019's introductory price has been canceled. The price is now added with P100,000 to be P1,998,000, compared to the first introductory cost - P1,898,000. However, for those who ordered before March 1, 2019, you are lucky customers - your Raptor will still get the old price tag.
* Updated: Ford Raptor 2019 has officially revealed in the Philippines. Check our latest in-depth Ford Ranger Raptor 2019 Philippines Review
It can be said that the Ranger Raptor is an ideal Ranger with a series of admirable features including a Terrain Management System with Baja mode, custom wheels and Fox shock absorbers. The pickup is powered by a bi-turbo diesel mill producing 500Nm, mated to a ten-speed automatic gearbox.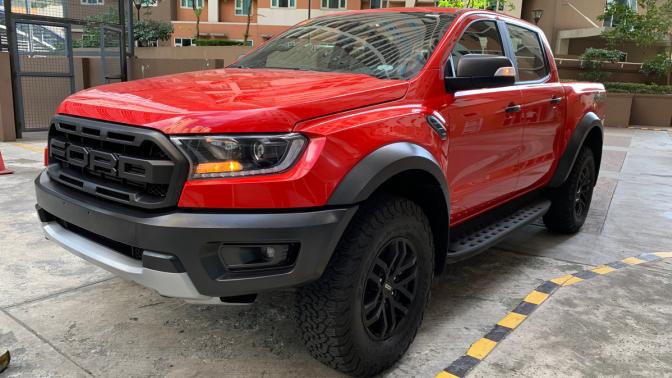 The Ranger Raptor is an ideal Ranger with series of admirable features
According to Mr. Bert Lessard - Ford Philippines' Managing Director, after 5 months of applying the introductory price, the brand has received an amazing response from pickup truck lovers in the Philippines with a huge number of orders for the Ford Ranger Raptor 2019. With the new price tag and segment-leading features, the Raptor is expected to remain very competitive in term of power and performance.
Are you still willing to pay P100,000 more to drive home an excellent Ranger Raptor? For us, It's still worth buying.
Know more about Ford Ranger Raptor 2022

The Ranger Raptor 2022 by American truck maker Ford is the brand's entry to the midsize pickup truck segment in the Philippines. It is priced in the local market at Php 2,048,000 for the sole Raptor Ranger 2.0 Biturbo 4x4 AT variant. Powering this truck is a 2.0-liter Bi-Turbo diesel engine that is capable of generating 210 hp and 500 Nm of torque. This is connected to a 10-speed automatic transmission with paddle shifters.
In terms of dimensions, the Ranger Raptor is 5,398 mm long, 2,028 mm wide, and 1,873 mm high. Other key numbers include the wheelbase at 3,220 mm and ground clearance at 283 mm. The closest competitors of this American truck in the Philippines are the Nissan Navara PRO-4X and Toyota Hilux GR Sport.