That's true! Charlie Puth creates exterior design of a Honda Civic Type R 2018!
Who in the world doesn't know Charlie Puth? Honestly, he is one of my most favorite artists and his songs have definitely become an anthem in my life at one point or another. I remember listening to his songs from my phone while on my way to work just to start my day right.
A guy with such a tremendous talent, he popularized songs such as "We Don't Talk Anymore" with Selena Gomez, One Call Away, and Marvin Gaye with Meghan Trainor among others. At 26 years of age, he surely is an achiever in his own artistic way.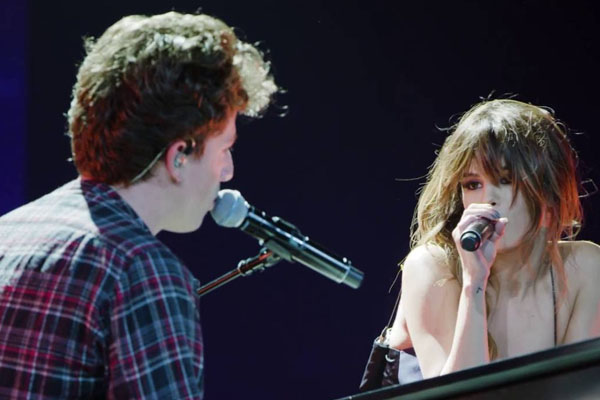 Charlie Puth gave us the hits 'One Call Away' & 'We Don't Talk Anymore' alongside Selena Gomez
So much about me being a Charlie Puth fan that I can go on all day without even pausing, let's talk about his artistry on a different level. According to the latest car news, Honda tapped him to be a part of their team and design his very own Honda Civic Type R 2018. Not only that the car make and model has already been popular for a good number of years, its latest generation features Charlie Puth's very own customized design. 
2018 Honda Civic TypeR by Charlie Puth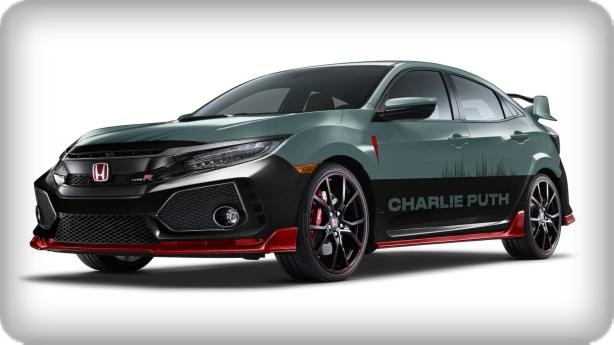 Charlie Puth designs his own Honda Civic Type R exterior
How it looks like? It's as attractive as the one who made it. It is two toned with grayish green color on the upper half and black down the bottom which makes it unique. It also has red accents that gives it a nice sporty look. It is definitely a stand out and could be a good addition to options for potential buyers.
So much for the fun and excitement in music brought about by this event, let's focus now on what Honda has to offer with its Honda Civic Type R 2018. Let's look into this further by going through the important details that will give idea to both Honda and non-Honda fans alike. 
Charlie Puth - Custom Civic Type R
As Philkotse.com also mentioned on previous articles, the Type R runs with 2.0L, 16-valve engine with direct injection, DOHC or dual overhead camshafts and turbocharged 4-cylinder.
The Honda Civic Type R 2018 also has VTEC system or Variable Valve Timing & Lift Electronic Control, a system which has been known to be used by Honda since 1991. This system allows higher performance at high RPM while it also maintains lower fuel consumption at low RPM.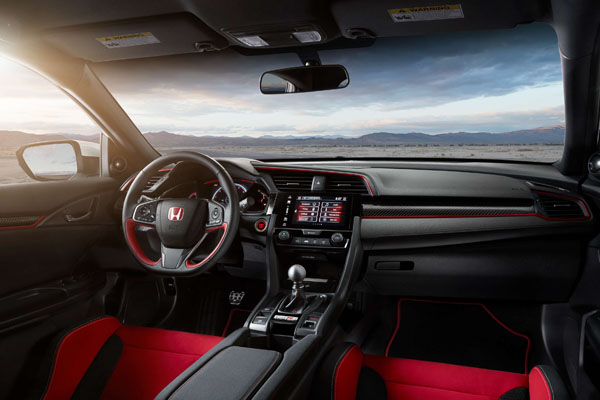 The interior of the Civic Type R comes in two colors, red and black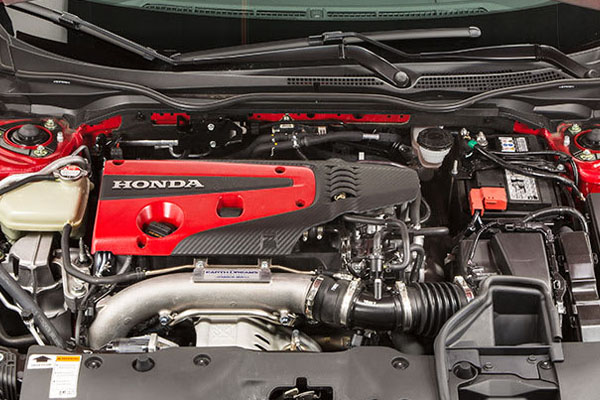 The car  has VTEC system or Variable Valve Timing & Lift Electronic Control
This model also uses a Drive-by-Wire Throttle systems which means it uses electrical or electro-mechanical systems for performing car tasks that is usually performed through mechanical linkages.
The Civic Type R includes a 6-speed manual transmission with rev-match control and has 3-mode drive system that include Comfort, Sport and Reverse. It also has a front-wheel drive and helical limited slip differential. True to its sporty nature, the car wears a 20" aluminum-alloy wheels that comes in Piano Black with Red Styling Line and sport performance tires in P245/30Z R20 90Y.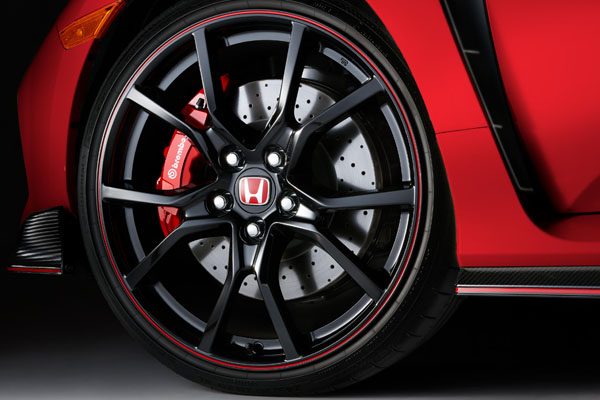 The CivicType R 2018 sports a 20" aluminum-alloy wheels​
The Honda Civic Type R 2018 sports a 542-watt AM/FM Premium audio system with MP3/Windows Media® Audio playback capability and 12 speakers including subwoofer. It also has Apple CarPlay/Android Auto, Bluetooth streaming audio, HD radio, steering wheel mounted audio controls, Siri eyes free compatibility, Sirius XM, SMS and email function, speed sensitive volume control, USB device connector and WIFI Tethering.
Please ensure that your mobile devices are compatible with the car's system for all of these functions to work properly. 
>>> Also read:

Know more about Honda Civic Type R 2022

The fifth-generation Honda Civic Type R 2022 from motorsport stalwart Honda is based on the 10th-generation Honda Civic. To sum the model up, it a high-performance version of the Civic and it features an aggressive-looking exterior design. For the Philippine market, the Civic Type R only has one variant and it comes with a price of Php 3,210,000.
Under the Philippine-spec Civic Type R's hood is a 2.0-liter K20C1 VTEC inline-4 which can produce a maximum of 306 horsepower and 400 Nm of torque. This engine is then paired with a six-speed manual transmission, which comes with a rev-matching function. Like the standard Civic, the Civic Type R is a front-wheel-drive vehicle. Size-wise, it measures 4,577mm long, 1,877mm wide, and 1,434mm in height. It also has a ground clearance of 134mm, and a wheelbase length of 2,700mm.
Competing against the Honda Civic Type R 2022 in the Philippine market is the Subaru WRX STI and the BMW Z4 sDrive20i Sport 2.0 AT, in that they somewhat fall into the same price range. As for other front-wheel-drive, compact-sized sports cars however, the Civic Type R's direct competitor in the global market is the Hyundai Veloster N, which is only available through indent order locally.

Ivy Kristia Padura
Author
Recent posts