It was also found out that only a few people read their car manuals.
If you have bought a car before, then you'll have seen for yourself how the typical car manual looks like. Usually, they're hefty, pieces of literature that are definitely thicker than your average rice-cooker manual. However, some specific car manuals can rival the length of popular novels.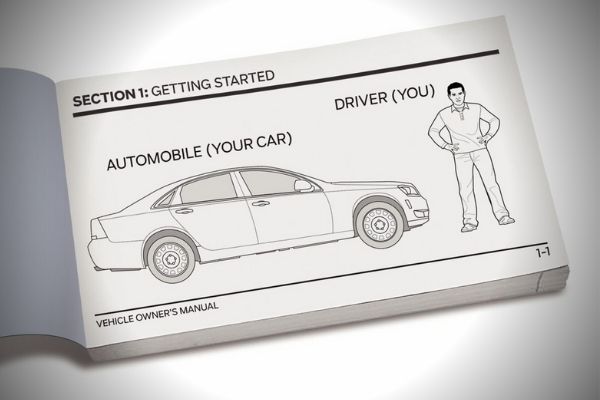 Car user manuals usually come in the form of thick, hefty booklets like this
The length of these car manuals are epic
A survey conducted by Bristol Street Motors determined that some car manuals are actually very long reads. Here's a list of the top ten in word count and estimated reading time:
| | | |
| --- | --- | --- |
| Car manual | Word count | Estimated continuous reading time |
| Audi A3 | 167,699 | 11 hrs 45 mins |
| SEAT Ibiza | 154,657 | 10 hrs 50 mins |
| Mercedes-Benz C-Class | 152,875 | 10 hrs 42 mins |
| Mercedes-Benz A-Class | 143,706 | 10 hrs 4 mins |
| Kia Sportage | 133,531 | 9 hrs 21 mins |
| Ford Focus | 127,321 | 8 hrs 55 mins |
| Volkswagen Golf | 114,606 | 8 hrs 02 mins |
| Honda Civic | 110,484 | 7 hrs 44 mins |
| Audi A4 | 109,934 | 7 hrs 42 mins |
| Nissan Juke | 108,853 | 7 hrs 37 mins |
To put it into perspective, the Audi A3's manual is 60,446 words longer than Harry Potter and the Prisoner of Azkaban. It's also longer than The Lord of the Rings: The Two Towers. And yes, it would require 11 hours and 45 minutes to read continuously, without rest.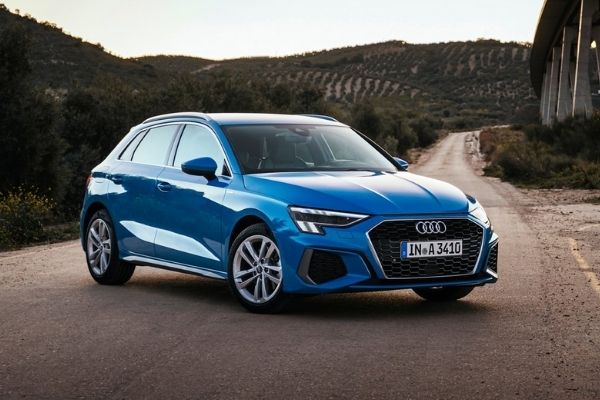 The Audi A3 is the car with the longest user manual ever
For those who do not like reading in the first place, going through the pages of these lengthy manuals can be a daunting task. So, only a handful will endure reading these in full. As a result, a car user might miss some information about the car that might prove useful in the future.
Most people however turn to other information sources like the internet. Here in the Philippines, there are even model-specific car clubs whose members are always ready to give advice or lend aid to fellow members. For some, an actual person relaying information is better than learning it from a book.
>>> Related: Car Club Spotlight | CLUB GD ARIA | Legit Respect
Car Manual Survey: Most don't read it
While the relationship between readership and the manual length wasn't established, around 60 percent say that they won't read their brand-new car's handbook before heading out for a spin. In fact, only 29 percent read the car manual in full. The remaining also says that they will only open the manual if they encounter issues with their cars.
In connection with this, the report also states that more and more people are opting to consult the internet for more information about their cars. The most popular choice is of course YouTube. Some select few say that they prefer talking to other owners of similar car models.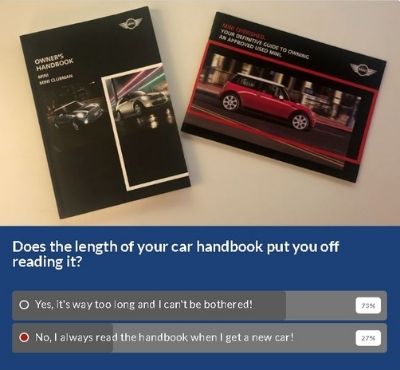 Not all have the patience to read long books, much less a technical user manual [Photo: Bristol Street Motors]
While the results are enlightening, the survey was conducted in the United Kingdom. As such, there might be some factors that aren't applicable to the Filipino motorist/car owner. We're predicting, however, that if this study was conducted here in the Philippines, the results would be more or less similar.
So, do you think that printed car manuals are still useful or car manufacturers would be better off with digital manuals? For more car news, car reviews, and car maintenance tips, keep reading here on Philkotse.com.

Cesar G.B. Miguel
Author