It's got more legroom, more power, and even more off-road digs.
Without a doubt, the Jimny is one of the most exciting models that Suzuki has released in the past few years. The mini 4x4 offers a stylish and macho modern design mixed in with some inspiration from its past iterations. It is also an off-road ready platform straight from the factory, just a smidge short of being a true-blue rock-hopper.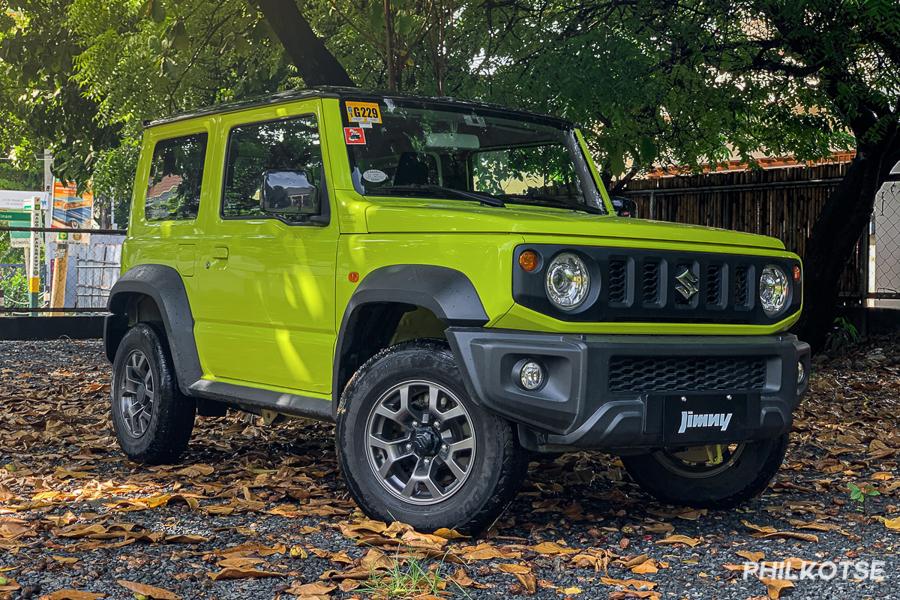 The Philippine-spec Suzuki Jimny
Due to the latter, the current-generation Suzuki Jimny has been a popular model the world over. But then, many have been clamoring for a larger five-door version of the said model; one of the current two-door model's weaknesses after all is its interior space. And so, there have been rumors floating around that Suzuki is currently developing a longer five-door version. But this larger Jimny version is yet to see the light of day - until now.
At the recent Tokyo Auto Salon 2022, a group of students from Japan's Nihon Automotive College (NATS) came up with the Suzuki Jimny "Kimun Kamui." Its name translates to "Mountain God," and it is one of the gems showcased at the 2022 Tokyo Auto Salon.
As its name implies, it is a Jimny modified to be more off-road capable. One of the most interesting bits that you'll notice about this build though is it has a five-door configuration. Specifically, it was extended by 400mm, thus offering significantly more legroom for its rear passengers.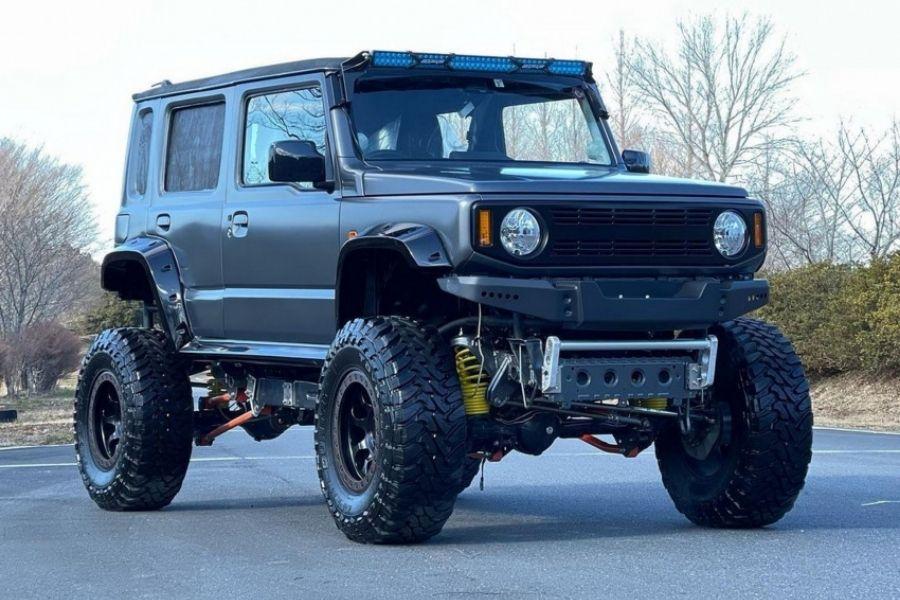 The Suzuki Jimny "Kimun Kamui" five-door by NATS [Photo: NATS_info/Twitter]
Beyond that, the Jimny Mountain God also received a six-inch body lift, a set of Black Rhino Riot alloy wheels wrapped in Toyo Open country all-terrain tires, a tent and light bar mounted on the roof, a steel bumper with an integrated winch, as well as a tubular body frame for added protection.
The engine of NATS' Jimny Mountain God also received mods which bumped up its output figures from 101 horsepower to 122 horsepower. This includes a Greddy turbo kit, an FV2 blow-off valve, and revised tuning for its ECU.
Overall, NATS' five-door Suzuki Jimny Mountain God is a cleanly executed five-door conversion. The installation of the rear doors looks seamless, and it indeed looks like it has the capability of living up to its name by climbing a mountain.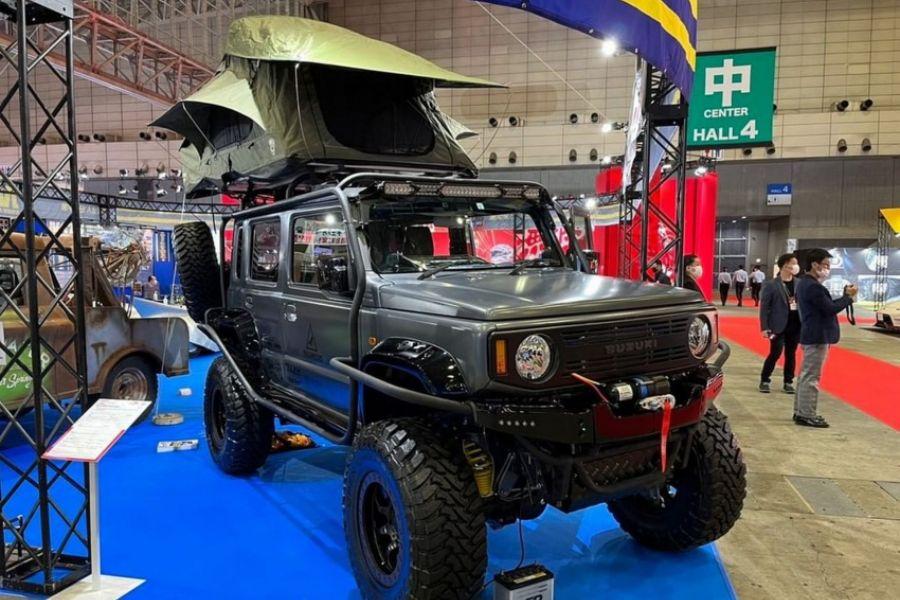 "Kimun Kamui" means "Mountain God" in English. [Photo: NATS_info/Twitter]
As with most of NATS' creations though, this is a one-off model and it isn't for sale. Then again, this might offer us some insights on how a future five-door Jimny model would look. Plus, it can provide future modders of the Jimny some inspiration.
For more news on the coolest cars and the latest releases, keep it here on the Philippine's largest automotive portal.
Know more about Suzuki Jimny 2022

The Jimny 2021 - 2022 is one of Japanese small-car specialist Suzuki Philippines Incorporated (SPH)'s most sought-after models. Competing in a unique mini SUV segment, the Suzuki Jimny Philippines is available locally in three variants including a two-tone option. These variants Suzuki Jimny Philippine price that ranges from PHP 1,170,000 to PHP 1,285,000. Across the range, a 1-5-liter K15B gasoline engine is standard which generates 101 hp and 130 Nm of torque. A 5-speed manual and a 4-speed automatic are the available transmission options. Dimensions-wise, this vehicle is 3,650 mm long (including the spare tire), 1,645 mm wide, and 1,725 mm high. One can say that the Suzuki Jimny is currently in its class of its own and has no direct rivals.
This Japanese mini SUV proved so popular that customers placed pre-orders even before its launch in 2018. The Jimny brought out different emotions from its Filipino fans, ranging from nostalgia to obsession as this fourth-generation model brings rugged good looks and superb off-road performance in a small package. Completely redesigned from the ground up, the Jimny still lingers in the hearts of Filipino car buyers.

Cesar G.B. Miguel
Author