Turbocharged engines come with a price.
The Geely Coolray is one of the hottest cars to arrive in the Philippines in 2019. It helped the Chinese car brand grow its name in the market, especially in the local subcompact crossover segment. The sporty exterior design, premium-looking interior finish, and loaded features are some of the reasons why the Coolray is relevant today.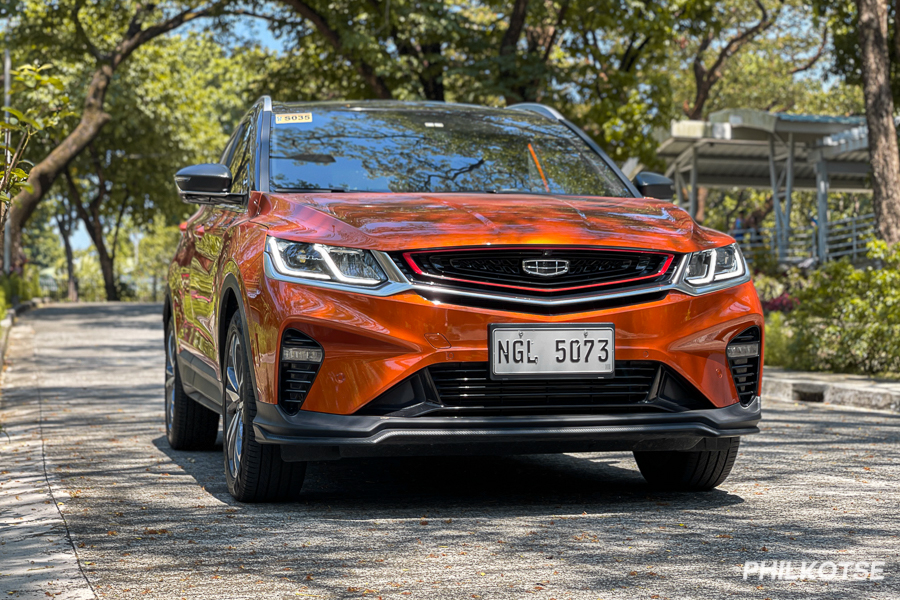 Geely Coolray
Even if you look at Geely Coolray reviews from both automotive journalists and owners, you will notice that they are surprisingly satisfied with what the subcompact crossover has to offer. But despite its good characteristics, the Coolray is still not excused from having problems and issues.
So with that being said, here are some of the common issues you might encounter if you intend to buy a Geely Coolray. You can use this as a reference in preparing yourself for the possible costs in the overall car ownership. We have also included the Geely Coolray maintenance guide so you can keep your subcompact crossover in tip-top shape.
Geely Coolray: Common issues
#1: Turbocharger
One of the most common issues with the Geely Coolray among car owners is its fuel efficiency. Based on our Geely Coolray review, we got a 14.6 to 16.4 km/l fuel consumption in normal driving conditions. This fuel economy number can go down almost twice due to various components such as a faulty turbocharger.
The PH-spec Geely Coolray is powered by a 1.5-liter 3-cylinder turbocharged engine capable of generating 177 hp and 255 Nm of torque. It is one of the most affordable turbocharged models you can get in the local market with a starting price of Php 978,000 for the base Comfort variant, while the top-spec Sport variant is priced at Php 1,198,000.
Interior looks premium-like
Installing a turbocharger does not really consume much fuel as you might think. It only uses exhaust gases from the engine to spool which then sucks air and forces it to the engine, hence more power. Once it started showing faults, you will get a lower fuel efficiency as compared to the first time you got the subcompact crossover from the factory.
One of the many reasons why a turbocharger fails is damaged seals. Just like most engine components, a turbocharger is installed with seals to avoid leaking of oil and air. Over time, seals blow due to high pressure which can affect the exhaust system, the condition of the turbocharger, and the fuel economy.
Another reason why turbocharger gets damaged is because of foreign objects or debris. These can be accumulated after driving long distances. That said, it is recommended to regularly have your Geely Coolray go through its maintenance service routines as debris can pile up to damage other components as well.
#2: 7-speed DCT
Moving on to the second issue with the Geely Coolray is its transmission. The Geely Coolray's 1.5-liter turbocharged engine is paired to a 7-speed wet-type dual-clutch transmission (DCT) as standard across its three variants offered in the Philippines. It is also paired with a paddle shifter for a manual driving experience.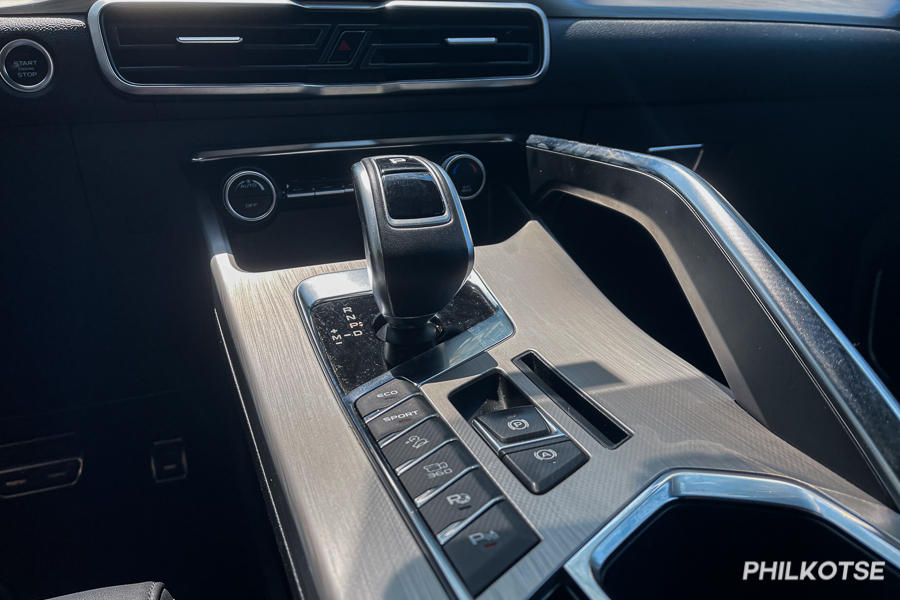 Take care of the transmission for longevity
A DCT can offer plenty of advantages. Some of which include better fuel efficiency as compared to most automatic transmissions used by today's cars and faster speeds due to how quick this type of transmission shifts. However, once it gets faulty, it could affect your acceleration and usual fuel consumption rating.
You will feel jerks when shifting gears especially driving at lower speeds using a faulty DCT. If you don't take care of it as soon as possible, then the maintenance cost of your Geely Coolray will be high. DCT is not the most affordable transmission in the market so you should take extra precautionary measures to maintain it in its good condition.
Geely Coolray: Fix
#1: Turbocharger and DCT fixes
The most important factor you need to consider in maintaining the life of your Geely Coolray's turbocharger is to change its oil regularly. A turbocharger, alongside other engine components, requires lubrication in order to spool properly and to force air into the engine. Without lubrication, it will damage the component and will affect fuel efficiency.
Another fix you can do with a turbocharger is to change your car's air filter. Since a turbocharger forces air into the system, it accumulates more debris as compared to non-turbocharged engines which can destroy engine components. Air filters tend to last for around 25,000 to 35,000 km, or more than a year.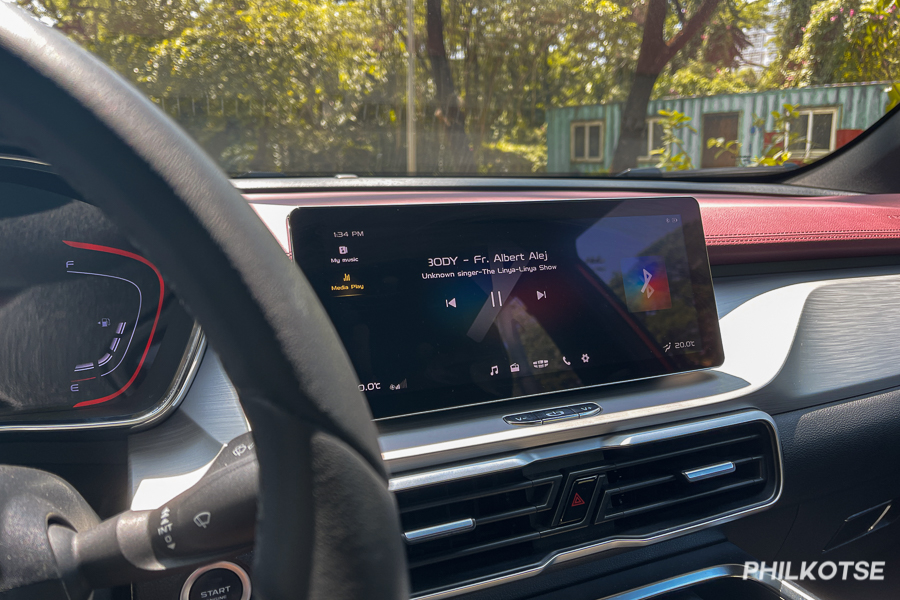 The subcompact crossover, however, doesn't have an Apple CarPlay
Meanwhile, the best way you can take care of your Geely Coolray's DCT is to attend to your subcompact crossover's preventive maintenance service (PMS) as prescribed by Sojitz G Auto Philippines (SGAP), the official distributor of Geely vehicles in the country. A DCT is not as exposed to foreign debris as compared to a turbocharger so it should last around 10 years or 250,000 km.
#2: Maintenance Guide
Here are some ballpark figures that you should encounter if you decide to buy the vehicle. Use the following as a reference only. Prices can still depend on your chosen dealership. The Geely Coolray maintenance cost in the Philippines should be relatively cheaper as it is a small crossover.
In the first year and a half of ownership, you should expect to pay Php 23,522.50 in labor and parts. SGAP will be replacing key components such as oil and filters. If these components are replaced, then common issues with its turbocharger and DCT should be addressed as well.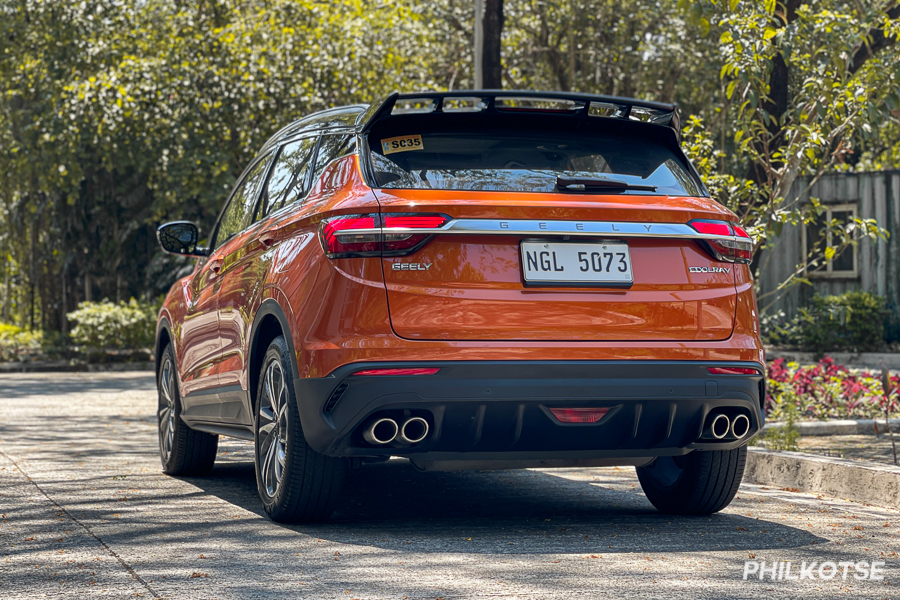 The future of the model is promising in the PH market
The longer you own the Geely Coolray, the higher the PMS cost as more components must be replaced to ensure its roadworthiness. At year five is when you will encounter the most expensive Geely Coolray maintenance cost priced at Php 15,225.50, or 100,000 km (whichever comes first).
Overall, the Geely Coolray is a good all-around option in the market. This is why it is not a surprise why it is frequently the best-selling subcompact crossover in the country, besting the Ford EcoSport, MG ZS, Kia Stonic, among others. Keep the Coolray in good condition and it should take care of you in the long run.
Visit Philkotse.com for more automotive news.

Know more about Geely Coolray 2023

The Geely Coolray 2023 is a subcompact crossover. In the local market, this model has three variants with a price ranging from Php 1,073,000 to Php 1,269,000.
Under the hood of the Coolray is a 1.5-liter inline-3 turbocharged gasoline engine capable of making up to 177 horsepower and 255 Nm of torque. It is then linked to a seven-speed wet-type dual clutch gearbox sending power to its front wheels.
Size-wise, the Coolray is 4,330mm long, 1,800mm wide, and 1,609mm in height. It also has a wheelbase length of 2,600mm.
Locally, the Coolray competes against the likes of the Toyota Raize, Nissan Kicks, Hyundai Creta, Kia Seltos, Mazda CX-3, Honda HR-V, Chevrolet Tracker, MG ZS, among others.

Rex Sanchez
Author