Geely comes back to the Philippines with its new offering: Geely Coolray 2020 Philippines. Will the new compact crossover SUV be successful this time around?
In this review...
Introduction

Exterior

Interior

Engine

Performance

Tech & Safety

Specs

Variant & Price

FAQs

Conclusion
1. Geely Coolray 2020 Philippines Review: Introduction
The name "Geely" will inevitably be followed by an incredulous "Really?!", especially for those who are familiar with the brand's initial (and unsuccessful) foray into the Philippine market. Back in 2011, Geely marketed their LC subcompact car on our shores; it was forced to change the model name from the original Panda since FIAT was already using the moniker, but that was the least of Geely's issues.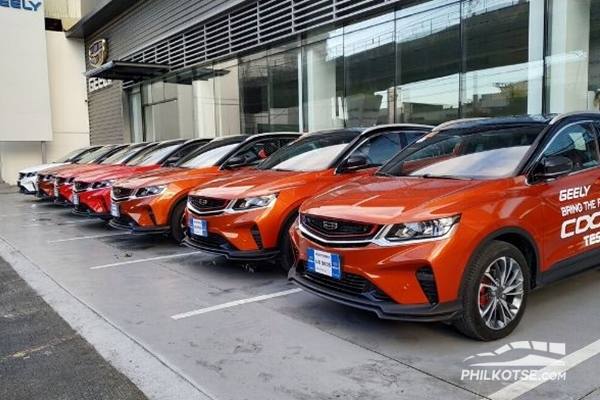 Factory-fresh Coolrays all lined up and ready to go
Long story short, Geely eventually bowed out. In the ensuing period, however, it licked its wounds, dusted itself off and got itself a more vibrant group of designers. Now Geely is poised to make a comeback in the local scene, and its initial offering, the Coolray compact crossover, looks more than ready to make up for the brand's initial shortcomings.
Japan-based Sojitz Corporation - formerly responsible for the success of Mitsubishi Motors Philippines - has taken on the challenge of facilitating Geely's reentry into the Philippines, putting their considerable resources and experience into making Geely a formidable brand in its own right.  
>>> Read more: Fuso Philippines has a new distributor: Sojitz Fuso Philippines Corporation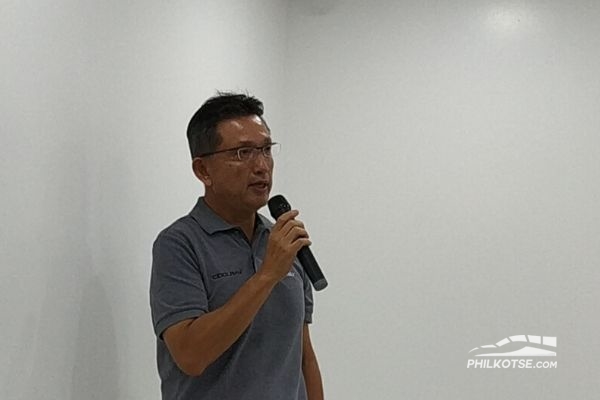 Mikihisa Takayama, President, and CEO, Sojitz G Auto Philippines Corporation 
We were fortunate to have participated in the very first Coolray media test drive organized by Geely Philippines. Whereas the previous test drive held in China primarily focused on its performance against its rivals such as the Honda HR-V, the Hyundai Kona and the BMW X1, the local event aims to demonstrate the Coolray's real-life capabilities as a lifestyle vehicle.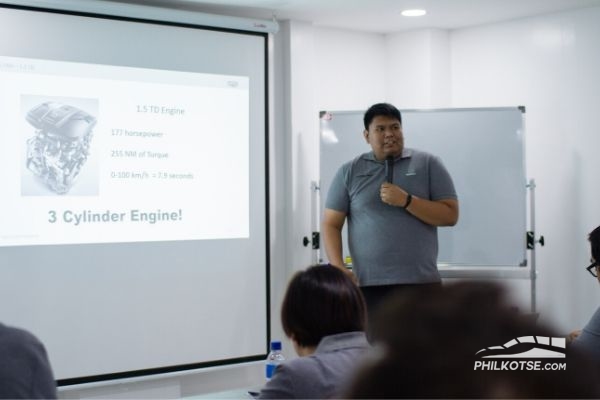 Sojitz G Auto Marketing Services Section Manager Ryan Isana talks about the Coolray's features
The prospect of traveling over 180 kilometers from the Geely flagship showroom in North EDSA to the exclusive Anvaya Cove in Bataan promised to live up to Geely's invitation to "bring the fun back in driving". And the Coolray, to my delight, didn't disappoint.
To learn more about this new coming Chinese car and get a proper answer to the question 'Is Geely Coolray a good car?', let's check out our Geely Coolray 2020 Philippines Review with Philkotse.com 
2. Geely Coolray 2020 Exterior
In 2010, Geely Holdings managed to wholly acquire Volvo from the Ford Motor Company, and the Swedish automaker's influence is becoming more apparent in the models that Geely is churning out, especially the Coolray.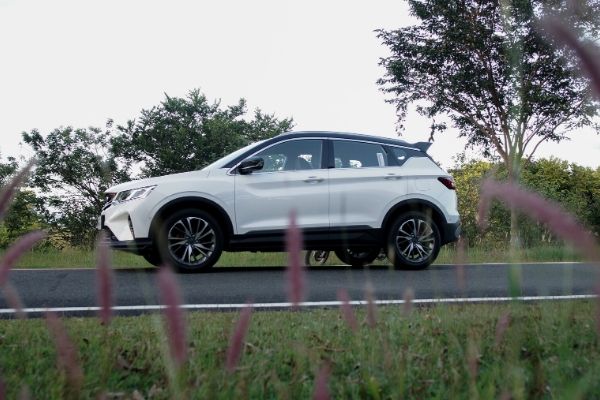 The Coolray sports clean European lines [Source: Sojitz G Philippines]
>>> Which other companies have been influencing Geely's new models? Read more: Geely to acquire nearly 50% stake in Lotus, Proton
The sharp Euro-inspired lines are more than enough to cast away memories of the LC's egg-like contours. Full LED headlights dominate the fascia, positioned on either side of Coolray's Expanding Cosmos grille. Downward creases on the front bumper give the 2020 Geely Coolray exterior quite an aggressive look, enhanced by the rising beltline from the A-pillar to the rear.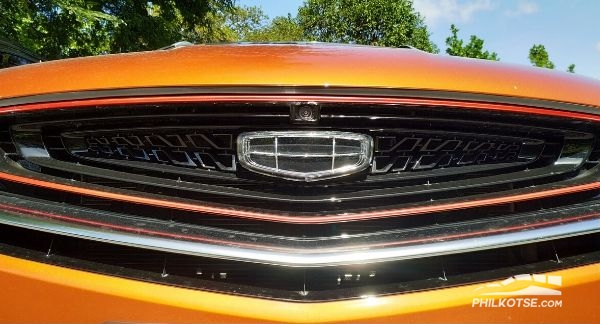 Quad tailpipes out back and faux carbon-fiber accents hint at the Coolray's athletic ambitions, topped off by a prominent rear spoiler.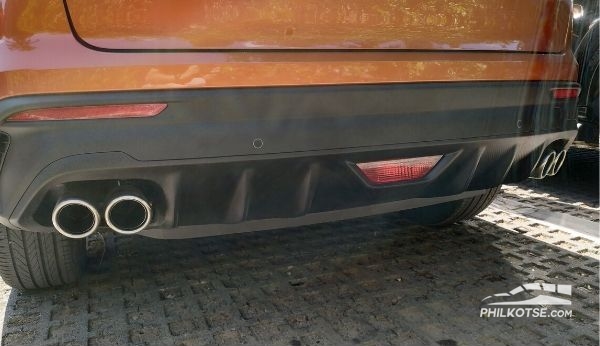 The quad tailpipes and the faux carbon fiber rear diffuser lend a sporty vibe to the Coolray
>>> Related: Which Geely Coolray should you buy? [Philkotse Guide]
YOU MAY WANT TO READ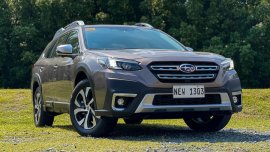 Model Price Philippines
₱ 2,480,000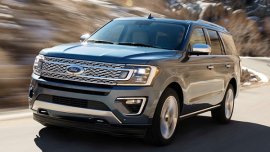 Model Price Philippines
₱ 4,479,000 - ₱ 4,612,000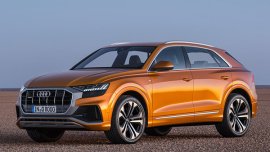 Model Price Philippines
Price available upon request
3. Geely Coolray 2020: Interior
Just behind the doors, the 2020 Geely Coolray interior might as well cater to science-fiction geeks with its nigh-futuristic Wingspan Technology cabin. The 10.25-inch floating touchscreen is set against a dashboard with a brushed aluminum finish, bookended by AC vents that remind one of jet thrusters.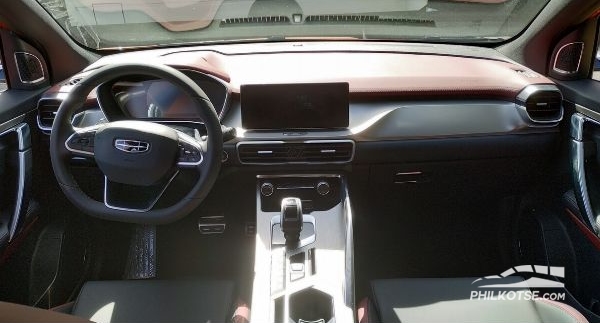 The 2020 Geely Coolray's futuristic interior
The upholstery is clad in leather with red accents and ample bolsters, with electronic adjustments on the driver's seat. One potential niggle is the rather narrow footwell for the front occupants, which isn't helped by the large center console (my thin legs don't mind, but more substantial drivers might find the legroom a little cramped).
At least the Geely Coolray Philippines has a flat-bottomed leather tiller to make ingress and egress easier, and the electric sunroof is a nice touch.
The second row, on the other hand, is a bit more generous in terms of the legroom. I was only able to try it out on the last few kilometers heading back to the showroom, and I almost couldn't resist the temptation to lie flat on my back altogether (if it weren't for another passenger along with me); it was that comfortable, bringing to mind Skoda cars.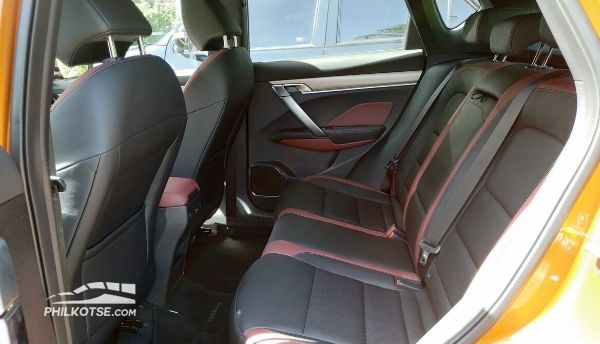 The 2020 Geely Coolray's spacious second row
Despite its sloping roof design, the Coolray's headroom was more than adequate. The split-fold rear seats tumble down to provide access to the rear cargo compartment, which can easily hold a week's worth of groceries or a weekend's worth of out-of-town luggage.       
4. Geely Coolray 2020 Review: Engine
Launching the Coolray over the pavement is a 1.5L turbocharged three-cylinder engine, delivering 177 hp and 255 Nm of torque to the front wheels. Working in concert with a seven-speed wet-type dual clutch transmission, this enables the Coolray to achieve 100 kilometers per hour from a standstill in under eight seconds.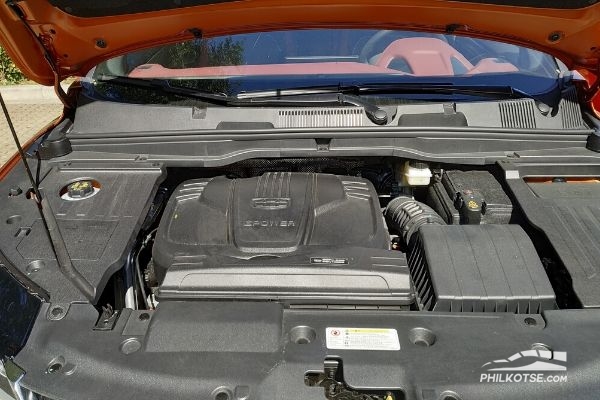 The Coolray is powered by a 1.5L three-cylinder gasoline engine
According to Sojitz G Marketing Manager Ryan Isana, the gearbox can shift in just 0.2 seconds with 97% transmission efficiency, and this was readily apparent when flooring the gas in Auto mode.
Paddle shifters are mounted on the steering column in case the driver wants manual control, but I found that there was a slight delay whenever I tapped the paddles to either upshift or downshift. 
>>> Visit our Cars for sale Section to open your car hunt to more brands and models
5. Geely Coolray 2020 Review Philippines: Performance
In motion, the Coolray is as dynamic as it looks, thanks to the BMA chassis architecture. Acceleration is responsive off the line, while the electric-assisted steering is light but not overly so. 
The crossover is agile enough to negotiate the winding roads going to and from Bataan with ease thanks to the front MacPherson and rear torsion beam suspension setup, although I found the ride a bit too harsh in places on account of the tires inflated at over 40 psi; dialing down the tire pressure should see a significant improvement in terms of ride quality.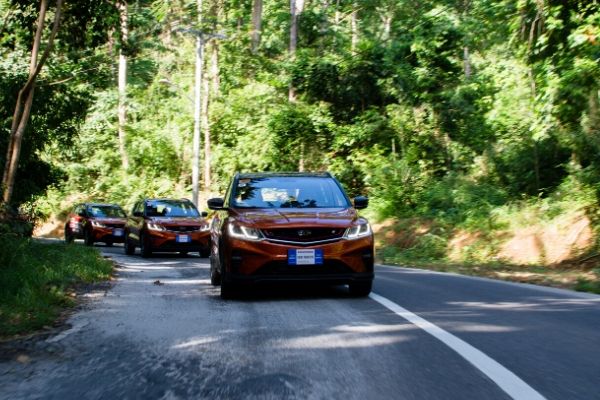 Negotiating the twists and turns going to Bataan was a breeze [Source: Sojitz G Philippines]
The thrum of the three-cylinder engine is practically imperceptible inside the cabin, thanks to the Coolray's NVH insulation, along with what Sojitz G Sales and Marketing General Manager Froilan Dytianquin says is the use of an unbalanced flywheel to offset the engine's natural vibration, similar to what Ford employs on its EcoBoost powerplant.
I had two passengers along for the ride, Philkotse sales executive Bryan Bien and STV cameraman Albert Desamero, both of whom managed to fall asleep after our lunch stopover in Subic, and I was left wondering whether it was because the Coolray was that comfortable or I had boring driving skills.
The Coolray comes with three driving modes: Normal, Eco and Sport, each of which brings different engine, steering and suspension settings. As one can expect, the Eco has more restrained acceleration since it's geared primarily towards efficiency, while Sport is more aggressive, at the expense of fuel economy.
Normal offers a compromise between the two, and it's more than enough for most driving needs whether in the city or the highway. The all-digital instrument cluster changes color depending on the mode selected (yellow for Normal, blue for Eco, red for Sport).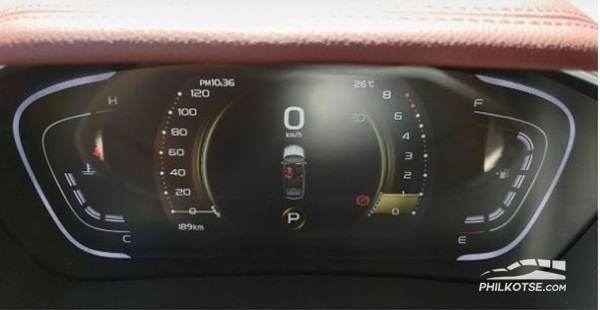 Yellow for Normal mode
Blue for Eco mode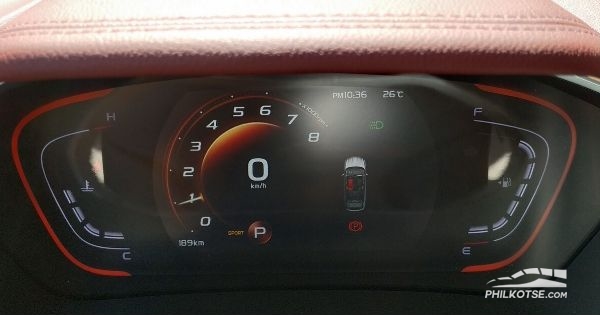 Red for sport mode
>>> More crossover comparison for your further reference: 
6. Geely Coolray 2020 Philippines Review: Tech and safety
The Coolray's touchscreen interface offers connectivity for both iPhones and Android smartphones. Although screen mirroring for the former is as easy as plugging in through the USB port, the latter will need to download the QD Link app from Google Play.
I wasn't able to test out this feature since it looks like my Redmi Note 6 Pro isn't compatible with the app, but at least we were able to stream music via Bluetooth. There are also steering-mounted audio controls for easier (and safer) control of calls and multimedia content.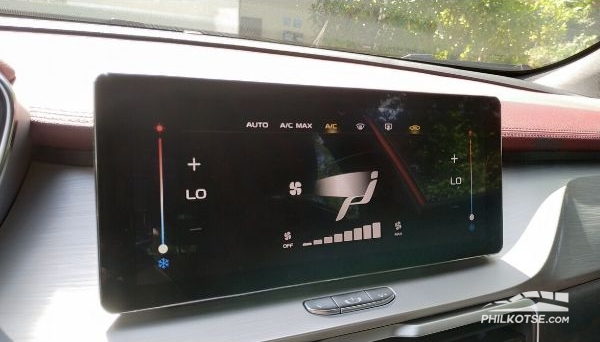 One of the selling points of the Coolray is the 360° surround camera system. Cameras mounted under the side mirrors show a video feed on the touchscreen monitor, with an animated 3D render of the vehicle superimposed. Activating the turn signals automatically engages the system, alerting the driver if there is incoming traffic on either side of the car.
There's also a rear camera with parking guides to assist you when backing up into a vacant slot, and a front camera to warn the driver when you get too close to the vehicle in front, not to mention an array of sensors around the Coolray that kept alerting us whenever a tricycle got too close to our front quarter.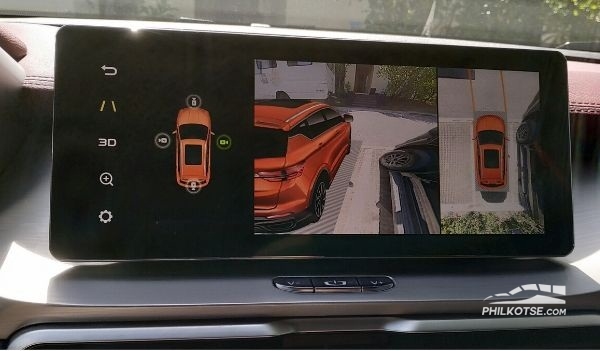 Rear-view camera with parking guides
There's also an automated parking feature, where the driver only needs to press one button on the console and the vehicle does the rest; no need to touch the steering wheels or work the pedals. 
ISOFIX anchors are standard for child seats, and the Geely Coolray 2020 comes equipped with six airbags. The four-wheel antilock disc brakes take a bit of effort to take hold in stopping the Coolray especially at high speeds, although I chalk it up to the fact that the units we drove came straight from the factory, so the brakes haven't had time to properly bed-in yet.
Cruise control saw much use, especially on stretches along NLEX and SCTEX; I was able to rely on it almost exclusively in regulating the Coolray's speed. Before our trip, the Sojitz G bosses told us that there would be a fuel economy contest to see which among the participating media teams can achieve Geely's claimed mileage of 15.5km/liter. 
Extensive use of the cruise control helped us tie with another group for second place at 14.6 km/liter, with first-place finish going to the team that achieved 16.4 km/liter. That's quite impressive, given the Coolray's power output.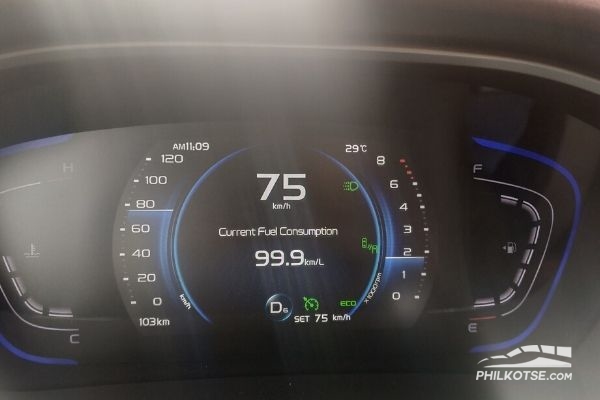 We averaged 75 kph on cruise control
>>> Find out how Geely intends to build more intelligent vehicles here: Daimler and Geely build partnership to develop smart cars
7. Geely Coolray 2020 Specs
Overall

Make

Geely

Model

Coolray 2020 Sport

Dimensions

Length

4,330 mm

Width

1,795 mm

Height

1,609 mm

Wheelbase

2,780 mm

Ground Clearance

196 mm

Gross Vehicle Weight

1440 kg

Engine & Performance

Machine Type

G-Power 1.5 3-cylinder Turbocharged with VVT 

Displacement

1477 cc

Max Output

177 Hp

Max Torque

255 Nm

Emission Standard

Euro 5

Transmission Category

7-speed Wet Dual Clutch Transmission

Fuel Capacity
45L

Safety Features

EPB Electronic Parking Brake and Auto hold

ICC Intelligent Cruise Control

APA Automatic Parking Assistant

BSD Blindspot Detection Function

360° Panoramic Video
Push Start Button

Other Features

Front Suspension

McPherson Independent Suspension

Rear Suspension

Torsion Beam Rear Suspension

Front Brake

Disc

Rear Brakes

Disc

Wheel and Tire

215 60 R17
8. Geely Coolray 2020 Philippines Variant & Price
9. Geely Coolray 2020: Frequently Asked Questions
Q: Is the Geely Coolray fuel efficient?
According to Philkotse's test drive, the Coolray's fuel comsumption averages from 14.6 - 16.4 km/l with normal driving conditions.
Q: Does the Geely Coolray come with a sunroof?
Yes. However, the electric sunroof is only available on Premium and Sport variant of the Coolray.
Q: Is the Geely Coolray a China-made car?
Yes, the Coolray is produced by Geely - a Chinese car company which also owns Volvo.
Q: Is the Geely Coolray offered with a 360 surround camera system?
Yes, and this is one of the unique selling points of the car. Cameras mounted under the side mirrors show a video feed on the touchscreen monitor, with an animated 3D render of the vehicle superimposed. Activating the turn signals automatically engages the system, alerting the driver if there is incoming traffic on either side of the car.
Q: Is the Geely Coolray a 7-seat SUV?
Yes and No. The Geely Coolray is a crossover SUV which can sit up to 5 passengers.
Q: Is Geely Coolray a good car?
Yes. The Coolray is good crossover to go for considering what it has to offer at its price point of Php 978,000 for the base variant.
10. Geely Coolray 2020 Philippines Review: Conclusion
Truth be told, I hated driving the Coolray; I have a Japanese car as a daily driver, and every second I was at the Coolray's wheel made my own ride look irreversibly, irrevocably bad. That speaks volumes of how far Geely has come in terms of design, engineering, technology, and performance. Probably the only thing I felt was missing was another row of seats, simply because I wanted more people to experience the Coolray for themselves. 
I confess to having my initial doubts regarding the Coolray in particular and Geely in general, considering that the brand's debut in the Philippines almost a decade ago was unforgettable for the wrong reasons. But Geely has been steadily building itself to be a formidable brand these days, especially with the acquisition of one of the world's top automotive marques, and their offerings are nothing short of phenomenal as a result.
Geely is now confident enough to make a second bid for the hearts, minds and checkbooks of Pinoy motorists, driven by a more experienced partner who is willing to bide their time until the local market is willing to embrace them as a household name. Sweetening the deal is a 150,000km/5-year warranty that trumps offerings from the more established brands, a sign of how committed Geely is in making the most out of its new lease on life.  
Encouraged by the public's initial reception to the Coolray, the company is promising an expanded lineup in 2020, when it will bring in more models to better compete with its rivals. If the Coolray is any indication, however, the competition will have their work cut out for them.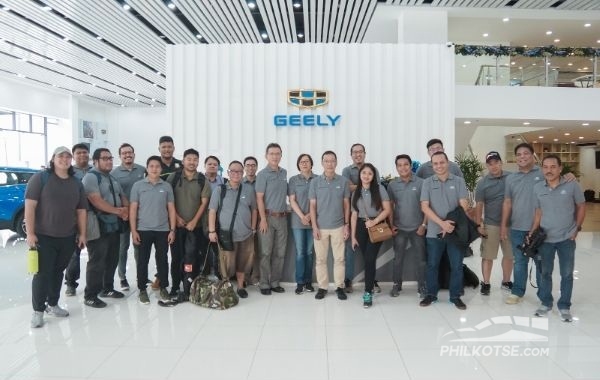 Philkotse with other media groups at Geely's media test drive event.
>>> Keep posted on Philkotse.com for the more full-scale car review by our experts.


Joseph Paolo Estabillo
Author
Recommended articles