Sojitz Fuso Philippines Corporation is the new distributor for all Fuso vehicles like the Canter, the FJ heavy-duty truck, and for the Rosa.
Sojitz Fuso Philippines Corporation
FUSO is one of the most familiar brands of buses and trucks in the Philippines and now, they are getting a new distributor by the name of Sojitz Fuso Philippines Corporation under the leadership of Takatsugu Nitanai, the company's President and CEO.
Formed by the merging of the Nissho Iwai Corporation and the Nichimen Corporation, the Sojitz corporation which Sjitz Fuso Philippines Corporation is a subsidiary, is a global business company that exports and imports good, provides services. They also manufacture good which are also distributed worldwide.
Fuso branded vehicles have been around here in our country since 1969 and are a leading commercial vehicle manufacturer in Japan and to some extent in the Philippines as well.
Today, Fuso is now a part of the Daimler group, a large vehicle manufacturer which has other large brands under its wing namely: Mercedes-Benz, Thomas Built Buses, Western Star, and Freightliner.
>>> Read more: Rumor: New Daimler CEO could end Renault-Nissan Alliance
During the ceremony, Nitanai addressed the attendees by saying that his company aspires for Fuso to become the prime option when it comes to commercial vehicles for business purposes here in the Philippines. He also stated that it is their mission to have the right Fuso truck for each and every need of the Filipino Entrepreneur.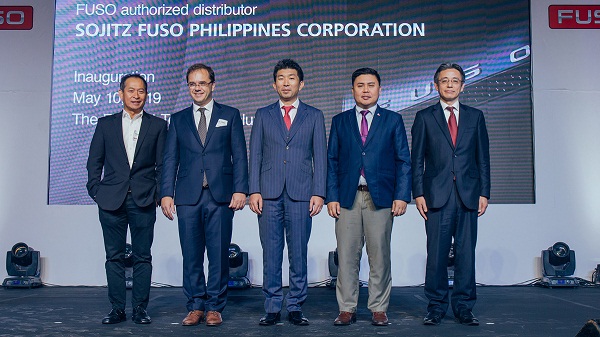 Fuso and Sojitz executives at the Sojitz Fuso Philippines inauguration ceremony
Mark Medina, the SFP vice president for marketing and sales also added that:
As the exclusive distributor of Fuso vehicles here in the country, SFP is driven to expand their business as well as the identity of their products here in the Philippines. 
Mr. Medina also added that they will plan to expand the scope of their dealerships as well as to further grow and improve their after-sales services. He then said that there will be new models that will e introduced in the near future.
At the ceremony, some notable guests were also present. In attendance was Vice President of FUSO sales and Customer Services for South East Asia, Mr Antonio Randazzo along with Mr. Thomas Hilse, and the CEO of Daimler Commercial Vehicles for the South East Asia Pte. LTD.
Fuso Philippines: Brief History
Fuso was established way back in 1932 and produced the B46 bus called the Fuso. This first Fuso bus was built at the Mitsubishi Shipbuilding Company's Kobe Works.
About two years later though, the shipbuilding company was renamed to Mitsubishi Heavy Industries and from that milestone, their company went on to focus on automobiles, trucks, buses, engines, etc.
In 1999, Volvo and MMC merged their truck and bus manufacturing operations. Later, DaimlerChrysler eventually took Volvo's place as MMC's partner for manufacturing and selling buses and trucks.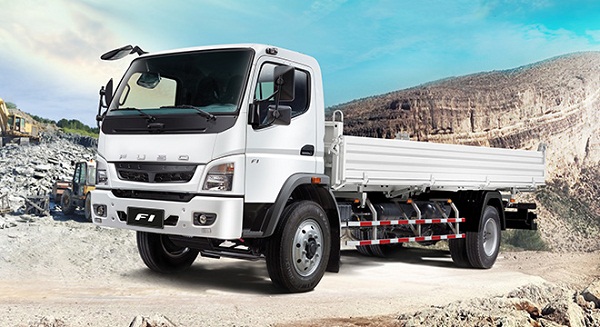 Fuso FI - A popular truck in the Philippines
>>> You might like to check out: First all-electric truck - Fuso eCanter to be sold in US
In 2003, Mitsubishi Fuso Truck and Bus Corporation is otherwise known as MFTBS was founded with about 43 of its shares owned by DaimlerChrysler.  When DaimlerChrysler transferred its stakes for the Chrysler Corp.
However, it took on the name of Daimler AB and the DaimlerChrysler Truck Group was then known as Daimler Trucks. MFTBC is now currently under Daimler AG specifically in the Daimler Trucks Division.
Fuso here in the Philippines currently offers numerous models which range from the smaller Canter series of 4-wheeler and 6-wheeler trucks built for light duty. They also have the larger Fuso FI and FJ for medium duty and the larger Fuso FJ in the rigid configuration for more heavy duty purposes. Fuso also sells the Rosa light duty bus.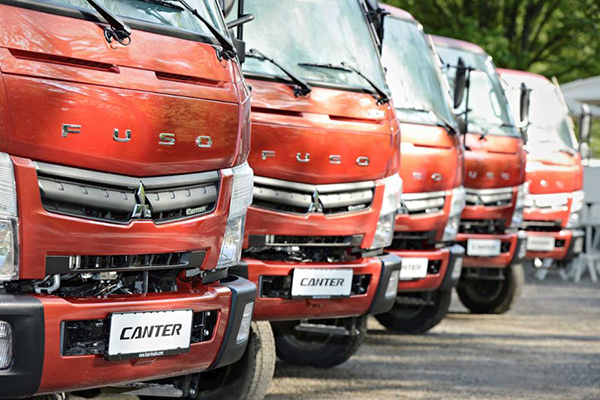 Fuso has had a long presence here in the Philippines, so many drivers will definitely welcome their new distributor
Sojitz Fuso's main office is located in Tower 1, Insular Life Corporate Center, Insular Life Drive, Filinvest Corporate City, Alabang, Muntinlupa City.


Cesar G.B. Miguel
Author