The all-new Fuso eCanter has had its global launch recently in New York City.
As almost every car makers in the world today have shifted its focus on EVs (electric vehicle) and are churning out their own models of their EVs to take on the future. Mitsubishi Fuso Truck and Bus Corporation (MFTBC) isn't an exception. While other car brands go for something beautiful and unique like space crafts, the MFTBC begs to differ as it has unveiled the all-electric truck – the Fuso eCanter.
2017 Daimler Fuso eCanter - interior Exterior and Drive
The Fuso eCanter is dubbed as the first zero-emission light-duty truck worldwide today. This MFTBC's generation will not only be becoming an influential presence on many cities' roads around the world, it likewise helps the manufacturer and the general motoring public step into the new era of the all-electric truck. According to latest updates on automotive industry, the UPS - the popular international shipping service – has received zero-emission trucks recently. These zero-noise, zero-emission trucks are set to become part of the UPS delivery truck fleet.
>>> Related: Check out this truck in the Philippines - Foton Tornado 2016 for sale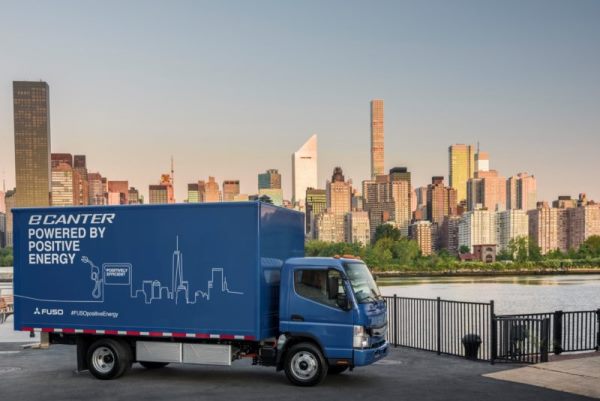 The Fuso eCanter is dubbed as the first zero-emission light duty truck worldwide today
Apart from UPS, four New York City-based NGOs will also take delivery a fleet of series-produced electric Fuso eCanter. These non-profit organizations include: Big Reuse Brooklyn, New York Botanical Garden, Wildlife Conservation Society, and Habitat for Humanity New York City. The eCanter vehicle is powered by a potent electric engine which contains 6 high-voltage batteries with 13.8 kwh and 420V.
On a single charge, the all-new Fuso eCanter can run up to 100km. In coordination with StoreDot – the Israeli battery-technology startup, the MFTBC will tap into a provider that seeks to allow EVs to be refueled as quickly as vehicles with combustion engine can recharge. As for the truck, it has a very large bed that can house up a lot of big and heavy luggage – up to 3 and a half tons. Future eCanter owners will never have to worry about the space for their all kinds of stuff.
>>> Click here if you are interested in Honda's new electric car concept