The production of the Honda Urban EV Concept will be started in 2019.
As many other auto manufactures today are churning out their own variants of their EVs (electric vehicle), the fact remains that these EVs look more like space crafts that have been readied for flight than a good car on actual roads. Honda, however, has made a slightly unexpected move as it launches something rather special – the Honda Urban EV Concept at the 2017 Frankfurt Motor Show.
Honda Urban EV Concept First Look: 2017 Frankfurt Motor Show
According to car news, the new Honda's EV is a smallish hatch that's made to be the vehicle of the future-powered, as folks would expect, completely by pure electrical engine. Yet despite the motor, Honda creative team chose an infinitely better stance for the small-yet-cool EV. The all-new Honda hatchback is said to be shorter than a Honda Jazz and delivers a classic and simple appearance reminiscent of Honda's erstwhile subcompact hatches.
While it comes with that better stance, the Honda Urban EV Concept still has a cloyingly futuristic look. It is equipped with lots of glass, tiny overhangs and the rear-hinged doors. What's more, the Honda badge up front is backlit in blue - effectively telling that it's a Honda electric vehicle – and perhaps this area can be accommodated to post status updates that are supposedly seen by other drivers on the road.
>>> See related post: Sneak preview: Honda Urban EV Concept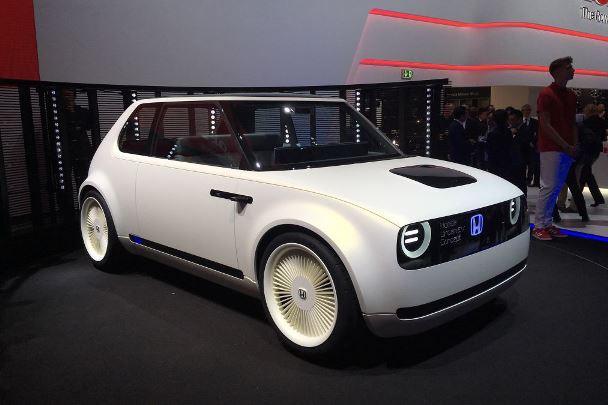 Honda's Electric Urban EV Concept: A retro-futuristic vehicle
As for the interior, the Urban EV Concept is adorned with a mix of modern and retro vibe. As for the classic side, nice materials and an airy space are expected to raise unmatched visibility from within. The four passengers sit in lounge-feeling benches that surely lull them into a deep sense of relaxation. 
>>> Want a retro car, here we have some used Toyota Cressida for sale for you!
As for the modern touches, the new Honda hatchback's dash houses a big screen that stretches right across the dashboard. This is complemented by cameras in lieu of wing mirrors, serving as rearview displays.
Honda is going to start production of the Urban EV Concept in 2019. Latest updates on upcoming Honda cars can be found in our Complete guide to the Honda Philippines' local lineup.
Recent posts