If you are wondering how to take care of your car to be well-prepared for the coming rainy weather then here is all you need to read.
Rain doesn't necessarily cause major alterations to your car. However, taking a few safety measures at the begin of rainy season can make driving a lot more secure. Thus, Philkotse.com has compiled 10 tips to take care of your beloved vehicle in order to help Pinoy motorists be well-prepared for the upcoming wet season.
1. Check your tires
Make sure that you don't neglect one of the most vital compnents of your vehicle: your tires. They are the only part of the car that keeps in constant contact with the ground. Regularly check the tires to make sure they still remain proper tread depth left, have even wear and are always kept in recommended pressure by the manufacturer.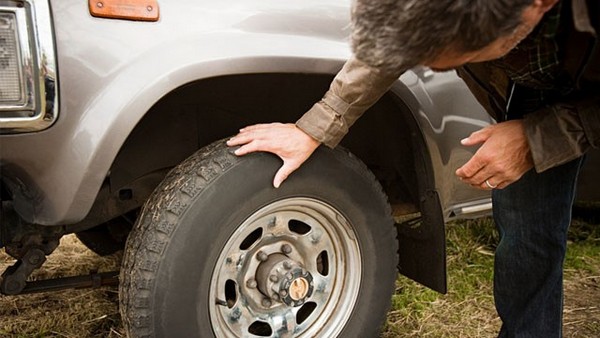 Always keep your tire inflated to the recommended pressure 
It is also advised to replace your tires when it is over 5 years old. A tire's rubber tends to harden over time, reducing grip and making it prone to blowouts at highway speeds. It can even get dangerous in cases which normally shouldn't cause any problems such as hitting a modest bump or object.
>>> Related posts: 
2. Check your windscreen wiper/wiper blades
The fact that this might be the cheapest part in your car does not mean it is any less important. Make sure your wiper blades are always kept in tip top shape so that they can do their job of clearing the stains and water vapors off the glass, improving your vision while driving under the rain.
>>> See also: When & How to replace your windshield wiper blades?
3. Keep your car clean and give it a wax
You may wonder if it is really necessary to wash your car regularly in wet season because it can get dirty after all due to a sudden heavy rain anytime. Some are even lazy enough to believe that their cars can be cleaned by the rain. But trust us, washing the car by rain-water is totally pointless because rain-water contains acidic. After the water evaporates, the remaining acidic material can ruin the paint and even weaken the metal.
Thus, keep up with regular, proper cleaning to protect your vehicle's exterior then give your vehicle a good wax to keep it in optimal shape.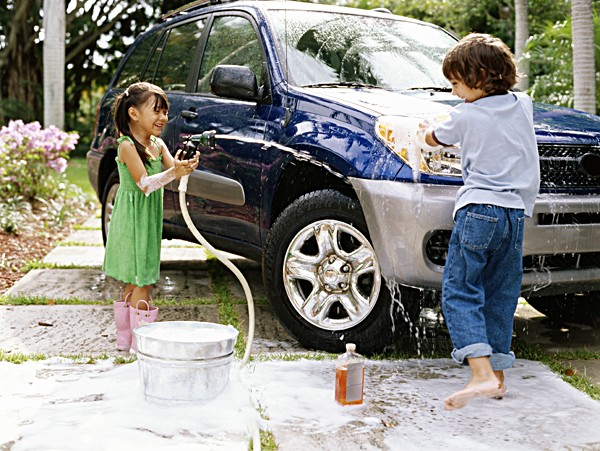 Simply keep washing your car in order to keep up with regular, proper care to protect your vehicle's exterior
In case you do not have enough time to treat your car with a full wash then a speedy hose-down is sometimes good enough.
>>> Click here to get 3 easy tips to remove acid rain spots from your car
4. Clean/change your headlights
Humid weather usually results in unclear vision, which poses potential risks for motorists. In such cases, your headlights and taillights will help improve your vision while driving.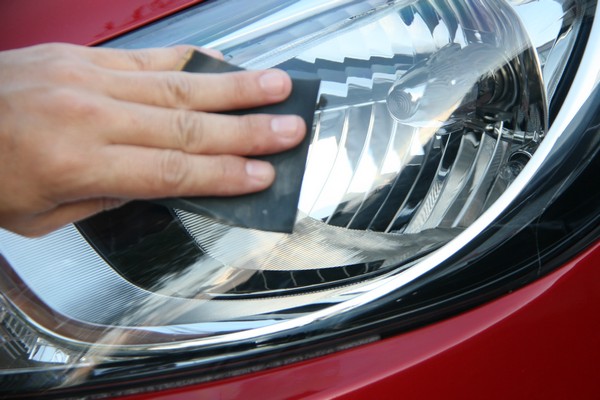 Make sure that you already check your headlights and your taillights as well
While your headlights help you to see the road and others vehicles, taillights indicate your position clearly back to other road users. Thus, make sure that your headlights and taillights work effectively during heavy pours and foggy climate. Read our DIY tips to clean your headlights here.
5. Check/change your battery
Your car battery is going to be work very hard during rainy season. Components such as wipers, lights, air-conditioning, etc will require significant power while driving under rainfall. Hence, spend your time testing the battery to ensure whether it is still good to go or needs a replacement.
When should you change your Car Battery?
It goes without saying that battery is one of the most important components of a car. Frequent care and maintenance will enable the effective performance of the battery and the entire system as well. However, there are a lot of things to talk about car battery. Don't know where to start from? Let's look through some simple tips to take care of your car battery suggested by Philkotse.com as follows:
6. Check for the leaks
You would not want your beloved car to look good on the outside yet contain potential risks from the inside. Pay close attention to any unsual smell in your vehicle because there might be a sign of oil/fluid leaking. Better to check the rubber seals, windows, around the doors, hood, trunk and even taillights which are often neglected.
>>> See more: Diagnose your car's annoying smells & How to remove bad odor from your car
7. Have your vehicle weatherproofed
Instead of cleaning your car's interior from mud and dirt after every rain, you can totally invest in weatherproof accessaries. Bring your vehicle to a service center and have it armed with toys such as rubber floor mats, boot trays, and pedal caps. These accessaries cannot prevent your car's interior from getting dirty but you can have them cleaned very easily, which in turn help save your time and effort.
8. Check your brakes
Rain makes the road more slippery. Your car's brakes is the primary safety feature in such driving condition. Since they operate on the principle of friction, your brakes suffer one of the most significant amounts of wear and tear under frequent use, probably second to the car engine itself. Keep in mind our 4 important tips in checking your brakes to decide if they are still good or when they need to be changed.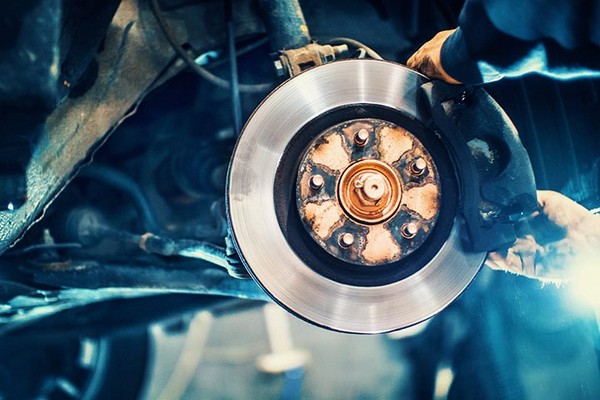 Check your brakes to guarantee your safety
9. Keep an emergency kit in your car
Misfortunes can happen anytime, particularly when you have to drive under harsh weather conditions, so preparing some essential toolkits for your car will help you out. If you are too confused to decide which equipment is necessary to keep in your car, refer to our article of 8 must-have items for your car emergency kit.
All things considered, Philkotse.com hopes you have equipped yourself with useful knowledge to drive safely in rainy season in the Philippines.