This is a guide on everything you need to know about the side mirrors of a car.
I. A guide to your car's side mirrors
While you might scoff at the idea about a guide to your car's side mirrors, like most aspects or parts of operating a car, there are actually several best practices that you can apply to the use of your side mirrors in order to enhance your driving experience as well as providing more in the way of safety.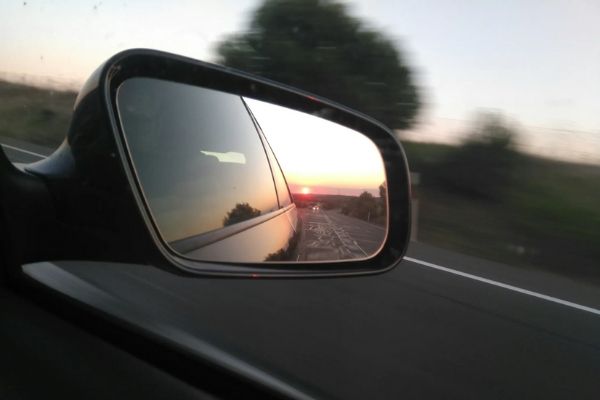 Side mirrors are a crucial part of operating a motor vehicle. Without them, you're as good as blind
So here's a guide from Philkotse.com to help you get to know about the side mirror of a car better and even better; a list of aftermarket car parts and their average prices here in the Philippines.
II. 8 FAQs about side mirror of a car
#1. What is the mirror on the side of a car called?
Yes, most of us will simply call these as our side mirrors. But did you know that in other parts of the world, they are also wing mirrors? This is because some cars in the 60s, specifically European models had their mirrors mounted on the body panels just above the front wheels.
People hated them though so manufacturers mounted them on the door, closer to the driver. They were then called "driving mirrors" because initially, they were only placed on the driver's side.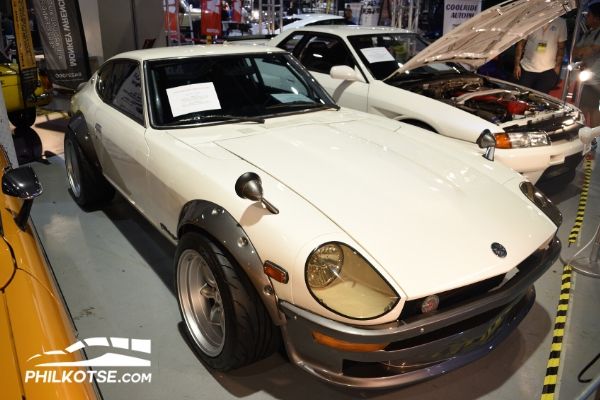 On older cars, side mirrors were mounted on the front quarter panels
>>> You might like to read: 12 safety features of modern cars you should understand
#2. What are the types of side mirrors and what are their functions?
Due to legislation in different parts of the world as well as advances in vehicle safety, side mirrors can come in three types according to the shape of their mirrors. First is the planar side mirror. When viewing the passenger side mirror however, the image cannot provide a useful amount of field of view. As such, a convex mirror or an aspheric mirror.
The disadvantage of using a convex side mirror is that it makes objects appear smaller. That, in certain situations like making a lane change, can be dangerous. This is the reason as to why non-planar mirrors around the world have that well known "objects in mirror are closer than they appear" warning legend.
This warning is not required in other parts of the world like Europe.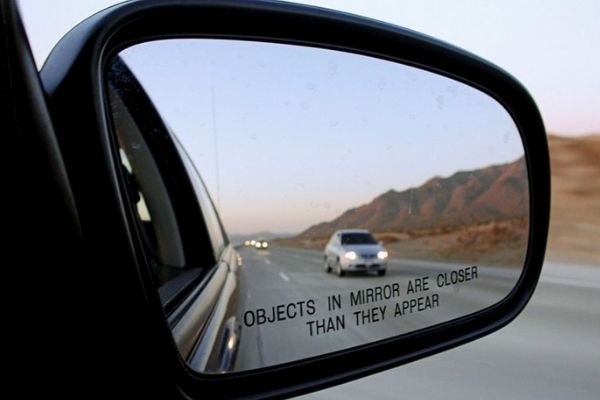 The well-known warning phrase on a side mirror
The primary function of a side mirror is to eliminate blind spots by reflecting objects into the view of a driver that he/she otherwise cannot see. Of course, actually turning your head away from the front to look at whatever's coming up to the sides of your vehicle will take your attention away from whatever's in front of you. That, of course, is dangerous.
>>> Learn more about auto-dimming rearview mirrors and how they work
#3. How to use and adjust your side mirrors?
Before we even begin to talk about how to use your side mirrors, let us talk first about how to adjust them.
First, get in the car and sit on the driver's seat.
Second, locate the levers or buttons that adjust the side mirrors. Newer car models either have a button or a short stubby stick that can electronically adjust the positions of your side mirrors. In older models, you must reposition the mirrors manually by using a lever or by pressing on the mirrors themselves.
Adjust the driver's side mirror first. To do this, place your head against the driver's side window and position the side mirror until you can barely see the side of your car on the mirror's ride side.
Next, adjust the passenger's side mirror. Do this by positioning your head over the center console and then reposition the mirror until you can barely see the side of the car from the left side of the mirror.
So, how do I use my side mirrors?
Merging – When merging, activate your signal lights first before checking your side mirror on the same side you intending to merge into.
General Driving – Keep scanning your side mirrors with a quick glance from time to time. Say, at one-minute intervals.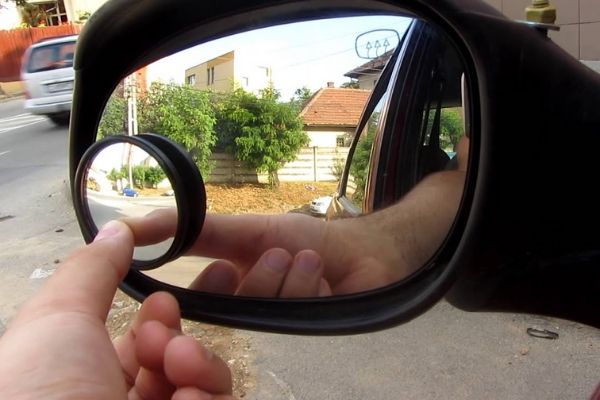 It is also helpful to regularly clean your side mirrors
>>> Read more: 6 Safety Features To Look Out For When Buying A New Car
#4. Are cars legally required to have side mirrors?
Yes! Driving around in Metro Manila with busted side mirrors is an MMDA violation. Also, all cities in the Philippines will have some sort of ordinance regarding side mirrors. According to the LTO, all motor vehicles are required to have side mirrors and not having a functional one installed is a violation.
For certain cities and some limited access facilities like the NLEX and the SLEX, a car without a working side-mirror is considered a dilapidated vehicle and will not be allowed inside the said facility.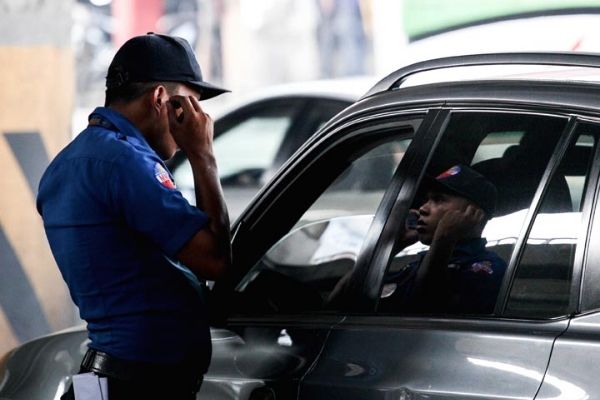 Yes, driving without a side mirror is illegal in most Philippine regions if not all
#5. How much will it cost to fix a car's side mirror?
In modern vehicles, side mirrors are rather complicated because as we've said before, many of them can be electronically adjusted and can be electronically folded. As such, we highly suggest approaching your casa first before thinking about letting some car body shop repairman touch your side mirror.
Also, because of these current part's complexity, it might also require a technician. For more basic models though (those without electronic adjustability), you can just search up a compatible after-market piece for your specific car model. For a list of average prices, check out the second part of this article below.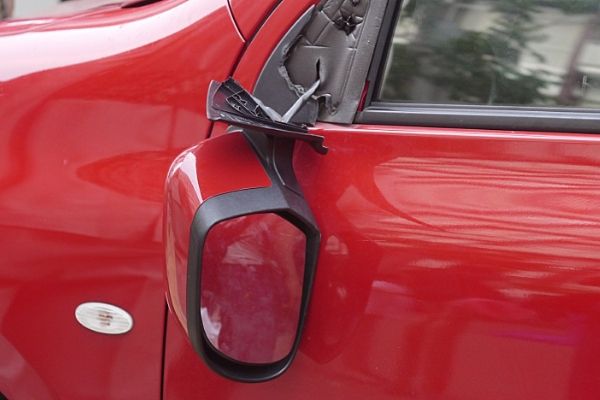 For old and mechanically simple econoboxes, parts like side mirrors are cheap
#6. Will insurance or warranty cover a broken side mirror?
According to our guide on car insurance in the Philippines, comprehensive car insurance can cover parts that have been damaged by malicious parties and collision damage. So yes, this type of insurance will cover your side-mirrors.
As for warranties, no, they won't cover your side-mirrors unless you can prove that the source of their defect is due to some error in manufacturing.
#7. How much does it typically cost to replace a car's side mirror?
It all depends on the model of your car. As we've said, a newer car model's side mirror is complex devices unto themselves so it will accrue a hefty cost. For a more accurate quotation do contact your nearest brand's dealership.
| | | |
| --- | --- | --- |
| Model | Authorized dealer price ranges | Aftermarket price ranges |
| Side Mirrors of Honda City | N/A | Php 1,700 – Php 4,000 |
| Side Mirrors of Honda Civic | N/A | Php  1,300 – Php 2,700 |
| Side mirrors of Toyota Vios | Php 4,014 | Php 500 – Php 3,000 |
| Side mirrors of Toyota Hilux | Around Php 4,000 | Php 1,200 – Php 7,500 |
| Side mirrors of Toyota Corolla | Around Php 2,000 | Php 1,000 – Php 3,000 |
| Side mirrors of Toyota Hiace | N/A | Php 1,200 – Php 4,200 |
| Side mirrors of Toyota Innova | Php 4,000 – Php 4,500 | Php 2,000 |
| Side mirrors of Toyota Avanza | N/A | Php 2,300 – Php 3,500 |
| Side mirrors of Mitsubishi Montero Sport | N/A | Php 2,500 – Php 3800 |
| Side mirrors of Mitsubishi Adventure | N/A | Php 1,700 – Php 2,500 |
| Side mirrors of Hyundai Accent | N/A | Php 1,300 – Php 4,000 |
Disclaimer: These price ranges are from individual sellers that we found on the internet. As such, many of these are NOT OEM parts. Also, replacement parts for newer models are priced much higher than the ones listed above and will require a specialist to install properly.
Contact your mechanic or better yet, your brand's nearest dealership. And lastly, the estimated prices above are dependent on the year model. The newer the model is, the price typically goes higher.
#8. How to reattach a side-view mirror?
If it isn't a newer model, say, like a 2003 Suzuki Super Carry (multicab), then it's as easy as grabbing your basic Automotive tools, specifically, a screwdriver. If its something like a 2018 Toyota Fortuner though, then forget about even trying.
How To Fix a Broken Car Mirror
Did this guide help you with all your questions about side mirrors?
>>> Check out more safe driving tips and advice on Philkotse.com


Cesar G.B. Miguel
Author