You should consider one if you're looking for a frugal family hauler.
Suzuki Philippines is generally known for making small, fuel-efficient cars, and its bigger models are not always met with success. But for the Philippine market, where a premium is often placed on family vehicles, the carmaker has managed to hit it big with the Ertiga multi-purpose vehicle (MPV).
Suzuki Ertiga promotional video
Sure, there's always the APV, but the Ertiga benefits from a longer body and wheelbase, resulting in better legroom and cargo capacity. And then, there's also the Ertiga's lower center of gravity brought about by its more modest ride height, bringing about a more car-like ride.
The Ertiga is currently on its second generation and is available in four main trim levels alternating with a Black Edition for each, adding up to a total of eight variants.
The flexible seating configuration and thrifty powertrain help make this vehicle a strong choice for practical households.
Convenience features such as generous storage compartments, onboard navigation, and cooled cupholders make extended journeys more bearable. 
     
If you're considering getting a Suzuki Ertiga as the family chariot, we break down how much you would need to own one.
Suzuki Ertiga GA 1.5 MT Black Edition
This is the most affordable Ertiga variant by far, sporting sturdy 15-inch steel wheels, fabric seats, a 1DIN radio tuner with mp3 player, and a five-speed manual transmission routing the 1.5L K15B gasoline engine's output to the front wheels.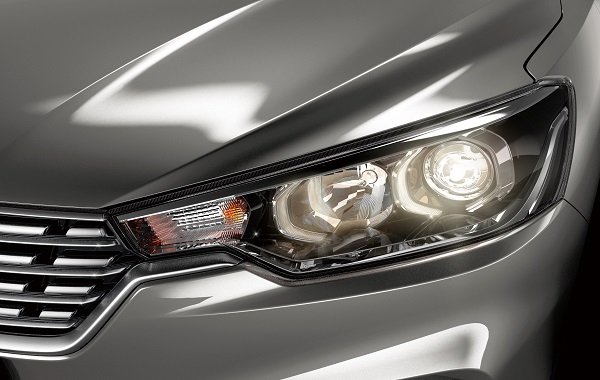 Projector headlamps are standard on all variants
The sticker price is Php 738,000, which can be divided into 36 monthly payments of Php 20,640 with a downpayment of 20 percent or Php 147,600.
Extending the payment terms to 60 months will only set you back Php 14,232 on the same deposit. If you opt for a higher 30 percent downpayment or Php 221,400, you only need to pay Php 12,453 monthly for the next 60 months.
>>> Related: Suzuki PH giving away free Skydrive 125 Fi motorcycle to new Ertiga owners
Suzuki Ertiga GL 1.5
Something a little more premium-looking comes your way with the Ertiga GL trim, featuring chrome garnish on the grille and tailgate. Front fog lamps are standard, as well as body-colored power side mirrors and 15-inch alloy wheels.
Extra two speakers at the rear allow more passengers to enjoy the sounds coming from the 8-inch multimedia touchscreen head unit.  
Transmission options are a 5-speed manual and 4-speed automatic, with the GL trim coming in both Black Edition and Upgrade versions, the latter sporting laminated wood trim on the interior and steering wheel. A GL Black Edition equipped with the stick shift comes at Php 858,000, and for a downpayment of 30 percent or Php 257,000, you'll need to set aside Php 23,996 as amortization for the next 36 months.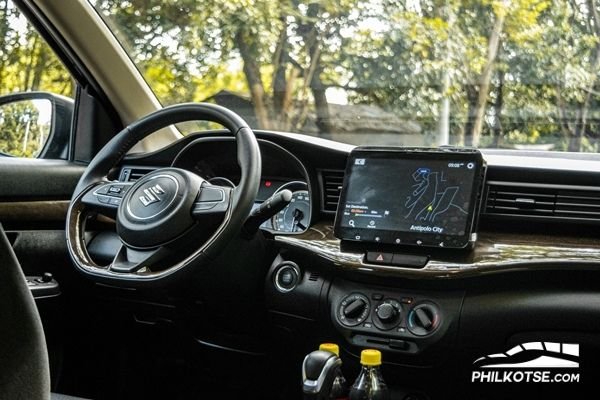 Laminated wood trim abounds on the interior
Meanwhile, the GL Upgrade Edition with the 4-speed automatic will set you back Php 903,000. For a downpayment of 40 percent or Php 361,200, the monthly bill only amounts to Php 18,491 for 36 months, or even lower at Php 13,061 for 60 months.
>>> Related: 2020 Suzuki Ertiga vs Honda Mobilio Comparison: Spec Sheet Battle
Suzuki Ertiga GLX    
The GLX is the top-of-the-line Ertiga available, with the full range of features such as chrome door handles, power-folding side mirrors, LED rear combination lamps, and 15-inch polished alloy wheels on the exterior.
Drivers are treated to a leather-wrapped steering wheel with audio controls commanding the 10-inch touchscreen head unit, as well as a seat height adjuster. A reverse camera joins the array of safety features as standard.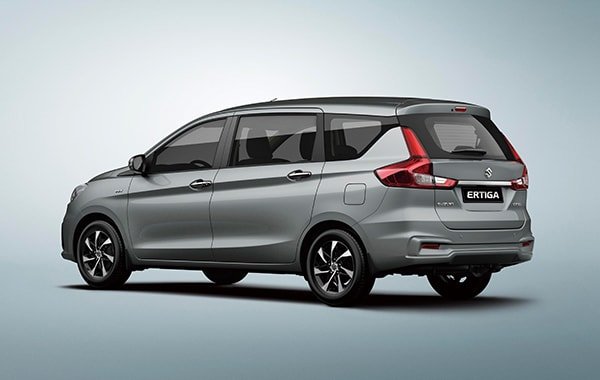 The range-topping GLX comes with new 15-inch polished alloy wheels
For the Black Edition trim, the Php 988,000 price tag is broken down into monthly payments of Php 27,632 for 36 months, on a downpayment of 20 percent or Php 197,600. Putting down a higher deposit of 50 percent or Php 494,000 and opting for a longer-term of 48 months will only set you back Php 13,899 every month.
Meanwhile, the Upgrade trim costs Php 993,000, which is manageable with 48 monthly payments of Php 19,557 on a 30 percent downpayment or Php 297,900. For a 60-month term, you only need to set aside Php 16,756.
Remember that these are just estimated figures, exclusive of other relevant costs such as fuel, maintenance, insurance, and registration. Note that the safeguard tariff for imported vehicles have already taken effect (the Philippine-spec Ertiga is sourced from India), which means that an additional Php 70,000 might be tacked on to the MPV's sticker price. Visit your nearest Suzuki dealer to confirm the final rates.
Find more tips that add up to a great car ownership experience at Philkotse.com.

Know more about Suzuki Ertiga 2022

The Suzuki Ertiga 2021-2022 Philippines by auto industry stalwart Suzuki is a seven-seat, five-door, compact MPV. For the Philippine market, it is offered in three variants that all use a 1.5-liter K15B inline-4 engine capable of making up to 103 horsepower and 138 Nm of torque. Available transmission options for this model include a four-speed automatic and a five-speed manual transmission. Moving to the dimensions, the Suzuki Ertiga has a length of 4,395 mm, a width of 1,735 mm, and a height of 1,690 mm. This Japanese MPV is competing in the local market against the likes of the Toyota Avanza, Mitsubishi Xpander, and Maxus G50.

Joseph Paolo Estabillo
Author