Confused by all the Navara variants? Then let this guide help you.
Like most of its rivals, the Nissan Navara has been around for a very long time. Its first-generation D22 series was introduced back in 1997, and its current D23 third-generation version has been around since 2014. But despite the Navara's long production runs, its current version is popular around the world for a good reason. It offers a very reliable engine, as well as a very robust chassis.
Like most popular pickup truck models in the Philippines, the Navara currently has a surprising amount of variants. So this begs the question: which one is the right Navara to buy? To answer that, let's compare its variants against each other in terms of specifications.
Nissan Navara Variants: Dimensions
When it comes to dimensions, the Navara's variants have three subsets, each with slight variances. The VL variants, which include the VL N-Warrior, VL Sport edition, the 4x4 VL 7AT, and the 4x4 VL 6MT measures 5,255mm long, 1,850mm wide, and 1,840mm high. The EL Calibre 4x2 7 AT, 4x2 EL Calibre 6MT, and the 4x2 Calibre MT has the same length and width but is shorter by 15mm at 1,825mm. The EL Calibre N-Warrior and the EL Calibre Sport, however, come even shorter with a 1,789mm height.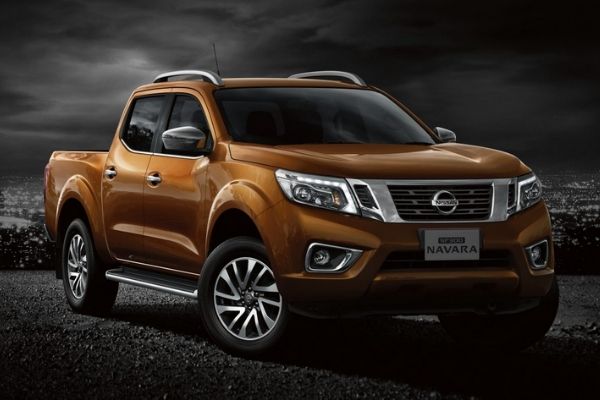 The most popular Navara color, for some reason, is orange. And yeah, we think it suits the Navara well
And lastly, the 2.5 4x2 6MT is 5,230mm long, 1790mm wide, and 1760mm high. All the variants have the same wheelbase length. All the Navara's variants also come with an identically sized cargo bed, which measures 1,503mm long, 1560mm wide, and 474mm in height.
The VL as well as the VL N-Warrior, VL Sport, and EL Calibre variants come with a 245mm ground clearance. All Navara variants under the EL trim have 243 mm, while the entry-level variant Calibre gets a slightly lower 238mm ground clearance. The 4x2 6MT base Navara gets the least at 203mm.
When it comes to exterior design, the N-Warrior comes on top when ruggedness is concerned. It comes with a different looking over rider and skid plate, a sports roll bar, and a different set of 18-inch wheels. The top-of-the-line VL Sport Edition, however, is the most subtle of the bunch with its quiet-looking gun metal side steps and rear bumper, as well as it's sleek but angular front fascia.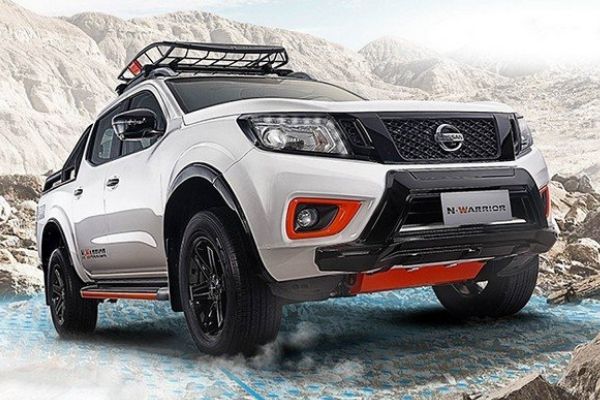 Wanna look tough on and off the road? Then get an N-Warrior
The N-Warrior, as well as the VL and VL Sport variants, has automatic LED headlamps with a "follow-me-home" function. The EL, EL Calibre, Calibre, and the base model gets a simpler but still effective halogen multi-reflector headlights. The only Navara variant that doesn't come with a side-step board and a rear window defroster is the 4x2 6MT Navara base variant.
>>> Related: Nissan Navara accessories Philippines: Do I need to add one and what to buy?
Nissan Navara Variants: Interior
As for driving amenities, the entire Navara variant lineup is equipped with manually tilt-adjustable steering column. Only the N-Warrior, the VL Sport, and VL variants are equipped with a steering wheel with button controls for cruise control, and hands-free calling. Those variants are also the only ones that are equipped with the Nissan Intelligent keyless entry system, a push to start button, a 3D TFT color display, an auto-dimming rearview mirror with a compass, and an eight-way power-adjustable driver's seat with lumbar function.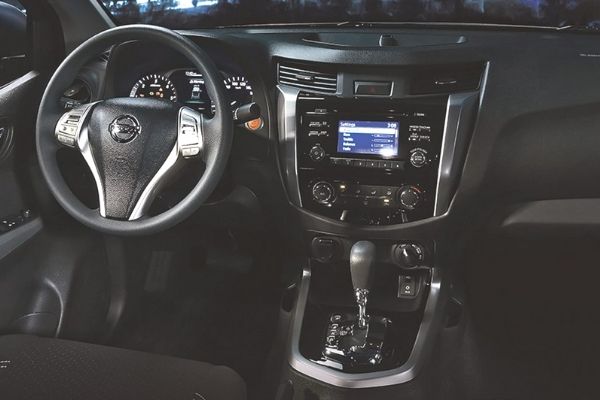 Even the dashboard looks like it can withstand a beating
In terms of on-board entertainment, the N-Warrior, the VL Sport and the other VL variants have an eight-inch touchscreen display with Apple CarPlay, Android Auto, Bluetooth connectivity, USB, Aux, and iPod connectivity. The rest of the other variants come with a 2-DIN entertainment system that comes with USB/iPod/Aux connectivity, a radio tuner, and MP3 player, and a CD player. All variants, however, are equipped with a six-speaker setup.
Useful amenities like six cup holders, a 12-volt power outlet, rear and front accessory sockets, and a soft-touch armrest are standard on all Navara variants. Only the 4x2 Calibre 6MT and the base 4x2 6MT are equipped with a dial-type manual AC system with rear ventilation. The rest comes with a manual, push-type AC with rear vents.
>>> Click here to get a full list of new and used Nissan Navara for sale in the Philippines
Nissan Navara Variants: Engine and Performance
When it comes to variations to transmission-drivetrain combinations, the Nissan Navara is the most extensive pickup truck model in the Philippine market. The VL Navarra Variants all come with a 4x4 drivetrain and a six-speed manual or seven-speed automatic with manual mode. EL variants are equipped with 4x2 paired with the same transmission choices as the EL except for the 4x4 EL MT. Lastly, there are the two base models which only come with a 4x2 drivetrain and a six-speed manual.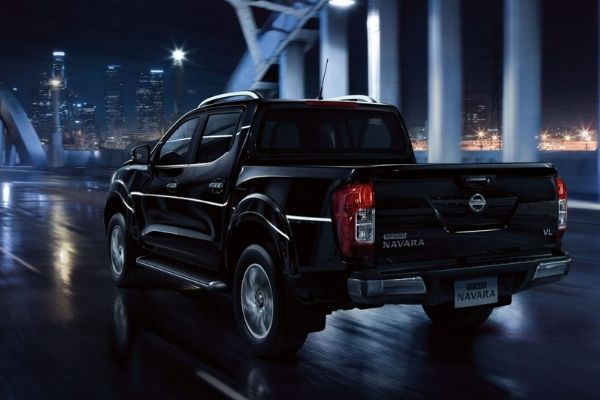 The YD25 engine of the Navara, apart from rough roads, is great for long distance travels
>>> Related: 2021 Nissan Navara Old vs New: Spot the differences
When it comes to engines, all the Navara variants are powered by the YD25 diesel engine. It's an inline-4 with DOHC, and an intercooled variable turbocharger. For the VL variants, the YD25 is tuned to make more power at 187 horsepower and 450 Nm of torque. On the other Navara variants from the EL to the base variants, however, the said engine is tuned to make 160 horsepower and 403 Nm of torque.
Nissan Navara Variants: Safety Equipment
When it comes to safety equipment, the VL Navara, including the Sport edition and the N-Warrior, the 4x4 EL 6MT, and the EL Calibre variants are equipped with the brilliant Nissan intelligent mobility safety suite. This of course includes an around-view monitor. However, only the 4x4 EL 6MT and up comes with hill-start assist and hill descent control.
All variants of the Navara do come standard with dual front airbags, ISOFIX, and a high mount stop light. The base Calibre and the most affordable 4x2 6MT Navara are the only ones that don't come with ABS with EBD and car alarm with engine immobilizer.
>>> Related: 2021 Nissan Navara: Expectations and what we know so far
Nissan Navara Variants: Pricing
| | |
| --- | --- |
| Navara Variants | Price |
| Navara 4x2 6MT | Php 929,000 |
| Navara 4x2 Calibre MT | Php 999,000 |
| Navara 4x2 EL Calibre MT | Php 1,135,000 |
| Navara 4x2 EL Calibre AT | Php 1,195,000 |
| Navara 4x2 EL Calibre MT N-Warrior | Php 1,249,000 |
| Navara 4x2 EL Calibre Sport Edition MT | Php 1,255,000 |
| Navara 4x2 EL MT | Php 1,285,000 |
| Navara 4x2 EL Calibre AT N-Warrior | Php 1,309,000 |
| Navara 4x2 EL Calibre Sport Edition AT | Php 1,315,000 |
| Navara 4x4 VL MT | Php 1,455,000 |
| Navara 4x4 VL MT AT | Php 1,515,000 |
| Navara 4x4 VL MT N-Warrior | Php 1,569,000 |
| Navara 4x4 VL AT N-Warrior | Php 1,629,000 |
| Navara 4x4 VL Sport Edition AT | Php 1,635,000 |
Nissan Navara Variants: Which one is right for you?
As you can see from the pricelist above, the Nissan Navara has one of the widest price ranges for a pickup truck model here in the Philippines. So yes, there's definitely one for all budgets and for all purposes.
If you just want a utility vehicle that you can rely on to carry your business, then you'd want the Nissan Navara 4x2 MT base model. It's cheap and reasonably comfortable. If you want to look macho on the highway without breaking your wallet, then we suggest going for the 4x2 EL Calibre MT as it looks great, while still having the practicality of the base model.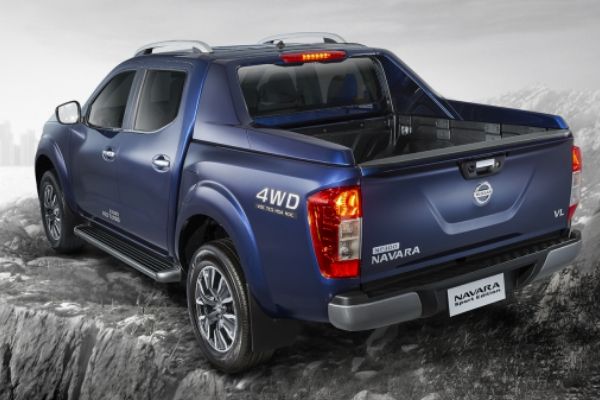 The VL Sport Edition is the undisputed king of the Navara model lineup
For those wanting the cheapest 4x4 Navara you can take to the boonies, then there's the 4x4 EL MT. If you have the cash and you want the best, then there's the 4x4 VL Sport Edition, which looks great and can literally go anywhere.
So yes, there's a Navara for everyone. What it lacks now however is something that can trade punches with the Raptor.
For more guides like this, keep reading here on Philkotse.com.

Know more about Nissan Navara 2022

The Nissan Navara 2022 is a pickup truck that is available in the Philippines. Nissan Navara 2022 Philippines price starting from Php 1,026,000 to Php 1,746,000. This price range is covered within the truck's six variants, with the PRO-4X as the most expensive Navara. Under the hood, the Japanese pickup is powered by a 2.5-liter YD25DDTi inline-4 DOHC turbodiesel engine. Depending on the variant, the horsepower ranges from 161 to 190, while the torque in newton meters varies from 403 to 450. Either a 6-speed manual or a 7-speed automatic transmission is paired to the engine.
Dimensions-wise, the Navara spans 5,260 mm in length, 1,875 mm in width, and 1,855 mm in height, with the wheelbase rated at 3,150 mm. In addition, the bed dimensions (L x W x H x H) are 1,470 mm long, 1,495 mm wide, and 470 mm and 520 mm in height. Locally, this pickup truck competes against the likes of the Toyota Hilux, Ford Ranger, and Mitsubishi Strada.

Cesar G.B. Miguel
Author