The Hyundai H350 is way better than it looks, especially when you look closely at its cabin.
The first thing that comes to mind when seeing the Hyundai H350 for the first time is its massive size. Hyundai purposely designed the H350 to the size it is now so that it could put up a fight against the likes of the Ford Transit, Mercedes-Benz Sprinter, and Volkswagen Crafter in the Light commercial vehicle segment.
Admit it or not, the Hyundai H350's exterior design is not the best out there. It basically looks like Hyundai engineers focus on only making it as big as possible rather than improving the overall aesthetics of the minibus.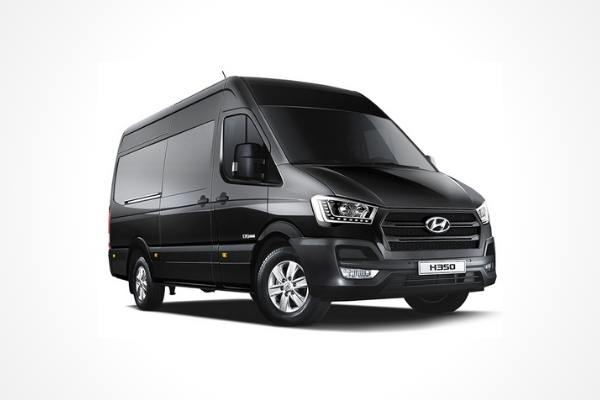 The Vehicle Gross Weight of Hyundai H350 is 4,100 kg
However, almost every impression of the Hyundai H350 changes once you get inside the minibus. We can say that the strongest key point of the Hyundai H350 is its interior. It presents premium interior designs with plenty of practical and versatile features. Needless to say, the last thing that will come out from its passengers is, "we need more space."
With that being said, let's take a closer look at the Hyundai H350 interior so we can rationalize why the H350 is even in Hyundai's lineup and doesn't show any signs of it going out of production.
Hyundai H350: Dimensions
Of course, to further admire the massive cabin the Hyundai H350 has to offer to its Filipino buyers, we have to consider first what the overall measurements of its exterior are.
It stands at a whopping 2,856mm if you include the airconditioning system located at the aft portion of the Hyundai H350's roof – that's almost as high as a basketball ring.
If the Hyundai H350 is measured only to its roof panel, then the minibus still shows a huge amount of height at 2,665mm or 8 feet 7 inches tall.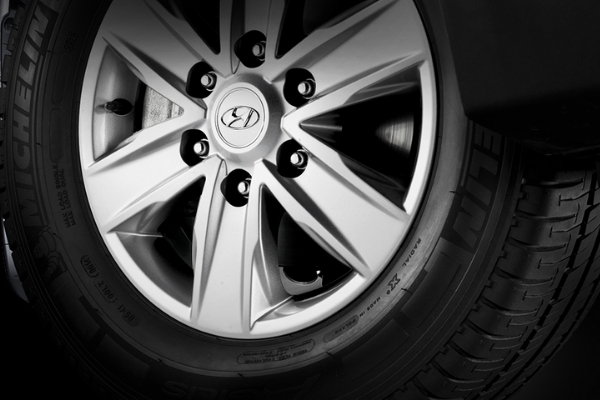 The minibus runs on Agile 16-inch wheels
The Hyundai H350 is 6,195mm or 20 feet long and 2,436mm wide if the side mirrors are included. Just a reminder, this is a legal passenger vehicle that can be driven anywhere in the country.
But with its size, you would surely have to plan ahead as to where you are heading as it may encounter many space problems in a given place.
>>> Related: Hyundai H350 for sale on Philkotse
Hyundai H350 Interior: A closer look 
Now, this is where the Hyundai H350 starts to get traction from people who initially judged the minibus based on its looks.
When you open the H350's sliding door, the first thing you will notice is its mid-door electric retracting power step designed to help you get into its premium interior like it basically invites to come inside. Hyundai even added rear grab rails seen as you open the door so you could hold on to it as you enter its interior.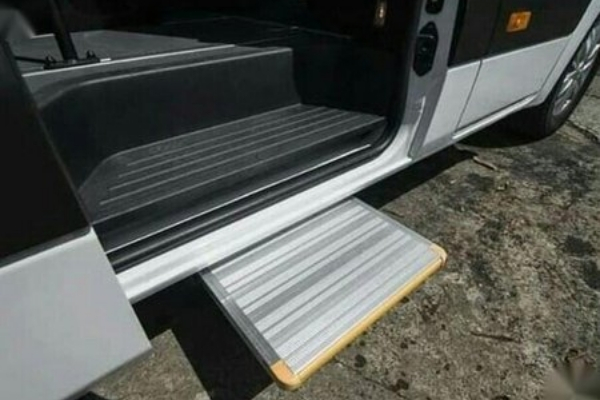 Hyundai H350's mid-door electric power step
As you enter the Hyundai H350, you can stand straight without slouching as the height of its ceiling is measured over 6 feet. To further maximize the space of its interior, Hyundai decided to install overhead compartments so you can enjoy more legroom as you travel on this minibus.
One of the best interior features the Hyundai H350 possesses is its air-conditioning The minibus is installed with a massive A/C unit located on top of the H350 that provides excellent climate control – perfect to countries with extremely hot weather environment like the Philippines.
Maybe it's the reason why Hyundai decided to introduce the H350 as a passenger vehicle in the Philippines rather than as a usual delivery vehicle like in other countries.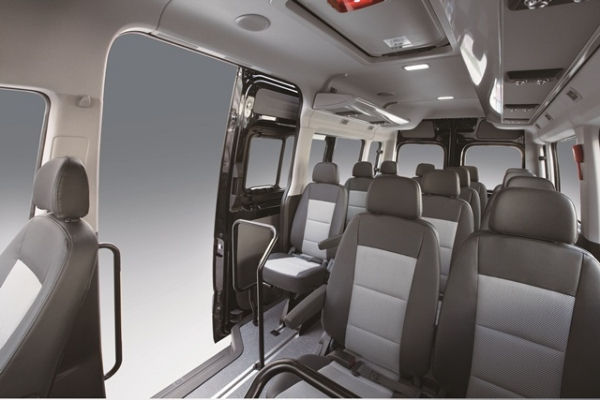 Interior view of the H350
In terms of seats, the minibus can carry up to 14 passengers. The material used across all seats is simulated leather – it may not be an authentic leather but at least it still gives off a premium and luxurious aesthetics in its interior while keeping it as affordable to every Filipino car buyers as possible.
The Hyundai H350 hosts window seats and aisle seats much like a typical bus used in our daily commute. In addition, the seats can also be reclined without affecting the passenger behind.
For some, the dashboard looks outdated when compared to a modern car. But for a minibus, it honestly looks fairly fine. When you happen to sit upfront, it's hard not to notice the Hyundai H350's ridiculously massive one-piece type with laminated safety windshield glass that offers a great amount of visibility especially if you are driving. The flooring is covered with linoleum mat while the roof is covered with HS felt + Non-woven felt.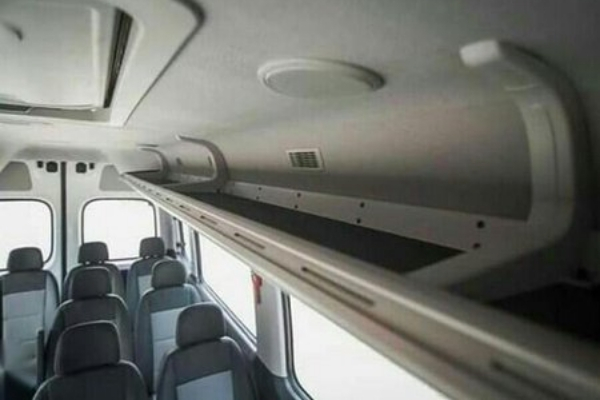 Hyundai made use of the H350's massive interior size by installing overhead compartments
>>> Related:  5 DIY Second Hand Car Interior Upgrade Hacks
Hyundai H350 Interior: Center Console
In the center console, the Hyundai H350 is installed with M300 audio system that includes features like radio, USB, and MP3. The sounds are produced in its speaker located at the passenger roof.
Lastly, the instrument meter includes a speedometer with odometer and trip counter, plus combined meter including fuel and water temperature gauges.
As for safety, the Hyundai H350 is installed with just one airbag located on the driver's side. The mini-bus is also installed with the anti-lock braking system (ABS) and vehicle dynamic control (VDC).
VDC is very handy to a vehicle like the H350 because it basically monitors your driving condition and your input so the system can control brake pressure to correct understeer or oversteer. With a vehicle this big, it is only right for it to be installed with rear parking assist.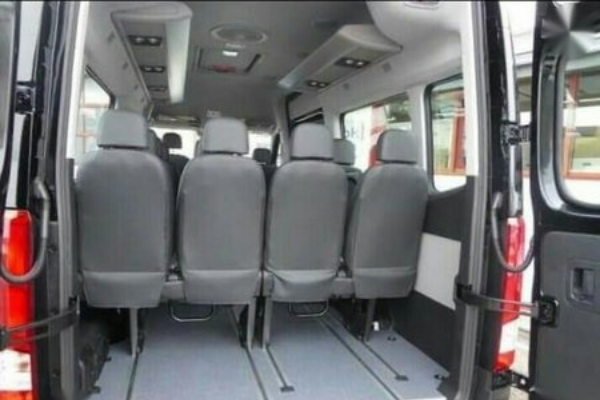 You can put your belongings at the back so you can have more legroom on the go
The Hyundai H350 is honestly not a bad vehicle, but it is already badly evaluated by many with just its exterior looks. But with a 2.5L engine residing under the hood that can generate 421 Nm of torque, exterior looks will be the last thing that the driver would worry about.
If you are planning to get yourself this minibus, then the base variant starts at Php 2,690,000 while the high-spec variant is priced at Php 2,730,000.
Here at Philkotse.com, we value your interest in the automotive industry. You can visit our website to find out more.

Know more about Hyundai H350 2022

The Hyundai H350 is a commercial vehicle (CV) tailored to be a passenger car in the country due to its massive size. It is not available anymore in the Philippine lineup, but Hyundai H350 price ranging from Php 2,688,000 to Php 2,728,000. Under the hood, the vehicle uses a 2.5-liter CRDi turbodiesel engine capable of generating 168 horsepower and 422 Nm of torque. This engine is connected to a 6-speed manual transmission.
In terms of dimensions, the H350 spans 6,096 mm long, 2,865 mm wide, and 2,042 mm high. Locally, this Hyundai vehicle competed against the likes of the Ford Transit.

Rex Sanchez
Author