It offers seven paint options.
When Sojitz G Auto Philippines (SGAP), the official distributor of Geely vehicles in the country, introduced the Coolray, many Filipino car buyers were fond of its design. The Geely Coolray comes with a design that looks sporty and aggressive thanks to its sharp character lines, quad exhaust, and more.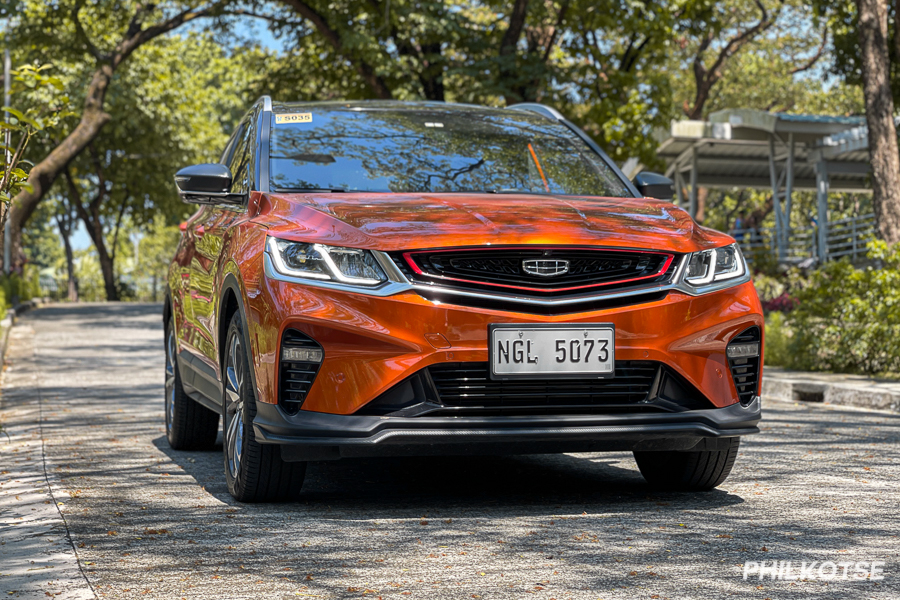 Geely Coolray
To give justice to the appealing design of the subcompact crossover, we recommend that you choose a color that you think best suits your personality. Geely Philippines is offering the Coolray with seven body color options. These paint finishes include Silver, Blue, White, Vermilion (Red), Orange, Sunburst Gold, and Cloud Blue.
So without further ado, let's take a look at how each of the seven colors looks on the vehicle so you can decide which should you choose. Take note that the Geely Coolray colors might vary from the actual model. As such, use the following as a reference only.
Classic look
You can never go wrong in opting for the classic look of a model. As such, you can get this look by choosing the Orange paint finish. This option is available to the model's Sport variant. Other 2021 Geely Coolray colors exclusively available on this variant are the Vermilion and White.
The Orange body paint color is used a lot in promoting the model alongside the Vermilion paint finish. It does highlight the youthful design cues of the subcompact crossover. It will accent the red, chrome, and black trims found on the vehicle's grille, roof, in between the taillights, wheel arches, and side sills.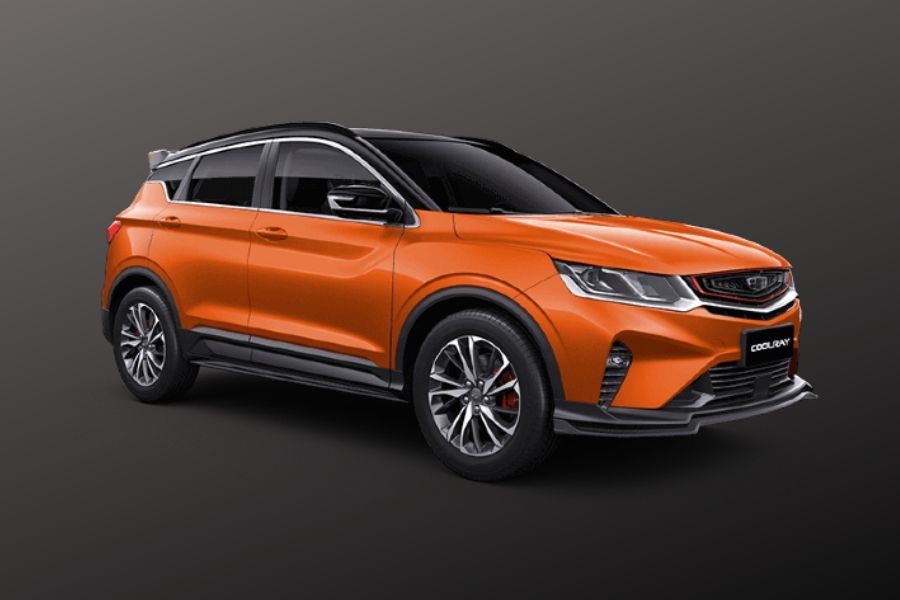 Geely Coolray Orange
When we did a Philkotse Geely Coolray review, we also got a test unit in Orange body color. Overall, we can say that the Chinese subcompact crossover is well-designed thanks to its sleek exterior details such as the quad exhaust, ambitious-looking spoiler or wing, and aggressive character lines.
The best part about the Geely Coolray color in Orange is that not a lot of Filipino car buyers go for this paint. This will provide you with a feeling of exclusivity especially if you decide to join a Geely Coolray car club in the country. Usually, Coolray owners opt for either the Vermilion or White color which we will talk about in a minute.
In addition, orange paint is not a common color among today's cars. The top five colors in the world include white, black, silver, blue, and gray. With that being said, the Orange body paint finish on the Sport variant can help you stand in the crowd. It should make your Geely Coolray an eye-candy on the road.
Snazzy, neat crossover
If you want a neat look, then you have two Geely Coolray colors options to consider, namely the Silver and White. But as said earlier, the White paint finish is available only on the Sport variant of the subcompact crossover. Meanwhile, the base Comfort and mid-spec Premium variants can be finished with Silver paint.
With a price tag of Php 1,198,000 for the Geely Coolray Sport, you get the clean White paint. Despite its somewhat "lack of color," the White body color option still manages to look snazzy as it goes well with the black trims of the subcompact crossover. It also helps accent the red trim found on the Cosmos grille of the vehicle.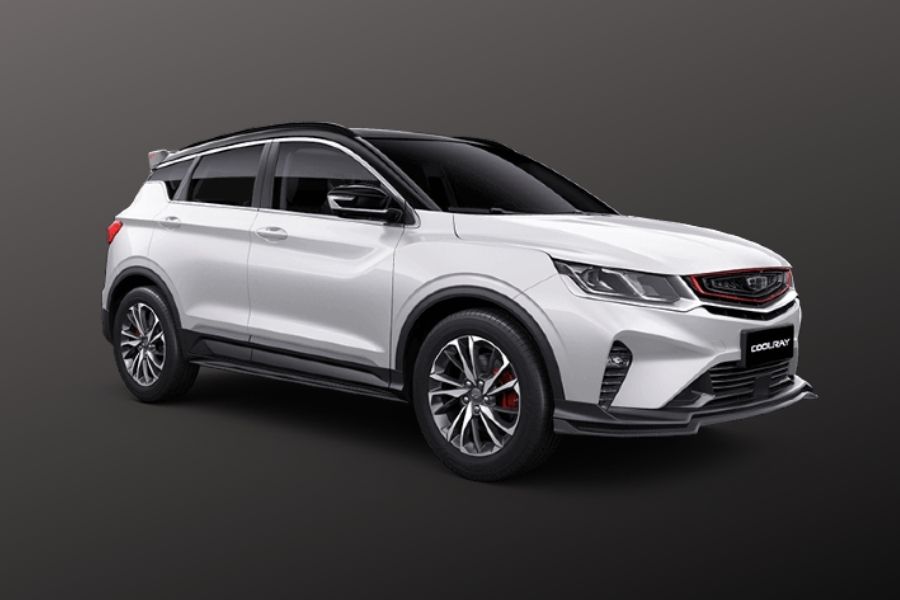 Geely Coolray White
A white car paint can reflect heat from the sun better as compared to darker hues. This can be an essential factor, especially during summertime as temperatures can soar here in the Philippines. Plus, you are free from looking like a mess as white can seamlessly hide inevitable defects such as water spots and scratches.
The only thing that you might want to keep in mind is that the Geely Coolray color in White is a common choice among owners. What's more, white is also a common color for other car models you will see on the road. If looking a bit different matters to you, then maybe White shouldn't be on your list. But if it doesn't, then this option shouldn't be a bad choice.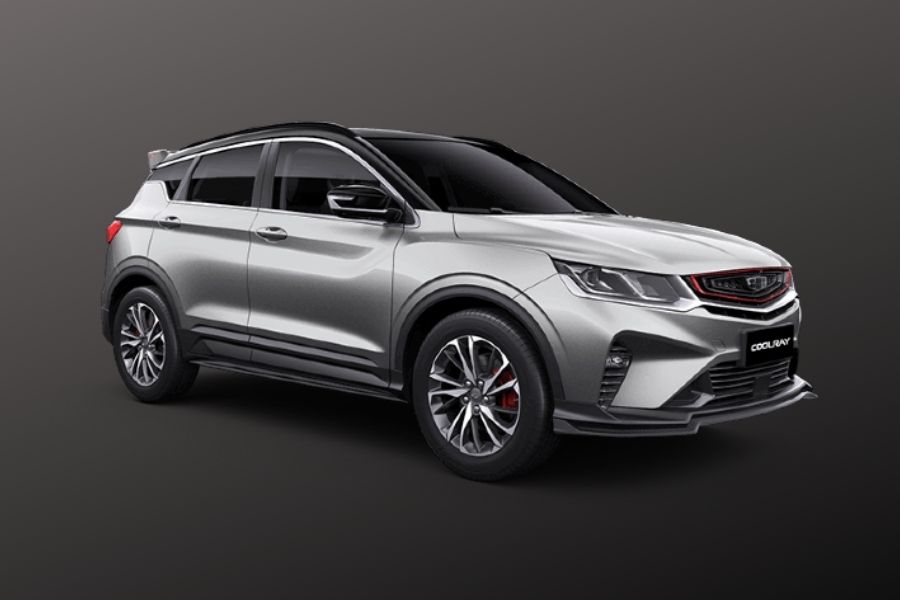 Geely Coolray Silver
Another paint option you can opt for to look neat is Silver. Just like the White paint, Silver can also help hide the water spots and scratches on your car. As such, you wouldn't get the need to regularly visit your local car wash shop and pay around Php 150 to look clean again. Silver is a practical and simple choice among the roster.
Since the Geely Coolray bears an appealing design from the factory, going for simple and neat paint jobs such as White and Silver isn't much of a concern to look snazzy. Both White and Silver are your go-to options if you don't have the time to maintain the look of your Geely Coolray if finished with colorful paint.
Fancy finish
The last four Geely Coolray color options you can get in the country include Vermilion, Blue, Sunburst Gold, and Cloud Blue. So if you are that type who loves to stand out, then you might want to consider the said color options above as these help create a bright and fancy finish to the overall design.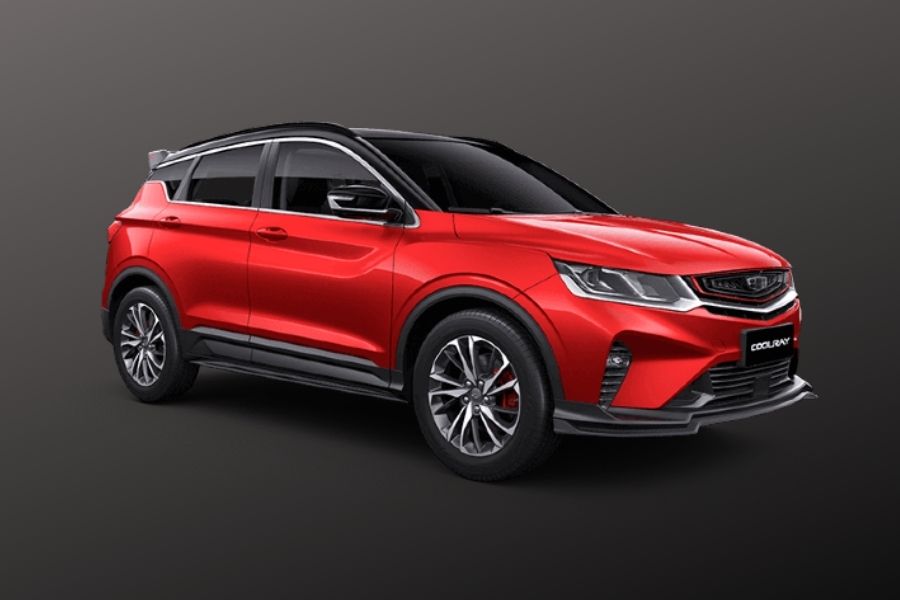 Geely Coolray Vermilion
Vermilion joins White and Orange as the exclusive color options available only on the Sport variant. It is also the most common choice alongside White among Coolray owners. Well, you can't really blame them as Vermilion goes well with the red sport leather seats of the Sport variant.
And since it seems like the Chinese automaker intends the Coolray to look like a track car, then Vermilion will further enhance the sporty nature of the subcompact crossover. If you will pick this color, just keep in mind that you will run into a lot of Geely Coolrays in the country finished in Vermilion.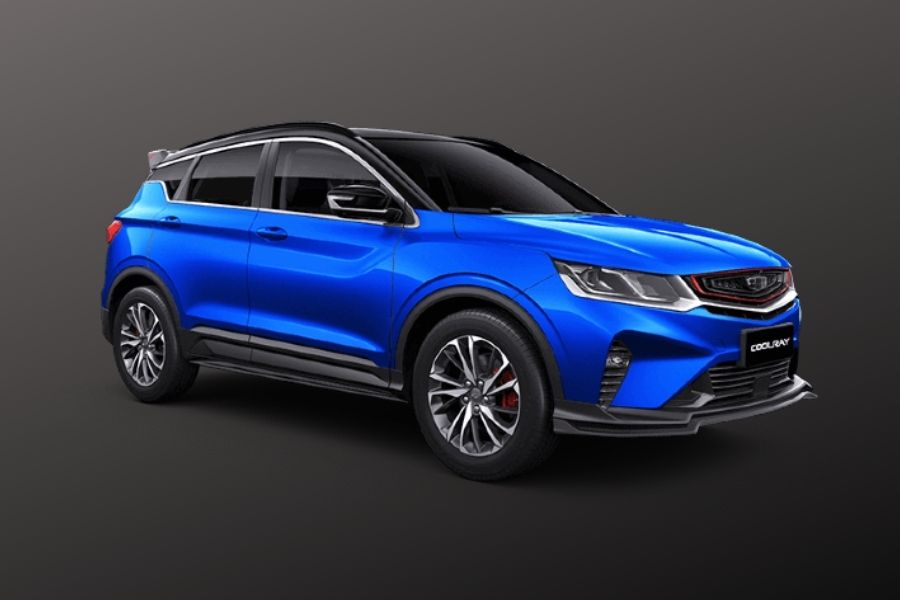 Geely Coolray Blue
Meanwhile, the Geely Coolray color in Blue seems to be the most uncommon choice among owners. Well, this could be a good thing if you try to look at it from a different perspective. At least you will stand out in Geely Coolray meets if you decide to join a club and a bit on the road since it is only the fifth most used car paint in the world.
If you fancy a lighter blue hue, then maybe the Cloud Blue option should be your go-to. This is a new paint introduced by Geely Philippines in December 2021 alongside the new Sunburst Gold. The Cloud Blue color option complements the cutesy small crossover nature of the Coolray which should appeal to certain car buyers. To note, it is available to the Comfort and Premium variants.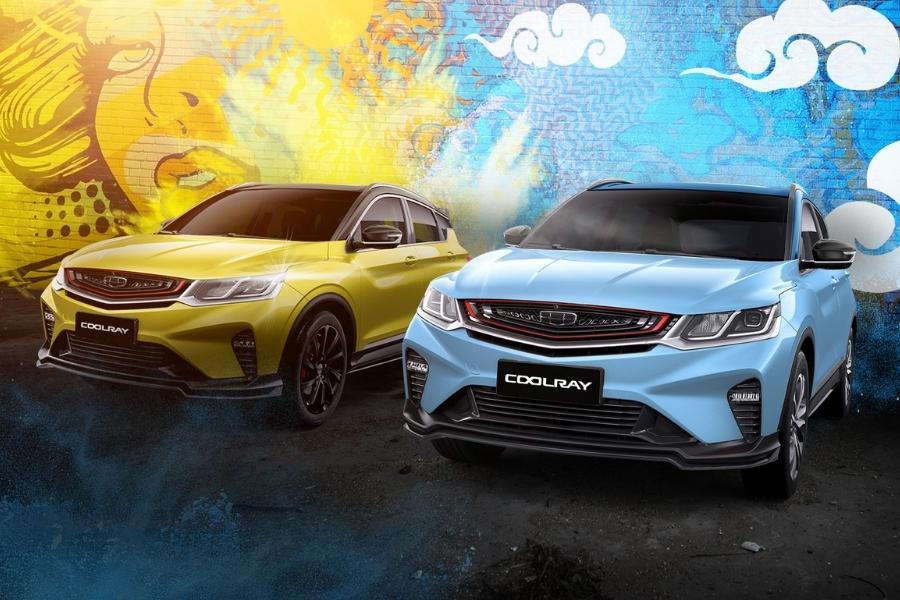 Geely Coolray Sunburst Gold (left) and Cloud Blue (right)
The Sunburst Gold can be considered an exclusive body paint option considering that it is available only to the new top-of-the-line Coolray Sport Limited variant. If you can afford the Sport Limited priced at Php 1,218,000, you get to benefit from the new gold finish. Plus, you can enjoy variant-exclusive features such as ventilated front seats and a power tailgate with a height memory function.
Visit Philkotse.com for more automotive news.

Know more about Geely Coolray 2023

The Geely Coolray 2023 is a subcompact crossover. In the local market, this model has three variants with a price ranging from Php 1,073,000 to Php 1,269,000.
Under the hood of the Coolray is a 1.5-liter inline-3 turbocharged gasoline engine capable of making up to 177 horsepower and 255 Nm of torque. It is then linked to a seven-speed wet-type dual clutch gearbox sending power to its front wheels.
Size-wise, the Coolray is 4,330mm long, 1,800mm wide, and 1,609mm in height. It also has a wheelbase length of 2,600mm.
Locally, the Coolray competes against the likes of the Toyota Raize, Nissan Kicks, Hyundai Creta, Kia Seltos, Mazda CX-3, Honda HR-V, Chevrolet Tracker, MG ZS, among others.

Rex Sanchez
Author