Read our article to get the exact answer!
You might have heard about the Takata Airbag reacll incident. But have you known about the number of 16 deaths and more than 180 injuries that this incident has caused all over the world? That's right, airbags are also dangerous in some ways. Its manufacturer has announced the list of 34 car brands featuring their defective airbag which have been affected. But it is not easy to remember all these brands. And the bad part is that you might don't even know whether your car's model is on the list or not.
>>> View more: Unable to overcome airbags crisis, Takata declares bankruptcy
1. How are Takata airbags defective?
The major problems are about the propellant wafers in the air bag's metal canister. There have been some accidents in which this propellant inflated with too much force, causing the canister to blow up, spreading small metal pieces to drivers and passengers in the car. The canister blew up so strongly that those metal pieces were hard enough to cut through victims' neck, causing them bleed to death.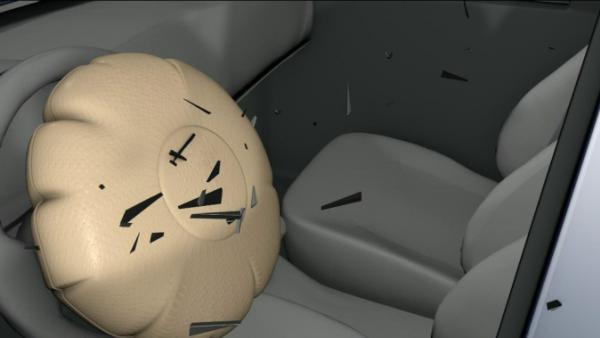 Takata defected airbags exploded spreading out metal pieces to passengers in the car
Another dangerous defect comes from the powerful force of Takata airbags. These airbags are designed to inflate quickly, pushing the drivers back to their seats in the event of accidents or collision. But this product only focuses on a division of people whose body sizes are good enough to afford the force from it - the standard size is 177cm in height and 80kg in weight. For those who have lesser height and weight, especially children and women, Takata airbags are extremely dangerous. Some incidents they could suffer include head/neck/facial trauma, broken bones, body cut, etc.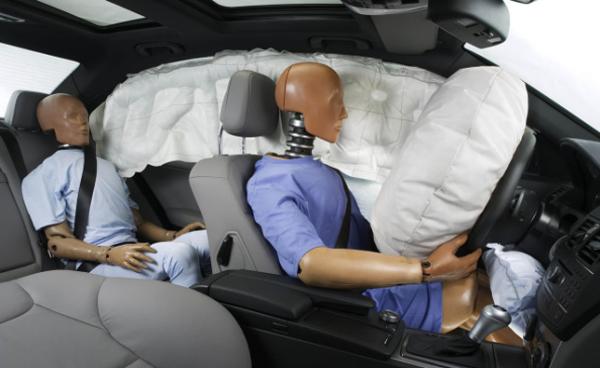 The standard size for people using airbags is 177cm in height and 80kg in weight​
The National Highway Traffic Safety Administration (NHTSA) has resolved that the reason for these explosion lies in the ammonium nitrate-based propellant which is not supported by any drying materials. They gave out a theory that the chemicals in the propellant, in addition with environmental factors such as humidity, heat and the age of the old car have combined together and make the airbag blow out of control. This theory is then proved by Takata Corp that humidity could seep into the inflators, making the inside volatile propellant undermined. Read our article about the connection between car airbags & short people and how it can endanger your safety for more information.
2. When did it first detected?
Back in 2004, Honda noticed its airbag defect and 3 years later, this shameful action was repeated three times. After that, Honda reported the problem to the NHTSA but for some unknown reasons, the submission from Honda was never approved.
The defect was not alerted until 2008 when Takata officially admitted their product defect and recalled 4000 airbags from Honda. Even though, everything did not settle down yet even got worse.
In 2013, prolonged series of deaths and injuries forced this Japanese company to recall more than 3.6 million products. Things went public, Takata Corp was legally accused of their fraud. Total mandatory penalties the company had to pay was up to 1 billion dollars.
3. Statistics of affected cars
In fact, the number of cars using Takata Corp's airbag is beyond 100 million all over the world. Approximately 8.5 % of that number has been replaced with a new type of airbag. That means there are more than 80 million cars out there still have the chance to hurt people. The reason is that there are not enough available devices left for all those cars. It was estimated that to completely replace all the defected airbags, the U.S will need at least 2-3 years more. It could take even longer to other countries. Another forecast indicates that all Takata's defected airbags will be recalled worldwide by the end of 2023. Synonymically, the process of fixing the fraud will take 15 years since the first recall of Takata Corp.
>>> Read more:
4. Which car models are affected?
Obviously, being the biggest customer of Takata, Honda was the brand which took the heaviest loss.
The list of Takata's company also carrying the burden includes the followings: Toyota, Nissan, Acura, Audi, BMW, Cadillac, Chevrolet, Chrysler, McLaren Daimler Trucks and Vans, Dodge/Ram, Ferrari, Fisker, Ford, GMC, Infiniti, Jaguar, Jeep, Land Rover, Lexus, Lincoln, Mazda, McLaren, Mercedes-Benz, Mercury, Mitsubishi, Pontiac, Saab, Saturn, Scion, Subaru, Tesla, Toyota and Volkswagen.
To look for the full of the list, please go to the NHTSA website to find more.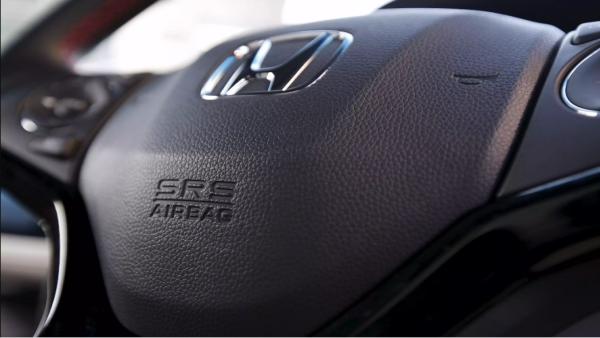 Obviously, being the biggest customer of Takata, Honda was the brand which took the heaviest loss​
5. What is the solution now?
If you have bought the current modern car or your car was produced after 1998, congratulations, you don't have to worry about this problem. If not, please read the following.
5.1. Check qualification for a recall
The first thing to do is go online to the website of NHTSA, search the full version of the list above and see if your car shows up in that. If it does, you can check if your car is qualified for an airbag recall by using your Vehicle Identification Number (VIN). Similar to your identity card or your fingerprint, your VIN is is unique. Using this number, you can identify everything about your car.
There are three easiest ways to locate your VIN.
You can see on the left side of the dashboard. On the driver's seat, look at the front of the steering wheel, there would be a string of 17 characters there.
Alternatively, stand outside of the car and look to the front of the windshield, there is also one there.
The same string will show up in the front of the engine if you open the car hood.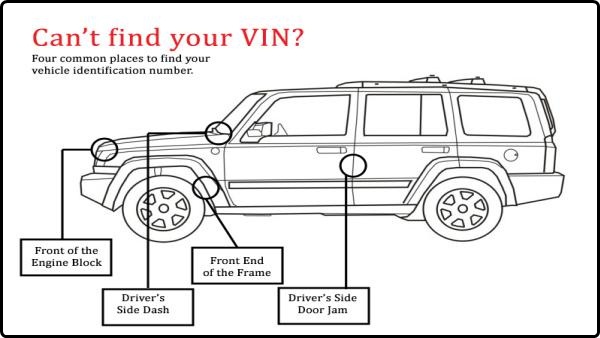 You can check if your car is qualified for an airbag recall by using your Vehicle Identification Number (VIN)
Once all the requirements are met, contact your car provider to have your airbag replaced. Since some big brands such as Honda, Toyota, Nissan are willing to find and replace all defected airbag, all payments for airbag recall are under their responsibility. All other brands will serve the same in the future, someday it will be your turn.
>>> Click here to get more useful tips and advice for all car owners
5.2. You don't need to throw away the car for safety
Old car airbags may be dangerous, but only when there is a crash of accident happening. Also, not all of them are defective all the time. Don't panic! Keep calm and drive at safe speed, watch out carefully, you will be good to go. As we said, the risk caused by airbags will go higher if the area where you live is in high humidity and heat. If that is your circumstance, then driving safely, avoid crashes, keep speed moderated are the only ways for you right now.
With all we have walked through, maybe you are now aware the risk of the airbags and equipped with helpful knowledge on how to reduce that risk. We hope you find our tips and advice for safe driving in this article helpful.
>>> Related post: Airbags – Things you might not know