Here is the latest info about infrastructure projects opened or set to open in the Metro Manila this 2019.
More roads can only mean good news for motorists and commuters. And, indeed, as thoroughfares are being added to our network, including new adjuncts to existing Philippine expressways as part of the government's Build, Build, Build program, being a driver is starting to look promising.
Once finished, these roads will allow faster travel time for more people, along with heightened access to locations usually out of the grid. They should also unclog many of the usual choke points by offering options. The busiest expressways in the north and south have received upgrades and are up and running or are set to be in the near future.
New roadways and upcoming infrastructure projects in Metro Manila 2019 offer Filipino motorists and traffic managers a solution to the constant heavy volume.
Here are the roadways and projects that aim to connect major roads all over the metro. Imagine passing through areas faster and more conveniently without using GPS for alternate routes. Everything is all about a straight shot that bypasses the smaller boulevards and avenues, promising shorter travel time. 
1. NLEX Harbor Link Segment 10
This will connect the old MacArthur Highway located in Valenzuela to the C-3 in Caloocan, linking them up with an expressway that is elevated to bypass roads underneath. A six-lane, 5.58-km road is expected to serve 30,000 to 50,000 cars daily to reduce the load on other similar routes.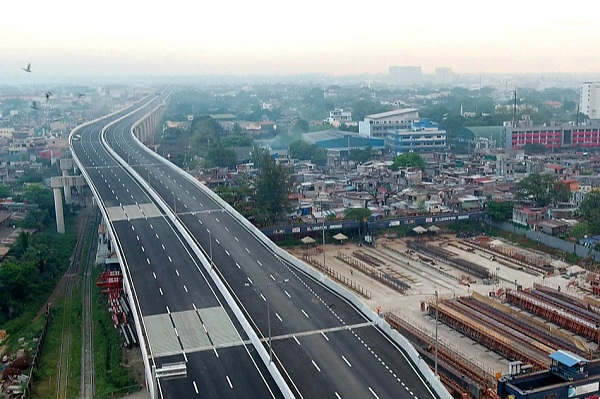 This new road is expected to serve 30,000 to 50,000 cars daily
The better news is that the completion of linking up C-3 to the R-10 in Navotas will complete another alternate route. This four-lane road will be about 2.6 kilometers long. Expected completion for both segments will be in 2018 to late 2019. These roads will handle cargo trucks going to the Manila Harbor, too.
2. NLEX-SLEX Connector Road
When done, this will link both C-3 and 5th Avenue in Caloocan (located at the end of NLEX Harbor link 10) to PUP Sta. Mesa in Manila. The 8-km segment with an elevated four-lane road over a PNR railroad will allow 35,000 cars to pass every day. It will lessen traffic volume and cut travel time between NLEX and SLEX.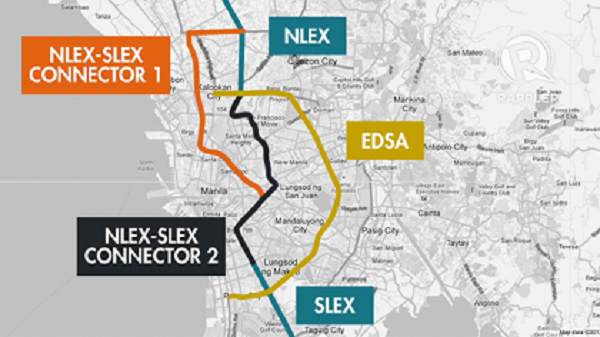 NLEX-SLEX Connector Road will link both C-3 and 5th Avenue in Caloocan
>>> Also check out: Increased toll fees applied for popular expressways in the Philippines in 2019
3. NLEX Harbor Link Segment 8.2
Those living in the areas of Mindanao and Commonwealth Avenues are expected to benefit from this 8.35-km, four-lane expressway. Beginning at Mindanao Avenue that's linked with Segment 8.1, the portion runs until Commonwealth in Quezon City.
It is a linkage that interlocks with the NLEX Harbor Link Project that will move 45,000 cars every day.
NLEX 8.2 Future project
4. Metro Manila Skyway Stage 3
The Metro Manila Skyway Stage 3 will allow motorists to travel this six-lane thoroughfare an additional 17.54 kilometers. Linking the SLEX to NLEX via Buendia Avenue in the Makati business district up to Balintawak in Quezon City, travel time from SLEX to Balintawak be faster than ever.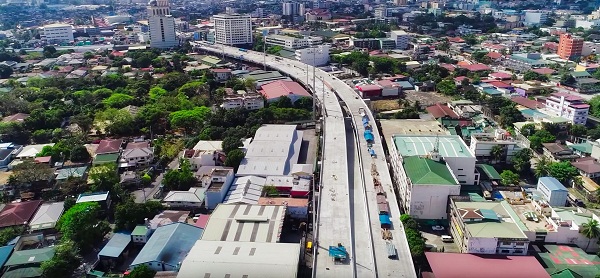 5. Bonifacio Global City-Ortigas Center Link
Both are bustling business centers separated by roads typically burdened by heavy traffic. This new link should lessen volume through a road that starts at the Pasig River with a four-lane bridge to Sta. Monica in Pasig until Lawton Avenue. in Makati.
The four lanes lead right into BGC. Traversing between Taguig, Pasig, Makati, and Mandaluyong will be more convenient as we look forward to saying goodbye to heavy C-5 traffic soon!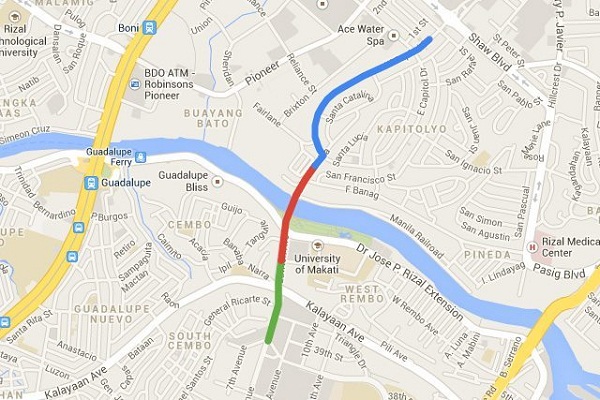 >>> Read more: Php 1.6 billion BGC-Ortigas Link Road breaks ground
6. Southeast Metro Manila Expressway
Here is another project that will lessen travel time from the Skyway/FTI complex in Taguig that further runs up to the Batasan Complex in Quezon City.  It links up from the C-6 Expressway to the 34-kilometer, six-lane Southeast Metro Manila Expressway.
It should ease vehicular flow along EDSA and major choke points with a projected 35 minutes of travel time.
7. Cavite-Laguna Expressway
The four-lane, 45.29-km Cavite-Laguna Expressway (CALA-X) connects to the Manila-Cavite Expressway (CAVITEX) from Kawit, Cavite until the SLEX-Mamplasan Interchange in Biñan, Laguna. The added segment will bypass SLEX and will hasten travel time from 1.5 hours to just 45 minutes.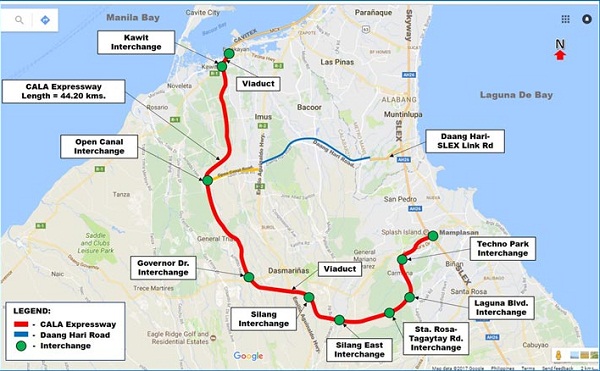 8. Central Luzon Link Expressway
Anyone traveling to Tarlac and Cabanatuan City, Nueva Ecija will benefit from this stretch of over 30 kilometers that link up at the SCTEX-TPLEX connection in Balingcanaway. Using this route is easier and more than 11,200 cars are expected to pass this new segment of the expressway.
Travel time shrinks from one hour and 10 minutes to just 20 minutes from Tarlac to Cabanatuan City. Frequent passing via this route will lessen traffic in the Pan-Philippine Highway (Daang Maharlika) by as much as 48 percent.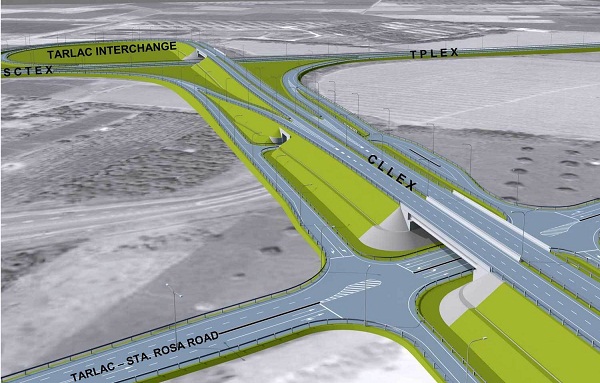 New 30-km segment of the expressway
Follow this route that conveniently links Quezon Province to SLEX. Its four lanes stretch 56.87 kilometers. Located at Sto. Tomas and extends to Batangas, Tayabas or Lucena City in Quezon Province, motorists and commuters will delight in the shorter travel time -- from four hours to a solitary hour.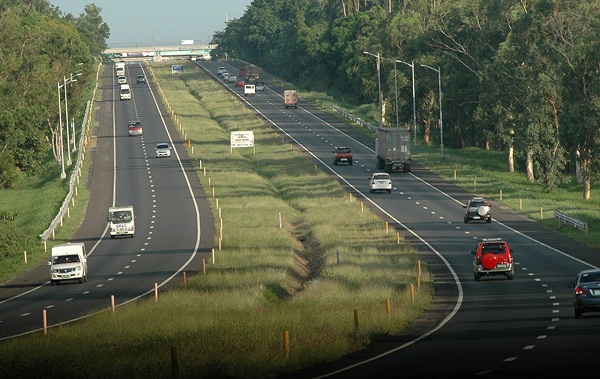 Afterthoughts
Ease of mobility for motorists and commuters have become constant pain points, and the construction of new roadways and infrastructure is important to relieve horrific chokepoints all over the metropolis.
Having the ability to avoid and circumvent bottlenecks won't come cheap, but we need to establish sometimes complex road systems just like in more advanced economies in order to promise ease of movement.
>>> Click here to get more helpful tips and advice for your safe driving 


Norjan Ismail Abbas
Author