Once completed, the project is expected to reduce the traveling time between the central business districts of Taguig and Pasig Cities to only 12 minutes.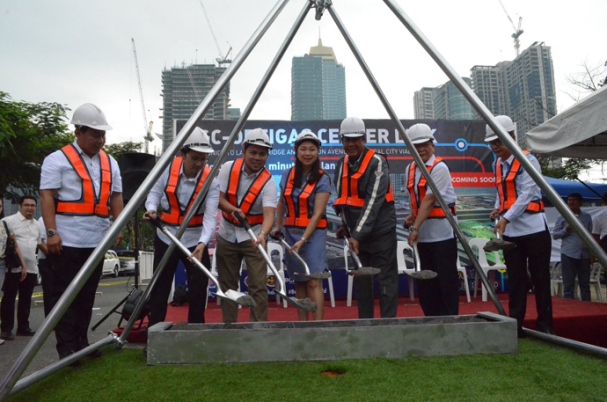 The groundbreaking ceremony for the BGC-Ortigas Link Road
The groundbreaking for this new road is one of the several new infrastructures in the next 5 years of President Rodrigo Duterte's administration that has been already formulated as our country will usher in the 'Golden Age of Infrastructure'.
The BGC-Ortigas Link Road is a 4-lane construction road project connecting Lawton Avenue in Makati City and Sta. Monica Street in Pasig City. The project also involves a viaduct structure traversing Lawton Avenue, onwards to the entrance of Bonifacio Global City. With this new road, the DPWH says it is expected to lead to the improvement of accessibility of between the Cities of Pasig, Mandaluyong, Taguig and Makati.
The BGC-Ortigas Link Road will be under the supervision Project Director Virgilio C.Castillo of DPWH implementing unit Roads Management Cluster I-UPMO and DPWH Unified Project Management Office (UPMO), headed by Undersecretary Emil K. Sadain. Contractors for this project are Sino Road and Bridge Company Limited Inc. and Persan Construction Inc.
>>>
The Department of Public Works and Highways (DPWH) announced that it has signed a contract with Korean firms for the construction of the Panguil Bay Bridge. Read our article for more details.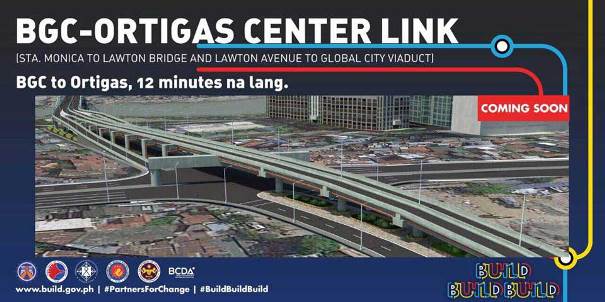 The BGC-Ortigas Link Road is a 4-lane construction road project connecting Lawton Avenue in Makati City and Sta. Monica Street in Pasig City

Build Build Build Philippines - Mark Villar FB update - BGC Ortigas Center Link