Unlike these contraptions, the authorities still refuse to budge.
Having a dedicated lane for buses plying city routes is crucial in ensuring the uninterrupted flow of commuters to various destinations, which explains the new EDSA busway scheme assigning buses to the leftmost lane. With health protocols dictating that public utility vehicles can no longer be filled to capacity (not that we miss it), buses will have to make multiple trips to compensate for the reduced passenger load.
The busway has been lined with concrete barriers, barring everyone else from using them save for emergency vehicles, to make sure that buses are able to maximize the time spent on the road.
Bus hits concrete barriers along EDSA
These barriers have become the center of attention as soon as they were placed, and not in a good way. Clueless private motorists adjusting to the new road scheme were the first victims, crashing into and even mowing down the barricades. These incidents would happen mostly at night when visibility is low and drivers are emboldened by the relatively light traffic to go faster.
Now, even the buses themselves are literally going up against the barriers. Several viral video clips have already surfaced, all showing what appears to be a speeding bus hitting a concrete barrier along EDSA.
>>> Related: MMDA to make concrete barriers in EDSA more visible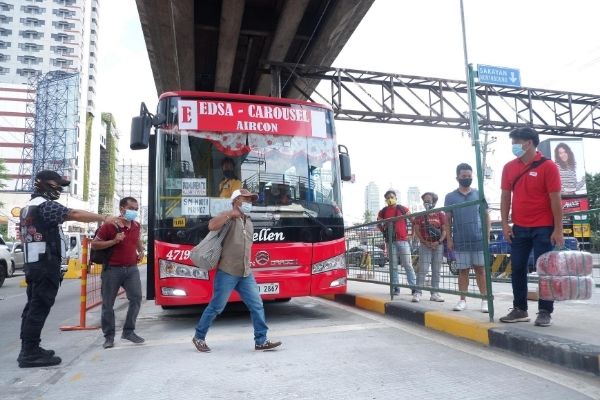 How do you strike a balance between efficiency and safety for everyone using the road?
To be sure, this isn't the first time that a bus would be recorded colliding with a stationary object if our experience with the former EDSA yellow lane scheme has been any indication. What makes this time around more dangerous is that the new busway is only a single lane wide.
This leaves very little room for a moving bus to hit anything else than a movable concrete barrier, with enough force to send it into the neighboring lane and put other road users at risk of damage to their vehicles, personal injury, or worse. Imagine minding your own business in slow-moving traffic when a speeding bus flings a concrete barrier headed at your left side. It's a terrifying thought.
Why concrete barriers though, when plastic barriers filled with water or sand are a safer alternative? While there hasn't been an official explanation, the robust nature of a concrete barrier makes it far more difficult for an erring driver to move aside. The flip side of this argument is that a vehicle with a large enough mass and momentum, such as a bus, can turn a normally stationary concrete barrier into a flying projectile.     
>>> Related: MMDA installs yellow flashing lights on concrete barriers along EDSA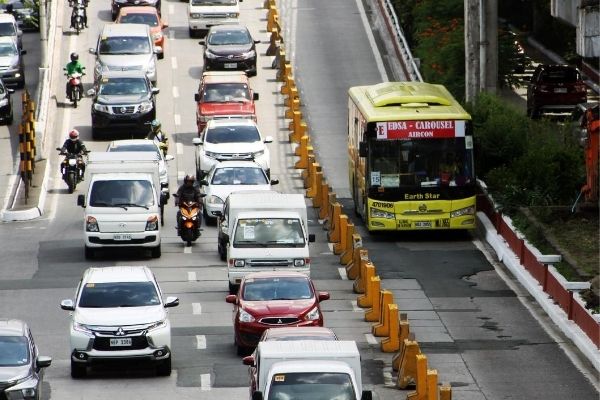 Each of those barriers is a missile waiting to be launched
Unlike the barriers, authorities have so far refused to budge, claiming that the bus lane's width conforms to international standards of 3.2 to 3.5 meters which is safe for buses running at a maximum of 60 km/h. They've addressed concerns over visibility by installing more lights, but they've also largely defended the use of the barriers by saying that a vast majority of bus companies plying the route have had no problems, laying the blame on undisciplined bus drivers. There have even been rumors of a conspiracy about bus companies being paid to deliberately hit the barriers, as part of a supposed plan to discredit the program. 
If the EDSA busway scheme is going to be a permanent thing, an equally permanent and equitable solution needs to be found in order to enforce the program properly over the long term. In the meantime, if you can find feasible alternatives to EDSA, we suggest you avoid the thoroughfare for as long as you can help it. Either that or invest in some heavy-duty bull bars.
Read more about the state of local motoring on Philkotse.com.

Joseph Paolo Estabillo
Author