Make sure to check your balance regularly to avoid inconvenience.
Department of Transportation has completely shifted to no-cash transactions for expressways, so RFID has become very important for you to pay the fee when get on the expressways. This article will help you know more about Autosweep RFID and how to reload your Autosweep RFID balance.
1. What is AutoSweep?
Tolls play a big part in the country's highway system as they help provide a faster and more convenient route for motorists.
In the country, we have two different toll operators, namely the San Miguel Corporation (SMC) and the Metro Pacific Tollways Corporation (MPTC).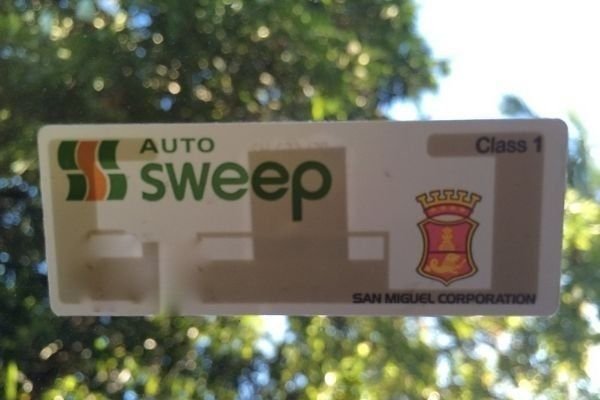 This is what an AutoSweep RFID sticker should look like
MPTC manages Easytrip expressways such as North Luzon Expressway (NLEX), Subic-Clark-Tarlac Expressway (SCTEX), Manila-Cavite Expressway (CAVITEX), C5 Link, and Cavite-Laguna Expressway (CALAX). For Easytrip users, they can check their balance on Easytrip's official website for ease of mind on the go.
On the other hand, SMC manages Autosweep expressways such as South Luzon Expressway (SLEX), Metro Manila Skyway System (Skyway), NAIA Expressway (NAIAX), Muntinlupa-Cavite Expressway (MCX), Southern Tagalog Arterial Road (STAR Tollway), and Tarlac-Pangasinan-La Union Expressway (TPLEX).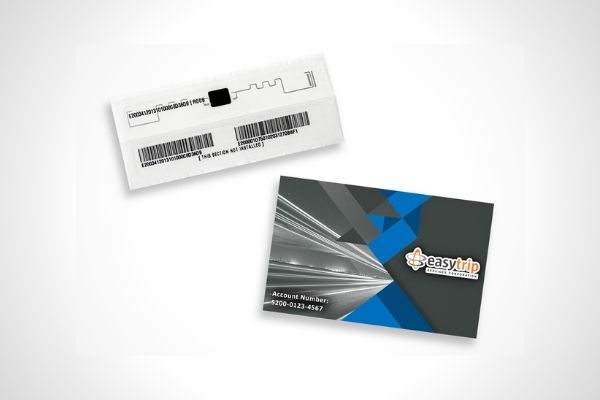 On the other hand, this is what an Easytrip RFID looks like
The Toll Regulatory Board announces that all toll operators in the country must implement cashless transactions in all of their toll gates by December 1, 2020. This means that motorists who will traverse through the expressways must have an RFID sticker on their vehicle.
AutoSweep has numerous RFID installation sites usually situated in entry and exit points of its expressways. The AutoSweep RFID installation is free. However, you would still have to pay Php 500 for the initial load. If you decide to install Autosweep RFID on your Class 2 o 3 vehicles, you are required to pay Php 1,000.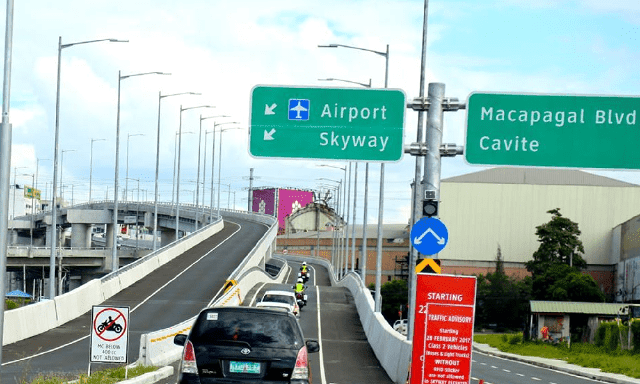 You use Autosweep RFID on NAIAX
Fortunately, you can use your AutoSweep RFID on Easytrip expressways, and vice versa. You would just have to visit an Easytrip installation site and enroll for an account. You will be using two accounts (one for Autosweep and one for Easytrip) with just one RFID sticker.
You must know your balance at all times. This way, you can traverse through expressways more efficiently and hassle-free.
For this reason, we have listed down the steps you can do to check your Autosweep RFID balance.
>>> Related: Complete list of 24/7 Autosweep, Easytrip RFID installation sites
13 Frequently Asked Questions on RFIDs for Philippine Expressways | Philkotse Top List
2. Steps to check your Autosweep RFID balance
There are three ways on how you can check the remaining balance of your Autosweep RFID account. You should check your balance regularly as your Autosweep RFID sticker will be confiscated once you traverse its toll gates without balance.
#1. via Autosweep toll gates
This is the most common way motorists check their balance. However, this is not the most advisable way to do so as you could run to a toll gate without a remaining balance.
To check via toll gates, you just have to use an AutoSweep expressway and your remaining balance will be displayed on its monitor located on your left side.
The toll monitor also displays the amount you paid so you can be reassured. If your balance is under Php 300, the monitor will tell you that you have a low balance and you should reload as soon as possible. Of note, the minimum net balance as per Autosweep is Php 100 after toll fee deduction.
#2. via SMS
Checking via SMS is probably the easiest way for you to know your remaining balance. To get started, you would have to type in this format: AUTOSWEEP BALINQ Plate Number.
You can send this SMS to either Globe or Smart. The Globe Autosweep number is (0917) 860-8655, while the Smart Autosweep number is (0918) 860-8655.
After a few seconds, you will be receiving a text message from AutoSweep stating your remaining balance with the corresponding time and date.
#3. via Autosweep website
The third way you can check your Autosweep RFID balance is through its official website. We recommend you use this method whenever you are about to leave your home as it requires an internet connection.
But first, you would have to register for an online AutoSweep account. You are required to fill up necessary information such as account number, plate number or conduction number, email address, and full name.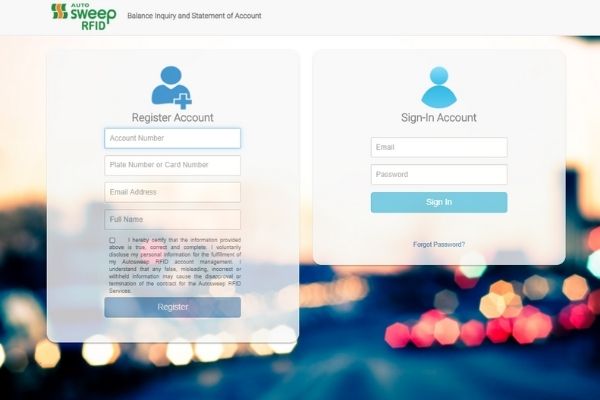 This is what it should like when you're checking your Autosweep balance on its website
After completing your registration, you need to sign-in to your account and change the password as a requirement. At the left bottom side of the screen, you will see 'Balance' under 'Enrolled Accounts.'
Click on the 'Balance' button and Autosweep will be providing your remaining balance. If you have other vehicles under the same Autosweep RFID, you can also enroll them in your online Autosweep account.
To do this, just click on the 'Add New Account' located beside the 'Change Password.' Fill in your account number and the plate number of the vehicle you wish to enroll. Your newly-enrolled vehicle will instantly be available for balance checking.
Read more helpful driving tips at Philkoste.com
3. Where can I reload my Autosweep RFID balance?
Fortunately, there are multiple reloading sites you can utilize, not just in Autosweep sites. This way, you can reload your Autosweep RFID as if you are just reloading your mobile phone.
You can reload in any 7-eleven stores that come with a CLIQQ machine. Just find the AutoSweep RFID, fill in your account number and plate number, pay the cashier, and you are good to go.
You can also reload your Autosweep at home via GCash. To get started, find Autosweep RFID under Transportation in the Pay Bills category. Type in the necessary information such as account number and you're done. Of note, using GCash to reload your Autosweep will come with a service of Php 10.
Lastly, Autosweep's bank partners such as Bank of Commerce, BPI, Chinabank, Maybank, and BPI allows you to reload your AutoSweep account through them.
>>> Related: Where can you get RFID stickers installed for cashless highway transactions?
4. FAQs about AutoSweep
Q: What is AutoSweep?
AutoSweep is a tollway collection system used by San Miguel Corporation (SMC) on its expressways.
Q: What is the difference between AutoSweep and Easytrip?
Both AutoSweep and Easytrip are tollway collection systems. They only differ on the expressways they manage.
Q: Where can I use my Autosweep RFID?
You can use your Autosweep RFID on SMC expressways such as SLEX, Skyway, NAIAX, MCX, Southern STAR Tollway, and TPLEX.
Q: Can I also use my Autosweep RFID on Easytrip expressways?
Yes, you can use your AutoSweep RFID on Easytrip expressways. You would just have to enroll an Easytrip account on your Autosweep RFID. After successfully enrolling, you will be using two accounts under one RFID sticker.
Q: How much is for an AutoSweep RFID?
For Class 1 vehicles (car, taxis, SUVs, pickups, motorcycles w/ 400 cc and above), you would have to pay Php 500 for an AutoSweep RFID sticker. On other the hand, for class 2 and 3 vehicles (buses, trucks), an AutoSweep RFID sticker costs Php 1,000.
Here at Philkotse.com, we value your interest in the automotive industry. Visit our website to find out more.


Rex Sanchez
Author