While it seems like a no brainer, there are actually a lot of signs which fall under the parking category. Click here to learn more about these No-Parking signages in the Philippines
1. No Parking signages: Introduction
While people are generally familiar with Philippine road signs, many veteran motorists still display an astounding lack of knowledge about what these signs mean, especially those related to parking; either they truly don't have a clue, or they choose to deliberately ignore them.
Not helping matters is the fact that parking-related signages come in different forms, not just the simple "No Parking" kind. This guide will prove useful not just to local motorists, but foreigners who would want to start driving in the country, as well as for the rest of you who are just plain curious.
Here's a short Philkotse.com guide on "No Parking" signs.
2. Traffic signs: A short history
The first recorded evidence of parking restrictions in history was in the ancient capital of Assyria, dating back to 700 BC. These restrictions were put in place by King Sennacherib (704 to 681 BC) on the procession way through Niniveh, which was considered sacred to the Assyrians.
A set of cuneiform inscriptions carved on a wall along the road bore the message: "Royal Road – let no man decrease it". 
If anyone made the mistake of wrongfully parking a chariot on this stretch of sacred road, the punishment was death, with the corpse impaled and displayed outside the offender's home for the world to see. (Source: L. Sprague de Camp, Ancient Engineers, p 71, Tandem Publishing)
As time passed and cities became bigger, road signs also evolved. Modern road signs as we know them were widely used for bicycle riders between the 1870s to 1880s, carved on plaques and were very wordy.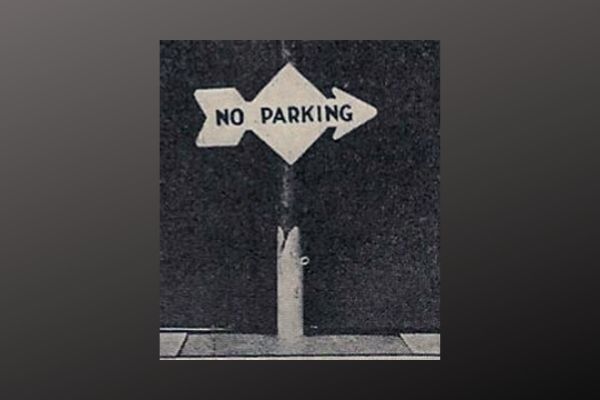 Here's an example of a 1920s-era No Parking sign. Looks ghastly
In the Philippines, the traffic signs we use are a combination of standardized American, Australian, and European road markings, with most of them coming from the Vienna Convention on Road Signs and Signals.
The regulatory signs we use (including the one for No Parking) commonly bear a standard circular shape, with red markings set against a white background. A No Parking sign actually has different variations that correspond to certain conditions.
>>> Also check: The importance of abiding traffic lights and road signs
3. No Parking signs Philippines: Meaning
| | | |
| --- | --- | --- |
| Sign Name | Picture | Description |
| No Parking | | The basic sign, meaning that no driver shall be permitted to leave a vehicle unattended |
| Bawal Pumarada (No Parking) | | Includes the corresponding text for better understanding. This means that parking is not allowed on either side of a given road. |
| No Parking, Loading Only | | Vehicles are only allowed to stop momentarily to pick up passengers. Letting someone off the vehicle is also prohibited. |
| No Parking Anytime | | This sign indicated that no vehicles are allowed to park on either side of the road at any time on weekdays. |
| No Loading and Unloading Anytime | | Stopping to let passengers on or off the vehicle is prohibited along either side of the road. |
| Loading and Unloading Zone | | This indicates a designated area where vehicles are allowed to pick up or let off passengers on either side of the road. |
| No Parking, Public Utility Jeepney Stop | | Parking is prohibited on a particular side due to a jeepney stop. Doing so will only cause congestion. |
| No Parking, Bus Stop | | Same as jeepney stop |
| No Parking Public Utility vehicle Stop | | Same as jeepney and bus stop |
| No Parking, Tow-away Zone | | Cars left parked in the immediate area of this sign will be towed. |
| Do not Block intersection | | Stopping or leaving a car unattended near or on an intersection is prohibited as it will worsen traffic conditions. |
| No Waiting Anytime | | Stopping to wait for someone for whatever reason along both sides is prohibited. |
| No Stopping Anytime | | Stopping your vehicle on both sides of the road is prohibited all the time. |
| No waiting anytime | | Stopping your vehicle to wait for someone for whatever reason is prohibited. |
| Time-Restricted Parking | | Parking is allowed on both sides of the road but only on the indicated times shown on the sign. |
>>> Worth to note: Understand 17 common road markings in the Philippines
4. Examples of unorthodox and non-standard parking related signs
These no-parking signs are non-standard, non-regulated signs ranging from make-shift pieces of ply-wood like the on top or a fancier but still non-standard metal sign like on the second picture.
These are usually placed but private individuals or private businesses to signify that they'd prefer it that you don't park near or on the immediate area where these are located. Maybe it's near a drive-way, maybe a particular spot is reserved for customers (usually indicated on a sign).
Watch out though, become in some more rural places in the Philippines, some makeshift metal signs like the 2nd one shown here is actually backed up by an actual barangay or municipal ordinance so it pays to ask first.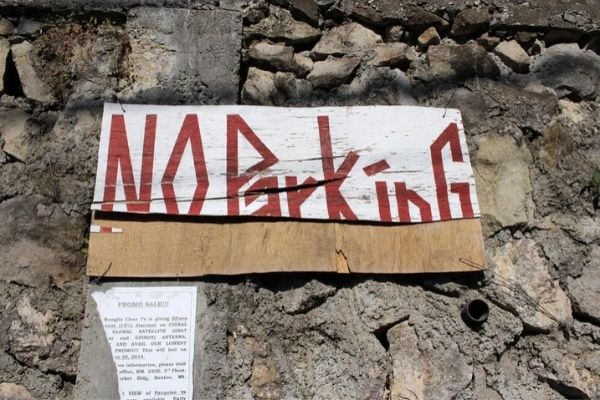 A no parking sign made out of plywood and a small can of acrylic. Just screams of authority doesn't it?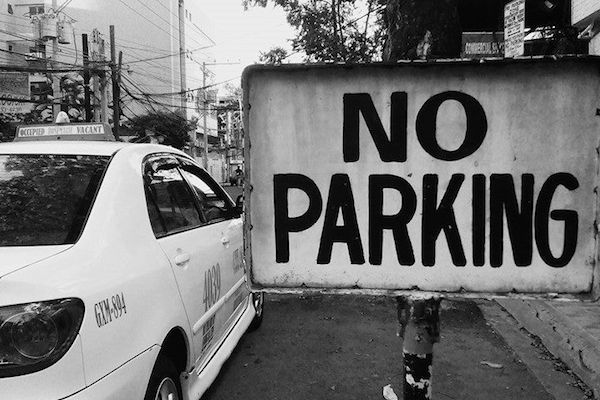 This particular no-parking sign might be owned by a private business establishment
>>> Related parking news: Proof of Parking Space Act: What is it and how will it help?
5. Other parking signs
While actual steel parking signs erected on poles are more common, there are other means of marking a street to convey that parking is allowed, not allowed, etc.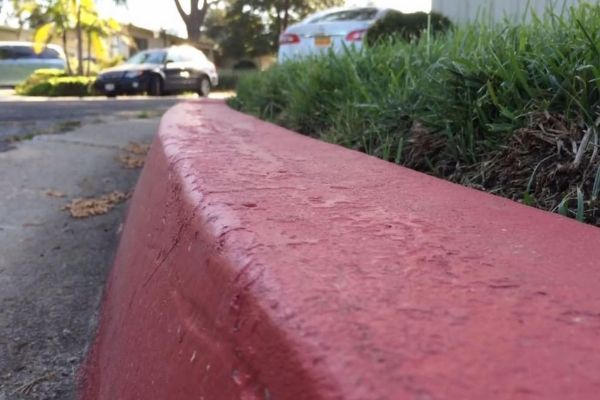 Red means no parking
While still uncommon here in the Philippines, other municipalities have begun to use curb coloring. Red indicated a no parking zone, while yellow-colored ones like this one below, indicates that loading and unloading are permitted.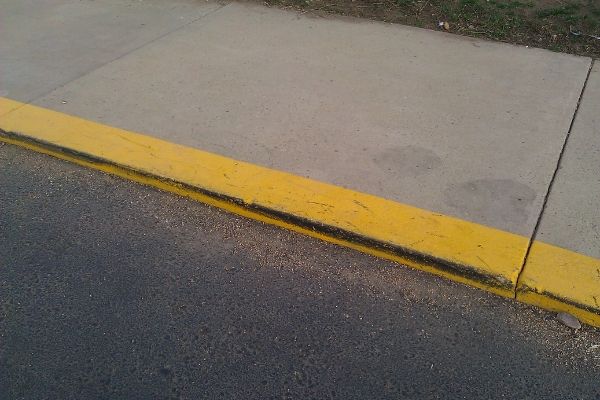 A yellow curb means you're allowed to drop off or let passengers aboard your car
>>> Read more: Barangay Greenhill's streets acknowledged as "NO PARKING ZONES".
Parking in the Philippines: Will cost you a buck
Parking here in the Philippines, especially in Metro Manila and other large cities are getting trickier. Most large businesses and other buildings located in economic centers like in Bonifacio Global City and in Ortigas CBD typically have paid parking.
While that might be expensive, there are other means like dedicated parking businesses.
>>> Click here to get more helpful tips and advice for your safe driving 


Cesar G.B. Miguel
Author