Everything that you need to know about plate number, that thin piece of metal on your bumper.
The license plate number is probably one of the most important parts of your car, that isn't actually part of your car. Sounds confusing, doesn't it?
Well, your license plate doesn't really come as a standard feature from any car manufacturer. It doesn't make your car run faster, or smoother, or quieter. It's not capable of making your car anymore or less comfortable, having no effect on your car's upholstery, climate control, or suspension system.
It doesn't improve your car's handling, or traction, or wet weather driveability. But without it, your car is literally limited to the four walls of your garage or stuck to the curb. Try driving your car out on the open road on a whim, and it won't be long before you're stopped in your tracks.
1. What is a license plate number?
That slim piece of reflectorized metal on your front and rear bumpers are proof that your car has been duly registered (and meets the required conditions set forth by the government) before it is allowed to be used on public roads. Simply put, the plate is there for official identification purposes.
LTO new license plate numbers.
>>> You might like to read:
2. What is a plate number used for?
As proof of registration, license plates in the Philippines help authorities monitor every vehicle on the road, especially in terms of their compliance with, or violation of, existing regulations governing traffic. They're also a primary identifier in cases of theft or loss, especially since more than one car comes in a particular body type, body color, or accessory.
Prior to being issued a proper registration plate, a brand-new car rolling off the showroom floor is typically assigned a conduction sticker, which contains an initial alphanumeric code.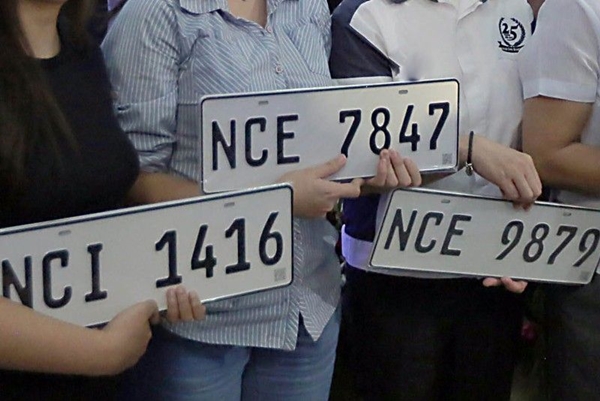 The Philippines plate number is technically a legal document that helps authorities monitor every vehicle on the road
Issued to accredited vehicle assemblers and importers, the conduction sticker is proof that a vehicle has undergone the legal procurement process as allowed by the country's laws, whether it is imported or locally assembled. This sticker is intended to be a temporary permit of sorts before a proper registration plate can be issued. With more and more vehicles, the LTO is having a hard time issuing driver's licenses. That is why an MV File Number is created to serve as a temporary license plate. 
A vehicle registration plate typically uses a visible numeric or alphanumeric code that corresponds to a unique ID assigned to the vehicle's owner. In most territories, the government has the exclusive right to manufacture and issue license plates within its area of jurisdiction.
As you might have figured out by now, the license plate is technically a legal document, one which ordinary citizens are not allowed to simply slap on to their cars without the proper process.
>>> Must read: Car Registration LTO Ultimate Guide: Requirements, Fee, Schedule & More
3. Is it a big deal in the Philippines?
The subject of license plates is still a touchy subject for Pinoy drivers, especially since a vast majority of drivers out on the road still haven't received their own plates for years.
You don't technically own a Philippine plate number since it is government property, but having paid for initial three-year registration as part of a new car purchase, and then renewing it every year afterward, a tangible license plate is the least a paying motorist deserves.
As part of its efforts to address the backlog, the Land Transportation Office recently announced that it has launched a dedicated website to let motorists check on the status of their plates.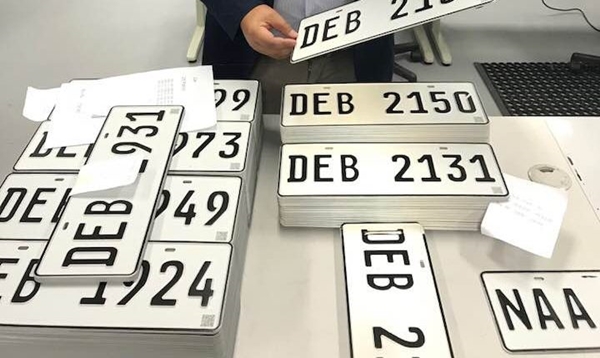 A vast majority of drivers out on the road still haven't received their own plate numbers in the Philippines for years.
Just input the 15-digit MV number found on the certificate of registration, and if the plates are ready, the site will indicate when and where the plates can be claimed. In the meantime, this covers plates that have been registered between July and October 2016.
>>> Check out more: A couple from Quezon City arrested for selling fake LTO license plates
4. How to use and care your car plate properly?
Now, assuming that you already have your very own pair of license plates for your car, you don't just place them anywhere and then call it a day. As a duly-issued government document, there are certain rules governing their use, the chief of which is that they should be conspicuously displayed on the front and rear bumper, meaning outside the car.
A small tip and advice is that you just need to simply placing them inside the windshield or rear window can potentially hamper their readability, especially with glare from reflected light on the windows.
Mounting it visible
So mounting them on the bumpers is the logical thing to do, fastened by special screws issued by the LTO to prevent tampering and unauthorized removal. Remember, the reason they should be put there is so that they will be readily visible in plain sight, so it's important that your plate number Philippines are kept neat and clean, with nothing covering or otherwise blocking them.
Tricky situation, especially when you consider that a plate cover might preserve it from dirt and mud, yet still reflect enough light at certain angles to render the plate unreadable. Since the plate is ideally made from sturdy, weatherproof materials, all it should take would be a periodic hosing or wiping down in order to maintain its legibility.
How to install new LTO plate
License plate number should be displayed exclusively
Apart from having no cover to obstruct the view, license plates should be displayed exclusively; that is they should not be accompanied by any other plate that is not legally valid in the Philippines. There are a number of cars out there that prominently display their plate numbers Philippines on top of other ones belonging to other countries.
The plates below are noticeably bigger with their last digits jutting out, which tends to visually confuse an observer at first glance; some drivers take advantage of this effect during their coding days to prevent traffic enforcers from apprehending them.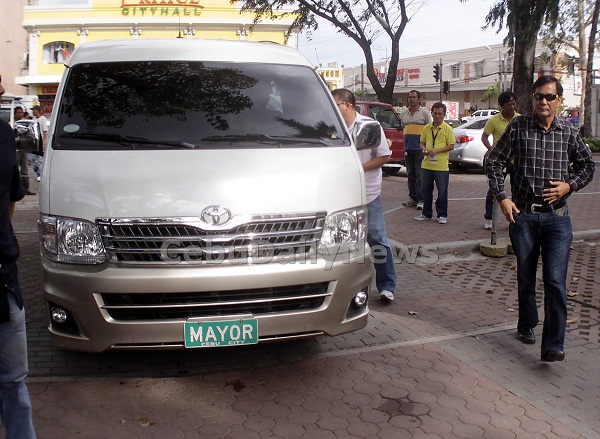 Plate number should be displayed in a visible place on your car
Car plates should be mounted in such a way that they are perpendicular to the ground, which means those JDM-inspired swiveling plate holders that you think are so cool will have to go. Along with tinted plate covers, they could be used to make it more difficult for expressway CCTV cameras to detect and apprehended over-speeding drivers. 
Your plates being government property, it is also important to note that they should not be mutilated or torn in any way. Many motorists are guilty of this, sporting registration plates with the first letter or the last digit torn off, presumably so they won't be easily identified and traced in the event that they commit a traffic violation.
Don't modify the license plate number
License plates should display the alphanumeric code in a uniform format, layout and color scheme prescribed by law; no stylistic touches are allowed. You already have enough opportunities to customize and personalize your car according to your individuality; the license plate isn't one of them.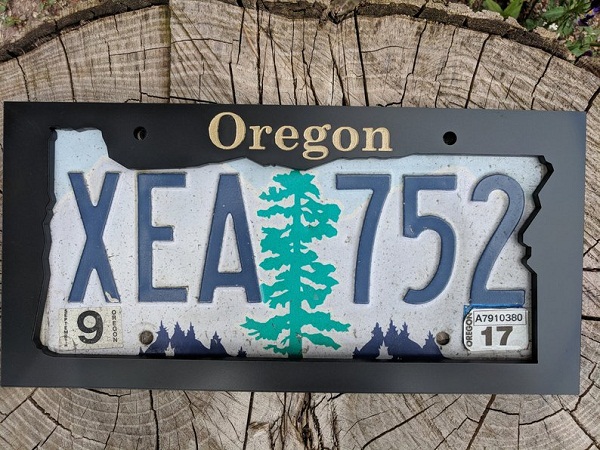 It is adviced not to do any modification for your plate number
Replace your damaged or lost plate immediately 
Most importantly, if your license plate does end up getting damaged or lost (as long as you didn't do it on purpose), you may end up getting flagged down and slapped with a fine, apart from getting your car impounded on the spot.
Replace your damaged or lost plates by filing the necessary affidavit of mutilation or loss with the LTO branch where your car is registered, bring along the necessary documents, and pay for the replacement costs after having your car inspected.
>>> Must read: Lost plate number in the Philippines: Step-by-step guide to report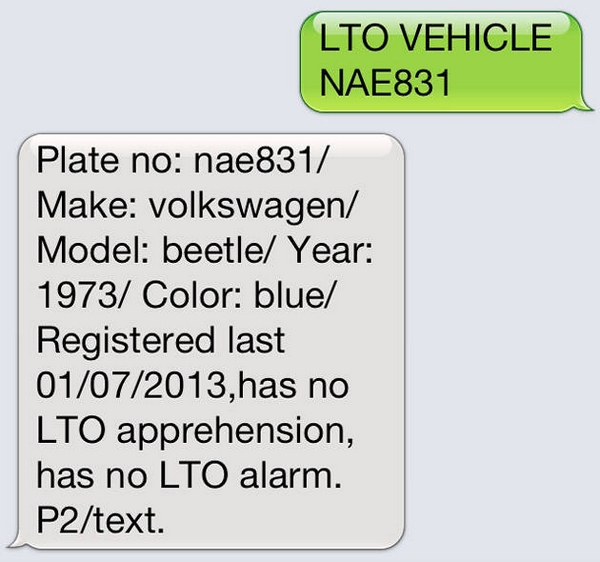 At the moment, LTO already has a system that allows you to text LTO to check plate number
The LTO will issue a temporary authorization to use an improvised plate, which is good for 90 days or three months until a replacement plate is ready. And make sure your improvised plate still follows the proper LTO format.
Something so small could have such a big impact on your motoring life, which is why it's important to always be conscious of your plates, to give yourself fewer reasons to run afoul of the law.
And that is everything you need to know regarding plate number in the Philippines, for more tips & tricks, visit Philkotse.com.


Joseph Paolo Estabillo
Author