A list of the most relevant emergency hotline numbers in the Philippines that you can call in the event of a car/public transport-related emergency situation.
10 most relevant emergency hotlines in the Philippines!
Today, roads here in the Philippines, especially in major cities like Metro Manila, Metro Cebu, Davao City, and many others, are getting more and more congested. Exacerbating this fact is the increasing number of "kamote" drivers and motorcycle riders who on the regular, seemingly want to share their knack for ignoring traffic rules and laws.
As such, Filipino motorists are no stranger to witnessing or god forbid, being involved from road accidents from time to time. And you know vehicular accidents, whether small or major, no one wants to get involved in them.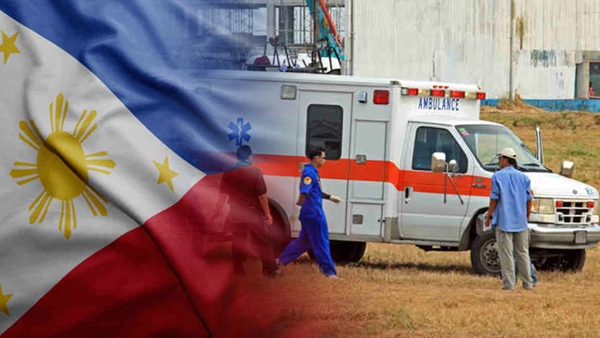 Philkotse.com will provide a list of emergency hotline numbers
We here in Philkotse.com, being car owners and drivers ourselves, would like to share with our reader's information on different numbers that you can call in the event of a vehicular accident or any type of untoward incident. We'll also include other location-based hotline numbers as well as organizations that you can call for more specific but still emergency situations.
Also, note that the act of calling the appropriate emergency numbers is one of the steps of many emergency medical procedures like when performing Cardio Pulmonary Resuscitation (CPR) so do take note of these numbers. It might save your own life and others in the future.
And lastly, before we talk about the hotline numbers, please take your time to also read our article on the 9 things to do in the event of a car accident because that too might also save you or your loved one's life.
1. NDRRMC Hotline: National Disaster Risk Reduction and Management Council
While the name implies a more national scope in disaster mitigation, NDRRMC has regional teams that are quite capable of providing emergency medical assistance.
These teams that are spread all throughout the country also have small rescue teams that are trained in search and rescue. For you know, when your car flips over a cliff *knock-on-wood*. You can also contact this organization if you want to report occurrences of flash flooding and other natural disasters.
Telephone hotlines: (02) 911-1406, (02) 912-2665, (02) 912-5668, (02) 911-1873
Facebook Page: NDRRMC
Twitter: @NDRRMC_OpCen
Luzon NDRRMC Hotline Numbers

National Capital Region

(02) 421-1918

Cagayan Valley

(078) 844-1630

Ilocos

(072) 607-6528

Central Luzon

(045) 455-1145

Cordillera Administrative Region

(074) 304-2256

MIMAROPA

(043) 723-4248

CALABARZON

(049) 531-7266

Bicol

(052) 481-1656
Visayan NDRRMC Hotline Numbers

Western Visayas

(033) 337-6671, 509-7971

Central Visayas

(032) 416-5025, 416-5025

Eastern Visayas

(053) 323-8453
Mindanao NDRRMC Hotline Numbers

Zamboanga Peninsula

(062) 215-3984

Northern Mindanao

(088) 857-3988, 875-3907

Davao

(082) 233-2022, 233-0611

SOCCSKARGEN

(083) 522-9759, 553-2994

Cordillera Administrative Region

(074) 304-2256

CARAGA

(085) 815-6345, 342-8753, 341,8629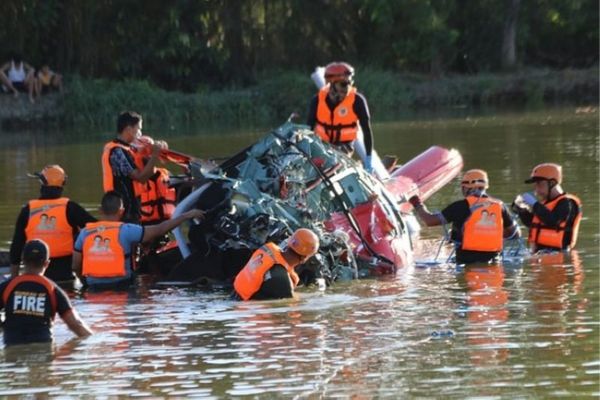 Pampanga DRRMO members inspecting a crashed helicopter
2. BFP Hotline: Bureau of Fire Protection
BFP Hotline Numbers

BFP NCR Hotline

(02) 729-5166 9

BFP Information Desk

(02) 410-631
Almost all cars plying Philippine roads today are powered by combustion engines. And you know that those tend to generate a lot of heat caused by miniature explosions and sometimes the heat can get out of hand. Worn out or faulty electrical components are also a possible source of danger.
A flaming, burning car is no joke as there are a number of factors that can turn up the danger factor-like accelerants (gasoline), batteries, etc. And trust us, you do not want to pour water on an electrical fire. As such, the most trained and the most equipped personnel to handle car fires are the guys the Bureau of Fire Protection.
Aside from that, a select few BFP personnel are also trained to control and contain hazardous material. So if you spot a large tanker truck spilling hydrochloric acid or something worse on the highway, these folks are quite capable of dealing with those.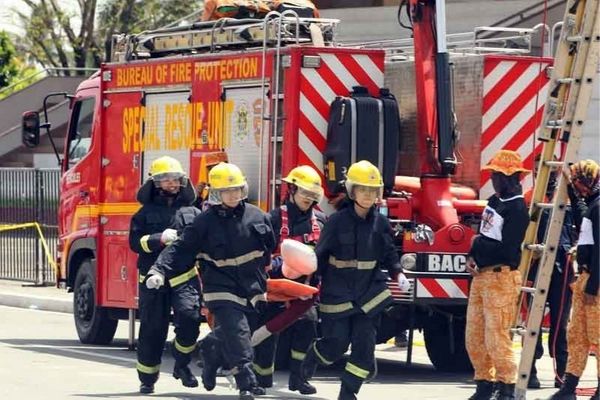 BFP Firefighters aren't just firefighters but they're also very competent in giving first aid and search and rescue
3. MMDA hotline contact number: Metropolitan Manila Development Authority
MMDA Hotline Contact Numbers

MMDA Road Emergency Group

882-3993;
882-4151;
882-4152;
882-4153 to 77

MMDA Metrobase Hotline

136

MMDA towing hotline
136

MMDA Flood Control

882-4177

Road Safety Hotline

319

Public Safety Hotline

374

Road Emergency Hotline

320

Twitter

Facebook
The MMDA is an agency that handles the monitoring, planning, and delivery of metro-wide services like transport and traffic management. They're also in charge of the sidewalk clearing operations which of course also involves handling instances of illegal parking and towing. They also have personnel who are capable of handling natural disasters like flood control.
Like the other organizations listed here, the MMDA also has several teams of highly trained rescue personnel who can provide first aid and transport.
>>> Grab your attention: 7 essential services of MMDA in the Philippines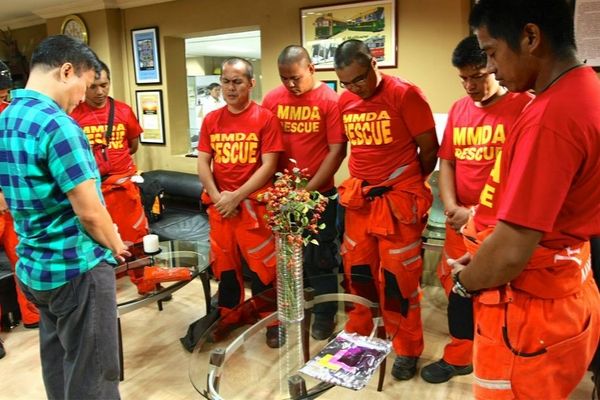 The MMDA Rescue team is one of the most active units in Metro Manila
4. Emergency number Philippines: Department of Transportation
Department of Transportation Hotline Numbers

Land Transportation Office Text Hotline

Text LTOHELP to 2600

DOTr Public Assistance Center

7890

LTFRB Hotline

1342
The Department of Transportation is an organization responsible for maintaining and expanding Philippine public transportation. That also includes land, sea, and air communications infrastructure as well as public transportation infrastructure.
They're also capable of handling different emergency situations with relation to public transport just like those incidents with the LRT and MRT lines, and accidents involving other public transportation like buses and public utility jeepneys (PUJ).
The DOTr is also the umbrella organization that handles the likes of the Land Transportation Office (LTO) and the Land Transportation Franchising and Regulatory Board or LTFRB. As such, they are also tasked to handle complaints and emergencies in relation to those two. A select few of their personnel are also trained in containing and controlling the spillage of harmful cargo whether on land and on the sea.
DOTr officials and employees checking out a dilapidated PNR train
5. Emergency hotline in the Philippines: Department of Public Works & Highways
Department of Public Works and Highways Hotline numbers

Hotlines

(02) 304-3713
(02) 304-3904

Twitter
This department is charged in designing, constructing, maintaining infrastructure most notable of which are highways. So in connection to that, their guys are also in charge of monitoring the safety of national roads, which of course includes the national highway.
Like the agencies listed above, they also have capable teams with regard to roadside assistance and emergency medical assistance. And yes, some jurisdictions of the DPWH are supposedly capable of quick response road repair. You can also report to them cases of road damage due to natural disasters and other untoward situations concerning other government-owned public use infrastructure.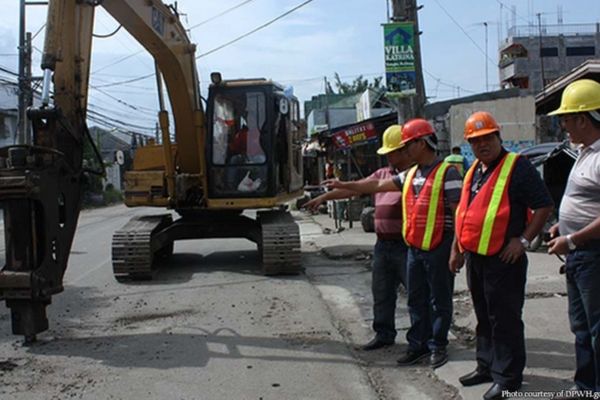 DPWH is their name and infrastructure is their game
6. Philippine Red Cross Hotline
Philippine Red Cross Hotline Numbers

Hotlines

143
(02) 527-0000
(02) 527-8385 to 95

Twitter

@philredcross
Established way back in 1947 in the country, the Philippine Red Cross is part of an international humanitarian organization that provides disaster management services, national blood services, safety services, health services, welfare and of course, the Red Cross Youth.
In relation to vehicular accidents, members of this organization are very highly trained and perhaps is one of the most capable in providing paramedical response services in the country right now.
We can also say that they're also the most widespread because most cities and even some small towns will most assuredly have a local chapter which in turn will always have a team ready to meet the emergency medical needs of those who require them.
Aside from that, most Red Cross Chapters are also capable of dealing with fire-related emergencies and most natural disasters.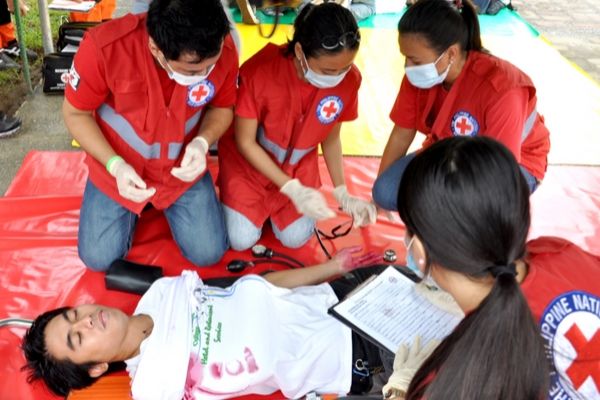 Red Cross Members typically train on the regular to hone their skills
7. National Police Hotline in the Philippines
Philippine National Police Hotline numbers

SMS

Send TXT PNP to 2920

Facebook

Twitter
Not all emergencies on the road can be medical in nature. Sometimes it might involve security issues like the threat of carnapping, theft, kidnapping, and many others.
As such, the foremost organization that just might save your life in those cases is none other than the guys in blue; the Philippine National Police. While each and every single precinct has its own contact number, here are the national contact details of the PNP;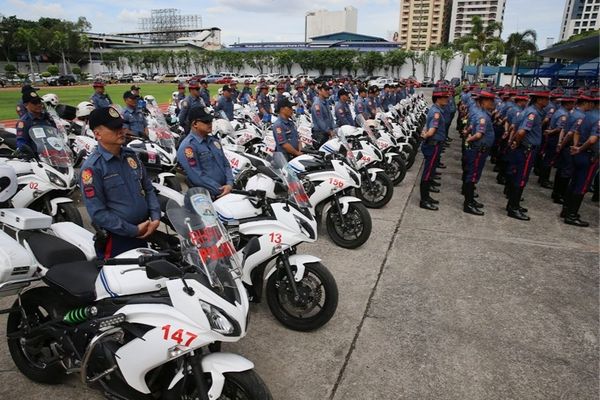 Members of the PNP Highway Patrol Group are not only law-enforcers but many of them are actually trained in first aid
8. NLEX/SLEX/SCTEX/Skyway System & Manila Toll Expressway Systems
Philippine Expressways emergency hotline numbers

NLEX Hotlines

(02) 3-5000 & (02) 580-8910

SCTEX Hotlines

(045) 459-0522/ Mobile: 0920-96-72839

Skyway System

Hotline: (02) 776-7777

Mobile: 09175398762 (Globe), 09998880893 (Smart), 09328546980 (Sun)

SLEX Hotlines

Hotlines: (049) 508-7509, (02) 584-4389

Mobile Number: 09176877539 (Globe)

MATES (Manila Toll Expressway Systems)

Hotline: (049) 508-7539

Mobile Number: 0908-880-7539
If you've experienced playing the lengths of the North Luzon Expressway, the South Luzon Expressway, and the Subic-Clark-Tarlac Expressway, chances are, if something unfortunate happens, the nearest guys who can help you with your broken-down car or sudden medical needs are of course the guys monitoring these aforementioned expressways. Some of their personnel after all also trained in first aid and they do have tow trucks.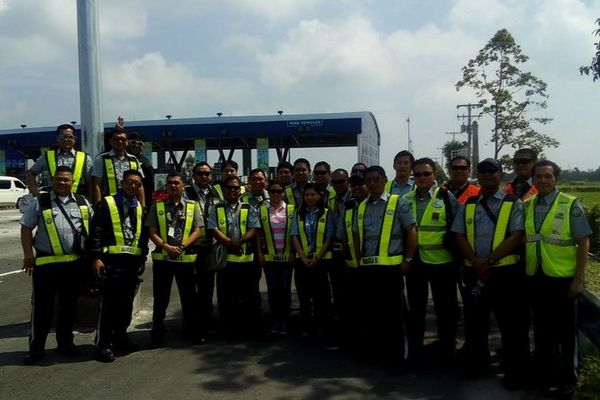 The men and women of the NLEX patrol brave the heat on the daily to keep the highway and you safe
9. Automobile Association of the Philippines
AAP Hotlines

Central ERS Operations Office hotline

(632) 8-723-0808

Mobile: 09178126000

09188126000

North ERS Operations Office hotline

(632) 710-1358

South ERS Operations Office hotline

(632) 8-666-1988/8-985-4471

Davao Branch hotline

(6382) 299-49-61 to 62

Cebu office

(6332) 268-2400 or (6332) 233-9971
The Automobile Association Philippines (AAP) is a non-profit organization dedicated to the welfare of motorists here in the Philippines.
Aside from conducting road safety lectures and seminars, one of AAP's most popular services is its 24/7 roadside assistance service. Their team of mechanics can get to your position within designated service areas in order to help you with issues ranging from a dead battery, help with a flat tire, provision of fuel, and of course towing.
However brilliant, there is though a caveat; you'll need to pay a membership fee before you can avail of AAP's services. The cheapest costs around Php 2,000 for a 1-year regular individual membership and around Php 600 for motorcycles.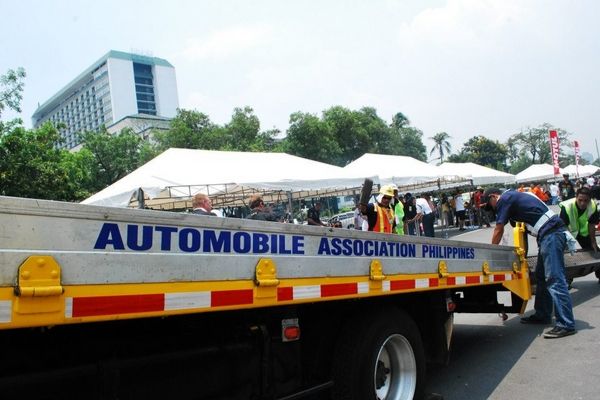 The AAP provides a very handy service especially for those less mechanically inclined
10. 911 - Philippines emergency hotline
Around a couple of years ago, the Philippine government sought to consolidate all emergency numbers for a myriad of public service departments from different locations into one number as well as into one system. Initially, what they came up with was the patrol 117 Street patrol Program. The 117's scope, however, was limited to Metro Manila alone.
Back in August 2016, the 911 national emergency hotline was established under the management of the Department of the Interior and Local Government. Thus this links the new 911 hotline to a number of agencies listed above like the Philippine National Police, the Bureau of Fire Protection, the DPWH, the MMDA, Local Government Units, and other accredited NGOs like the Philippine Red Cross.
So while the numbers listed above are still useful, it's up to your own discretion and decision making on what number to call. If you're in doubt though, this 911 emergency hotline number can no doubt re-direct you to the appropriate emergency service.
Take note also that this list is by no means exhaustive. If you didn't find the number or emergency service you're looking for, we're sure that the 911 hotline can redirect you to it.
For more tips on safe driving here in the Philippines, please keep reading here on Philkotse.com!

Cesar G.B. Miguel
Author