It makes about as much as the Dodge Demon but behaves better on the road.
Thanks to the Auto Nation Group, the official distributor of Dodge, RAM, Jeep, and Chrysler products in the Philippines, you can now buy the Dodge Challenger SRT Hellcat Redeye locally, the most agile version of the Dodge Challenger ever.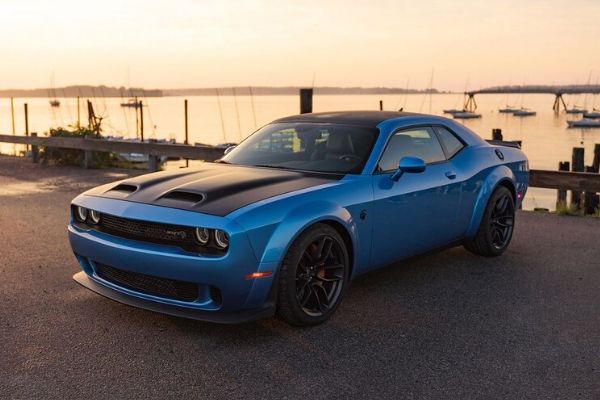 On top of being powerful, the retro modern styling on the Redeye looks really good too
Notice that we called it the "most agile?" Well, that's because this version of the Dodge Challenger is road-course capable, unlike the limited-edition Challenger SRT Demon, which was optimized for drag racing. 
So what does the Dodge Challenger SRT Hellcat Redeye offer? First, let's talk about its mechanicals; the stuff that makes it roar.
2020 Dodge Challenger SRT Hellcat Redeye: It's essentially a GT car
Under the hood, the Challenger SRT Hellcat Redeye is powered by a supercharged, 6.2 liter Hemi V8. The said engine makes a staggering 808 horsepower and 959 Nm of torque.
Sure, the Demon makes more, but what makes the Challenger SRT Hellcat Redeye special is number 1) it comes with the largest supercharger for a production car ever, and 2) it can actually handle well on a race track and on public roads.
Countdown | Challenger SRT Hellcat Redeye | Dodge
Why? Think of it this way: the Demon was built to be like the muscle cars of old, which were optimized for brutal straight-line acceleration.
The Redeye on the other hand comes with a more versatile suspension system, and a set of better, larger Brembo brakes. This of course makes it behave more like a GT car than a muscle car.
>>> Related: Can I buy a 2020 Dodge Challenger in the Philippines?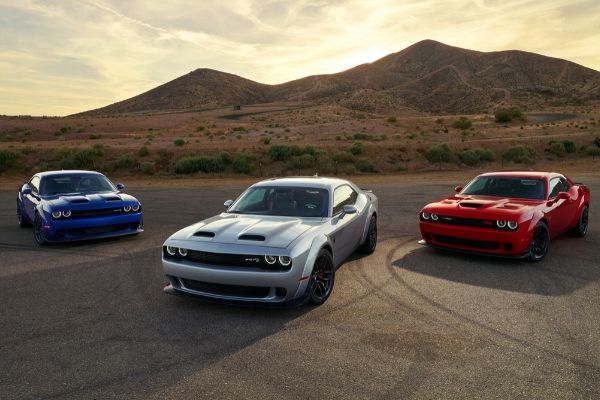 You can also say that if the Demon is a hammer, the Redeye is a knife
The Challenger SRT Hellcat Redeye also shares the same 10-speed automatic with the Demon. It is however adjusted for continuous on or off hard throttling for taking on corners.
Do note however that with that kind of power and a rear-wheel-drive layout, we'd rather like to think that you'll still need some bit of driving experience first before handling this monster on public roads.
>>> Related: View full Dodge Challenger price list & installment
2020 Dodge Challenger SRT Hellcat Redeye: Interior amenities
Inside, you'll find that the Redeye also works for long road trips. It has sufficient sound insulation, blind-spot monitoring, and even adaptive cruise control.
And again, the suspension has been tuned in such a way that it's actually suited to long-distance touring. And yes, the Redeye actually has comfortable rear seats that can actually accommodate two adults.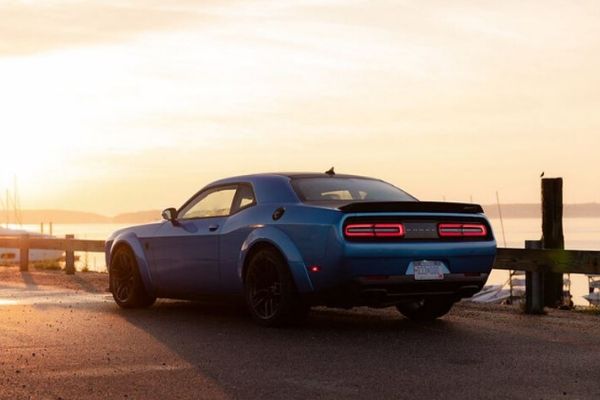 Imagine going on a road trip here in the Philippines with an 800 horsepower car
2020 Dodge Challenger SRT Hellcat Redeye: Pricing
For the Philippine release of the 2020 Dodge Challenger SRT Hellcat Redeye, it is priced at P7.890 million. If you want better rear-seat access, there's also the four-door Charger SRT Hellcat, which is priced at P7.990 million.
>>> Related: Check out more Dodge vehicles with used Dodge Caliber for sale in the Philippines
For more automotive news, keep reading here on Philkotse.com.
Know more about Dodge Challenger 2021

The Dodge Challenger is an iconic two-door notchback coupe repetitively featured in the successful movie franchise "The Fast and the Furious". It is known and acclaimed worldwide for its signature muscled exterior detailed with lines and curves to assist its supreme aerodynamic capability. Also, it flaunts an intimidating stance brought about by a set of durable 20-inch wheels. Inside, it offers a posh cabin furnished with comfort, convenience, and safety features guaranteed to satisfy its five lucky passengers. Locally, this premium coupe is offered in two variants: the Dodge Challenger R/T Scatpack 6.4HEMI V8 and the Dodge Challenger SRT Hellcat Red eye 6.2L HEMI V8. It is available in Billet Silver Metallic, B5 Blue, Granite Crystal Metallic, Ivory White Tri Coat, Maximum Steel Metallic, Redline Red Tri Coat, Jazz Blue, Torred, Pitch Black, Bright White, and Go Mango.

Cesar G.B. Miguel
Author