Here are the details on the available Challenger variants here in the Philippines.
As time passes on, more and more American car companies are discontinuing their sedan models. Fiat-Chrysler Automobiles discontinued the Chrysler 200 in 2017 and the Dodge Dart back in 2016.
Ford also discontinued its sedan and hatchback models for numerous markets, including the Philippines. Why? Because the world wants more SUVs and crossovers and as a result, many have begun to fear that the muscle car, as we know it, might also come to an end.
Triple Threat | Challenger | Dodge
According to many executives working for these American car companies however, models like the Dodge Challenger still rakes in a hefty profit for the company. There are even reports that we might be seeing a new Challenger in 2023.
Despite making its debut 11 years ago, the Challenger still managed to outsell the Chevrolet Camaro in 2019, in the muscle car-mad American market.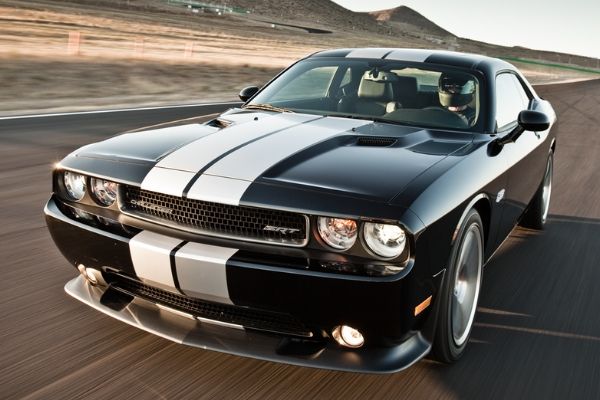 These powerful beasts are here to stay folks
Can I still buy a 2020 Dodge Challenger here in the Philippines?
Yes, you still can. And as we've said before, it's not going away anytime soon. Auto Nation Group, Dodge's official distributor here in the Philippines, is currently selling two versions of the famous American muscle car.
There's the Dodge Challenger SRT 392 RWD and the more powerful Dodge Challenger SRT Hellcat RWD.
What are you getting into when buying either of these beasts?
Dodge Challenger Overview
First off, the Challenger is not ideal as a beginner driver's car. All of its engine options are powerful, even the non-V8 ones.
Second, all Challenger variants have a rear-wheel-drive layout. Couple that with the powerful engines, then what you get is a fun, but most of the time, a terrifying car that's prone to oversteer.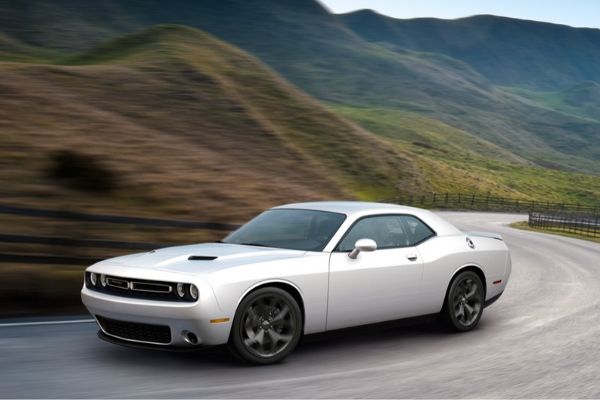 Doing canyon carving with a Challenger will challenge you. Pun intended
>>> Related: Dodge Challenger Drag Pak: Non-street legal and it can do wheelies
Let's talk a bit about the Challenger's locally available variants.
Dodge Challenger SRT 392 RWD
The Dodge Challenger SRT 392 RWD is the "entry-level" Challenger variant available here in the Philippines. It is powered by a 6.4 Liter V8 Hemi gasoline engine which makes up to 485 horsepower and 644 Nm of torque.
Power is sent to the rear wheels via a 6-speed manual Tremec Transmission. An 8-speed TorqueFlite Automatic transmission is also available as an option.
Included updates to this variant is a revised grille, a function hood scoop, and four LED "Halo Ring" headlights. Dodge also gave this variant two, 15.4-inch Brembo ventilated discs with six-piston Brembo brake calipers for the front and rear brakes.
Complementing those Brembos is a set of 20-Inch X-9.5-inch Hyper Black Forged Wheels, wrapped around by 275/40ZR20 All Season Performance Tires.
That quintessential muscle car shape might not be for everyone. But we really like it
Inside, the SRT 392 comes standard with a 7-inch reconfigurable display, a 12-volt center console power outlet, dual-zone automatic temperature control with a rear climate control outlet, front and rear Solar Control Glass, humidity sensor, a leather-wrapped flat-bottom steering wheel, and a performance shift indicator. Also optional for this variant is a sunroof.
Active safety aboard the SRT 392 is handled by electronic stability control, the ParkSense rear parking assist system, a rear-view parking camera, tire pressure monitoring system, hill start assist, knockback mitigation, and a forward-collision warning system.
On the passive side, the SRT 392 comes standard with front and rear curtain airbags, front side airbags, and dual front airbags.
Dodge SRT Hellcat RWD
The other available Challenger variant here in the Philippines is the SRT Hellcat RWD. It comes with all the goodies including the upgraded suspension and aerodynamics that were given to the SRT 392 when it was updated.
The only difference is that the Hellcat's engine is the gasoline chugging 6.2 Liter Supercharged HEMI V8 capable of making up to 707 horsepower and 881 Nm of torque.
The SRT Hellcat RWD also has a 6-speed manual Tremec transmission as standard, and it also comes with an optional 8-speed TorqueFlite Automatic transmission.
The only visible difference between the SRT 392 and the Hellcat is that Dodge removed the inner driving light to allow for a pair of air intakes to feed the engine.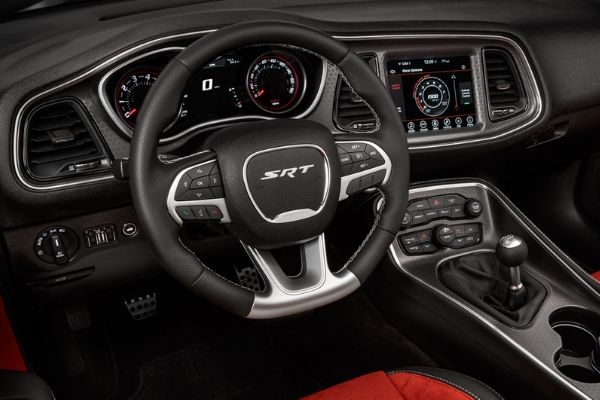 Both the SRT and the Hellcat's got a comfy interior too
With that kind of setup, the Hellcat is able to reach a top speed of 320 km/h and a 0-100 km/h time of just 3.6 seconds.
And yes, both the SRT 392 and the Hellcat are also capable of doing tight maneuvers in a circuit due to their Bilstein front independent suspension and rear five-link suspension.
Dodge Challenger: We're glad these still exist
Despite the apparent change of direction in the car world to a more sustainable, more green means of propulsion, we're actually glad that cars like the Challenger still exist.
It's quite an awesome sight to see in action, and the roar of its V8 is something that you won't forget especially if you're the one doing the driving.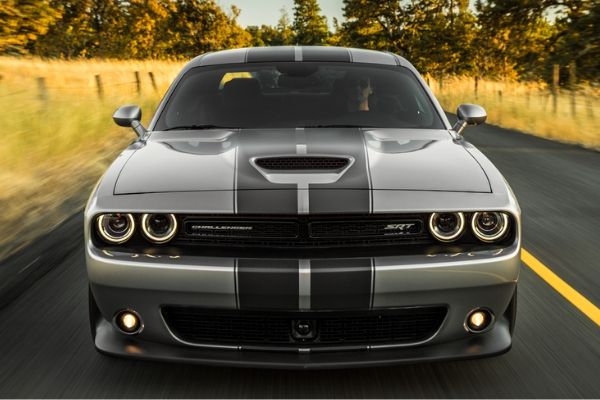 That gargling sound of a V8 is quite simply, unforgettable
But then again, this begs the question, do you think the Challenger can perform well as a daily driver in Metro Manila?
For more articles like this one, keep reading here on Philkotse.com.
Know more about Dodge Challenger

The Dodge Challenger is an iconic two-door notchback coupe repetitively featured in the successful movie franchise "The Fast and the Furious". It is known and acclaimed worldwide for its signature muscled exterior detailed with lines and curves to assist its supreme aerodynamic capability. Also, it flaunts an intimidating stance brought about by a set of durable 20-inch wheels. Inside, it offers a posh cabin furnished with comfort, convenience, and safety features guaranteed to satisfy its five lucky passengers. Locally, this premium coupe is offered in two variants: the Dodge Challenger R/T Scatpack 6.4HEMI V8 and the Dodge Challenger SRT Hellcat Red eye 6.2L HEMI V8. It is available in Billet Silver Metallic, B5 Blue, Granite Crystal Metallic, Ivory White Tri Coat, Maximum Steel Metallic, Redline Red Tri Coat, Jazz Blue, Torred, Pitch Black, Bright White, and Go Mango.

Cesar G.B. Miguel
Author