At this year's SEMA, Dodge introduced the Challenger Drag Pak; a track-only Challenger equipped with wheelie bars, a parachute, and a roll-cage.
Introduced back in 2008, the 3rd-generation Dodge Challenger is an American muscle car that has spawned a good number of variants in the eleven years it existed. There's the Challenger SRT Hellcat, the Challenger R/T, the SRT8, the SRT 392, the powerful SRT Hellcat, the Challenger GT, and of course…the ludicrous but still street legal Dodge Challenger SRT Demon.
In this year's SEMA Show though, Dodge introduces the Dodge Challenger Drag Pak. A drag oriented, a track-only car with certifications from the National Hot Rod Association (NHRA) and the National Muscle Car Association. Sweet.
What sucks though is the Dodge is making only 50 of these beasts and they aren't even making the price public.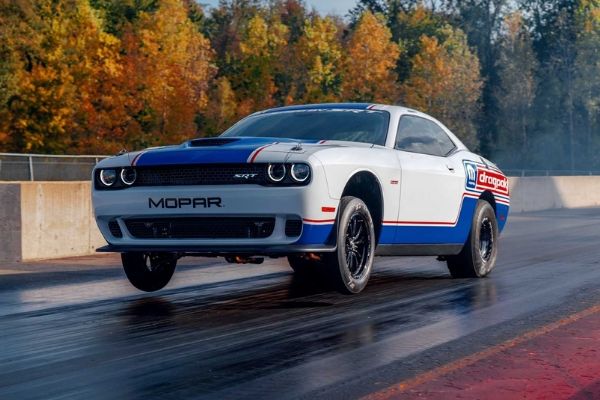 Guaranteed wheelie for every gear shift. Ha!
What's so special about the Challenger Drag Pak?
For starters, the Challenger Drag Pak is a car built to go fast on a straight line. To do just that Dodge tuned its 5.8 Liter supercharged V8, gave it a three-speed Kik-Shift manual shifter, a programmable power distributor called Racepak Smartwire, a very non-standard and very lightweight driveshaft, and a non-standard cross member which lowers the car's gravity from the center.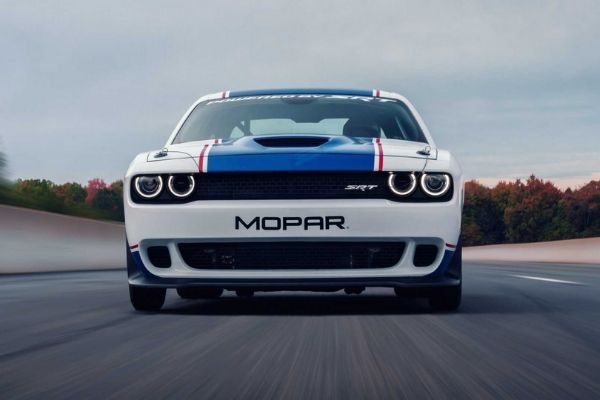 Not much was done to the exterior except for the sweet paint scheme
Aside from those goodies, MOPAR, Fiat Chrysler's service and customer care organization also fitted the special Challenger variant with a sturdy roll cage for safety, Bilstein double-adjustable struts and a pair of coil-overs for the rear as well. The kicker though is the addition of a chassis-mounted parachute and wheelie bars because the car does wheelies like its business.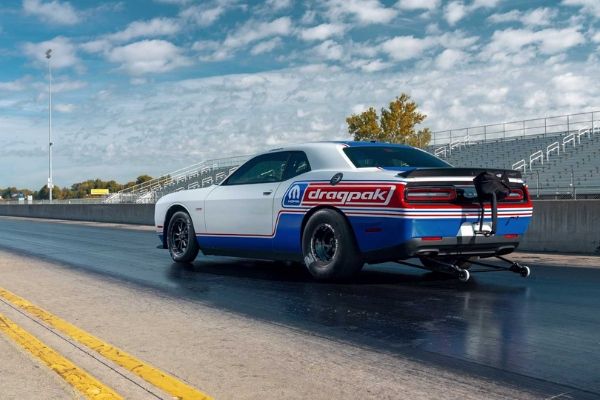 View it from the rear and you'll know this car means business
When it comes to its visual design, here's what Mark Trostle, the head of performance, passenger car and utility vehicle design for FCA North American said:
"We want this to look so cool that when the customer buys a Challenger Drag Pak, he or she wants to run these graphics because they are so iconic and it stands out."
Does the Challenger Drag Pak inspire you? Let us know when you decide to build something similar: A drag-track car that'll do wheelies. For that though, check out our cars for sale section for listings of the Dodge Challenger, new and used.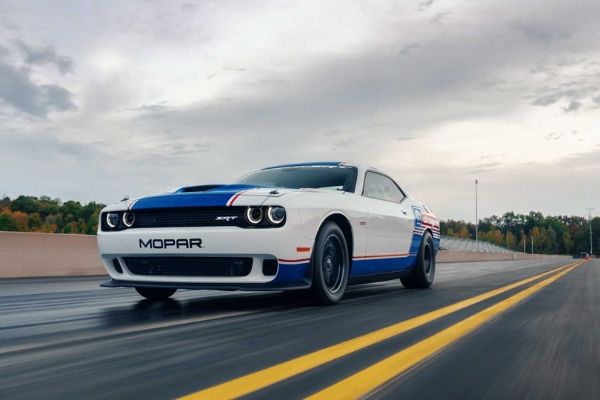 Only 50 will be built and it is not road legal
For more automotive news, keep reading here on Philkotse.com.

Know more about Dodge Challenger 2022

The Dodge Challenger is a rear-wheel-drive muscle car that comes in a 2-door coupe body style. Locally, this model has three different variants. There's the Challenger R/T Scat Pack 6.4 AT, the Challenger R/T Scat Pack Widebody 6.4 AT, and the Challenger SRT Hellcat Widebody.
For prices, the regular R/T Scat Pack is priced at Php 4,590,000, and the widebody variant can be had for Php 4,990,000. If you want the price for the top-spec Hellcat widebody variant meanwhile, one should contact your nearest Dodge Dealership.
For engines, the Philippine-spec Challenger has two options. For the Scat Pack variants, these use a 6.4-liter HEMI V8 that can make up to 485 horsepower and 644 Nm of torque. For the Hellcat trim meanwhile, it uses a more powerful 6.2-liter supercharged HEMI V8 that's good for 717 horsepower and 889 Nm of torque. All trims then use an eight-speed automatic gearbox.
Size-wise, the Challenger Scat Pack variants are 5,017mm long, and 1,465mm in height. The non-widebody version is 1,923mm wide, while the widebody version is 1,990mm wide. The Hellcat then sits lower with a height of 1,461mm.
Locally, the Dodge Challenger competes against the Ford Mustang, Chevrolet Camaro, Nissan 370Z, BMW 2 Series Coupe, among others.

Cesar G.B. Miguel
Author