It's probably the beefiest looking Navara ever.
Pickup-trucks are some of the most versatile vehicles to ever grace God's green earth. They can range from being simple and utilitarian to a beefed-up machine that's meant to drive through almost any terrain. 
In Thailand, Nissan is ramping up its pickup truck game with the introduction of the Navara N-Trek Warrior. And by ramp up, we mean it looks like this particular Navara would like to eat the Ranger Raptor's lunch.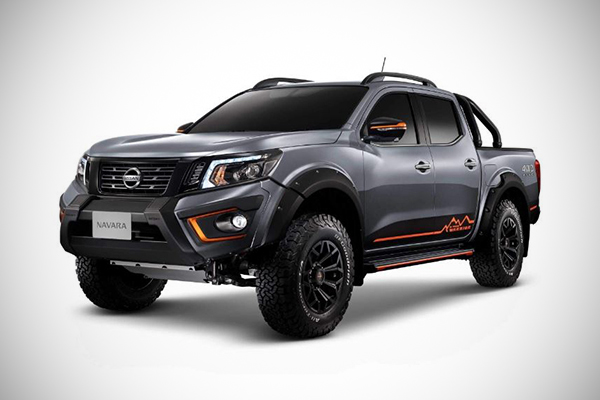 This is probably the most macho looking Navara to come straight from the dealership
When it comes to the N-Trek Warrior, it's all about exterior design. Upfront, the once sleek bumper was replaced by a larger, more angular piece that protrudes more forward. The grille however was compressed due to the sheer size of the said bumper, but as you can see, it doesn't affect the macho ambiance the N-Trek Warrior is emanating.
From the sides, there's the set of beefy all-terrain BF Goodrich tires, which then wrap around a set of angular, black colored, 17-inch wheels. There's also the step board, the lower part of the doors, and the side mirrors, which now come with orange trim. And lastly, you'll notice that the N-Trek Warrior rides significantly higher than the standard Nissan Navara.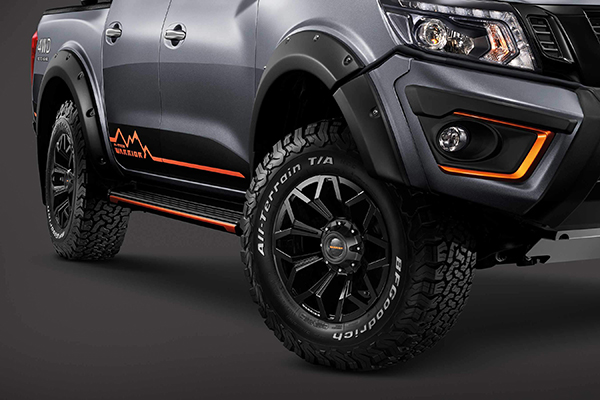 The beefy fender flares and all-terrain tire combo always works
>>> Related: Nissan PH officially launched the all-new Nissan Navara N-Warrior Edtion 2019
While the interior doesn't look that much different from the normal Navara, it does have a lot of on-board features like the Nissan Connect, Apple CarPlay, and voice recognition. For safety, the N-Trek Warrior has hill start and hill descent control, a four-point camera, and an around-view monitor.
Under the hood, the N-Trek Warrior has the familiar 2.5-liter inline-4 DOHC turbo diesel found on the locally available N-Warrior. However, the one fitted on the N-Trek Warrior makes a bit more power at 190 horsepower and 450 Nm of torque for the 4x4 variant.
The said engine is paired up with a seven-speed automatic transmission, and power is sent to all-four-wheels. And yes, like the N-Warrior, the N-Trek Warrior also has a 4x2 version, the engine of which makes less at 163 horsepower and 403 Nm of torque. 
>>> Related: Also check out the Nissan Navara 2014 for sale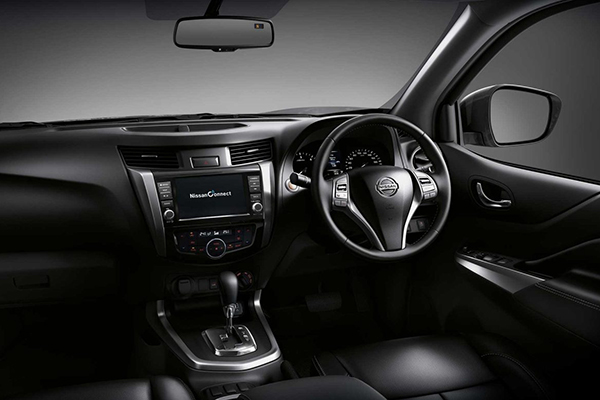 The interior looks the same as the regular Navara
The N-Trek Warrior is only available in Thailand, and there's no word yet whether we'll get this beastly looking version of the Navara or not. Although, we're really wishing that it does up here, maybe as an update to the N-Warrior? If not, why not offer the N-Trek Warrior's pieces as genuine Nissan parts?
For more automotive news, keep reading here on Philkotse.com.
Know more about Nissan Navara 2021

<p>The Nissan Navara is one of the most reliable midsize pickup trucks that is used in Europe, South Africa, Australia, New Zealand, and Asia. It is known for its modern and muscled physique packed with innovative features. Whether you use it daily going to work or to transport a good number of goods in rural or urban areas, this versatile workhorse can truly perform. The new facelifted model comes with a bolder front end, which gives it a more commanding presence. It is also integrated with updated tech and safety features.</p>

Cesar G.B. Miguel
Author