A sizable ride offering plenty of room and luxury. 
Mercedes-Benz released the all-new T-Class MPV, and thus has expanded its lineup for individuals who are in the market for a premium family vehicle. It is now on sale in Europe, but in relation to the Philippine market, do remember that we like MPVs too right?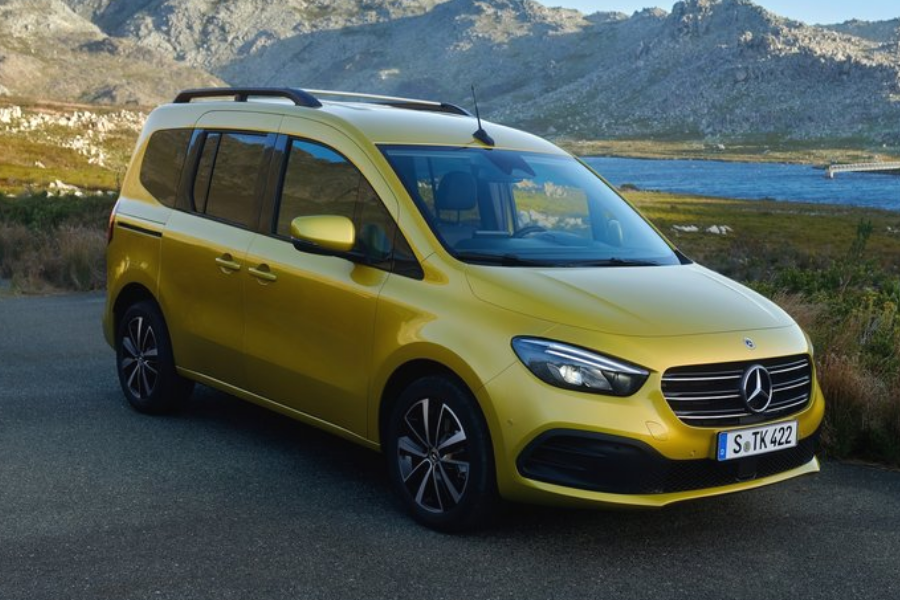 The all-new 2022 Mercedes-Benz T-Class
So in the future, we might get to see this new Merc on local roads as an option for those who want a luxurious, family-friendly MPV. Also, it's a fair bit smaller than the V-Class that we have in our market. To this end, it might serve as a more manageable alternative to Mercedes-Benz's hefty van model. 
But what does the Mercedes-Benz T-Class bring to the table? Well, let's get to know this MPV a little bit better by going over what it's like inside and out. 
Exterior 
Like most MPVs in the market right now, the new T-Class is sizable. It has an overall length of 4,498mm, a width of 1,859mm, and a height of 1,811mm. Its high roofline is of particular note, as it enables the said model to accommodate even the tallest occupants.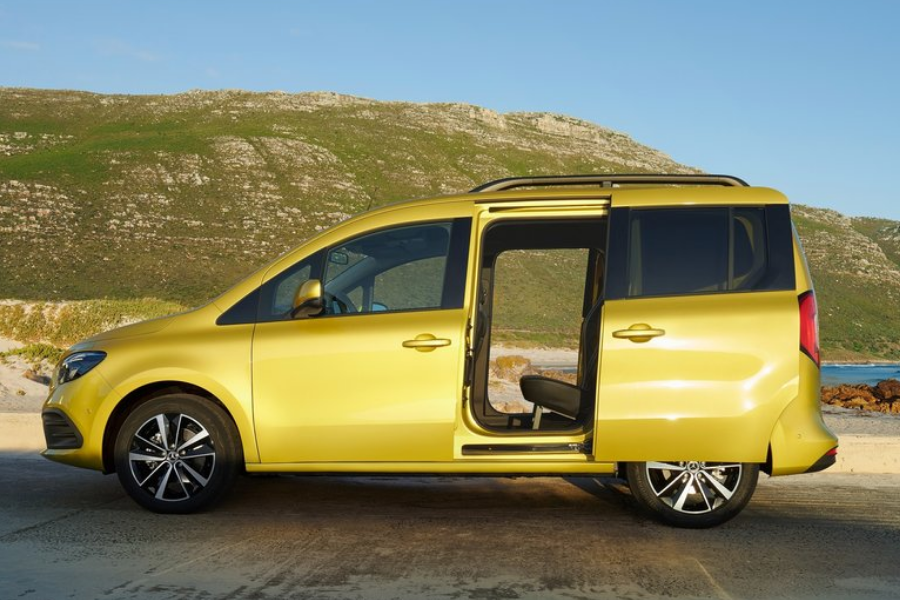 The T-Class from the side. Note the sliding doors
Like we've said before, it can fit the bill as a more compact and more manageable alternative to the Philippine-spec V-Class van. The V-Class for the local market after all, mostly comes in a long wheelbase variant, and these have a length of 5,370mm, and a width of 1,928mm, which is humungous.
In terms of appearance, the T-Class's front end resembles the Citan panel van that's also sold in Europe. The front end is decorated with a large chrome plated grille with three horizontal slats, and it also hosts a big Mercedes-Benz Logo. Above the grille is a pair of sharp-looking LED headlamps.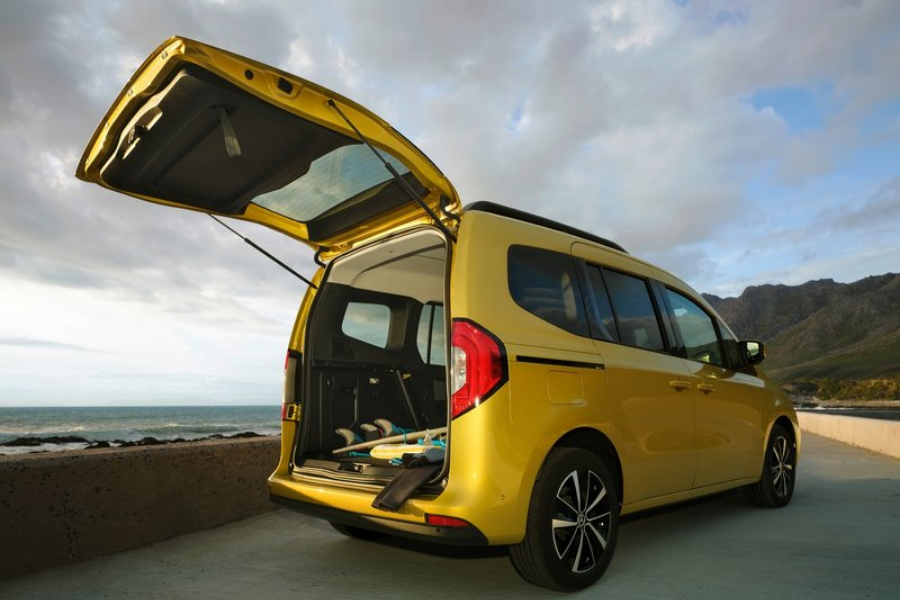 It gets a rather wide and tall tailgate
Towards the sides, it gets wide sliding doors for ease of entry. Depending on the trim, it either rides on a set of 16-inch alloy wheels, 16-inch steel wheels, or 17-inch alloy wheels. It also has roof rails up top. 
The rear then features a near vertical tailgate that opens up to a generous trunk. The said tailgate can open 614mm wide and 1,059mm high. So with this vehicle, loading up stuff is made easier.
Interior 
Inside, the new T-Class gets a well-arranged cockpit. It gets plenty of niceties like a Neotex (artificial leather) leather trims for the dashboard, a new multi-function steering wheel, a digital gauge cluster, as well as firmer cushioning for its seats. 
Furthermore, this sizable MPV also gets plenty of cubby holes and storage bins for one's odds and ends. It even has plastic tables positioned on the rear of the front seats which can be folded up when not in use.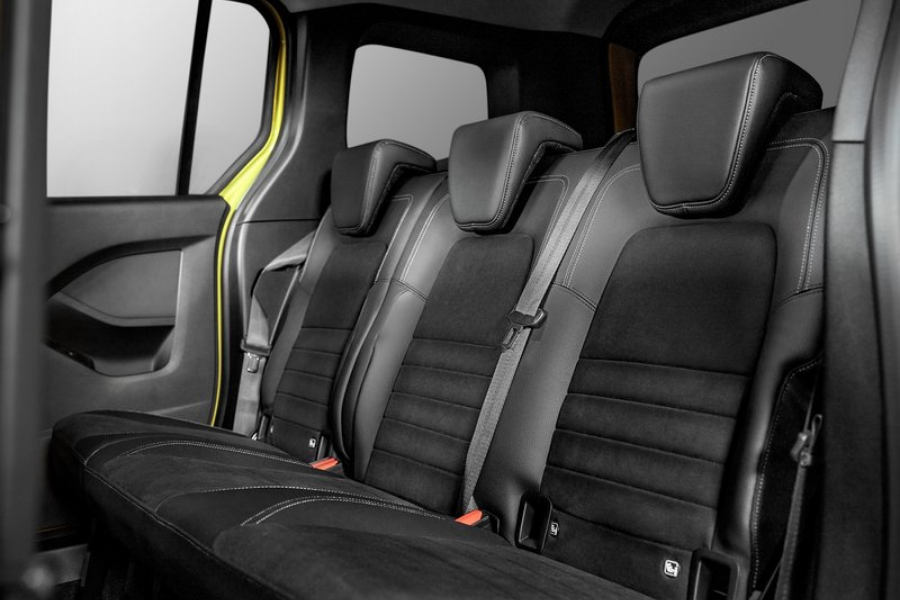 The T-Class's rear seats
With regards to seating capacity, the initial release of the T-Class is a short wheelbase version that can accommodate up to five. Later on, a long wheelbase variant with a seven-seater capacity will be introduced. 
Tech & Safety 
On the dashboard of the 2022 T-Class is a seven-inch touchscreen headunit that provides the Mercedes-Benz User Experience (MBUX) feature. It also takes voice commands, and it can connect to smartphones via Apple CarPlay, Android Auto, and Bluetooth. 
Safety-wise, this new Mercedes model gets a total of seven airbags. Also included in its safety kit is the usual that you'd expect from a modern vehicle. This includes stuff like anti-lock braking, stability control, hill-start assist, ISOFIX child seat anchors, etc.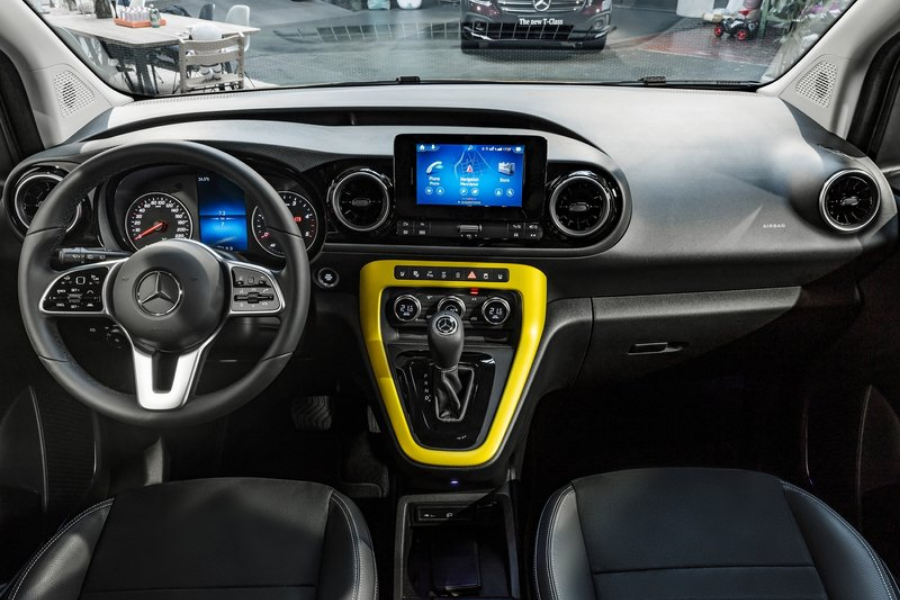 The new T-Class's cockpit
Supporting its standard safety features is a slew of driver-assist technologies. Among these are blindspot monitoring, tire pressure monitoring, driver attention monitoring, active brake assist, rear-cross traffic alert, lane keep assist, among others.  
An active parking assist system, as well as a trailer stability assist may also come with this particular Mercedes-Benz model. 
Engine & Performance 
For the European market, the initial version of the Mercedes-Benz T-Class is powered by two engine options.  
For the gasoline version, it uses a 1.3-liter inline-4 gasoline engine in two states of tune.  For the lower-spec T 160, the said engine is capable of making up to 102 horsepower and 200 Nm of torque. On the T 180 meanwhile, the same mill is good for 131 horsepower and 240 Nm of torque.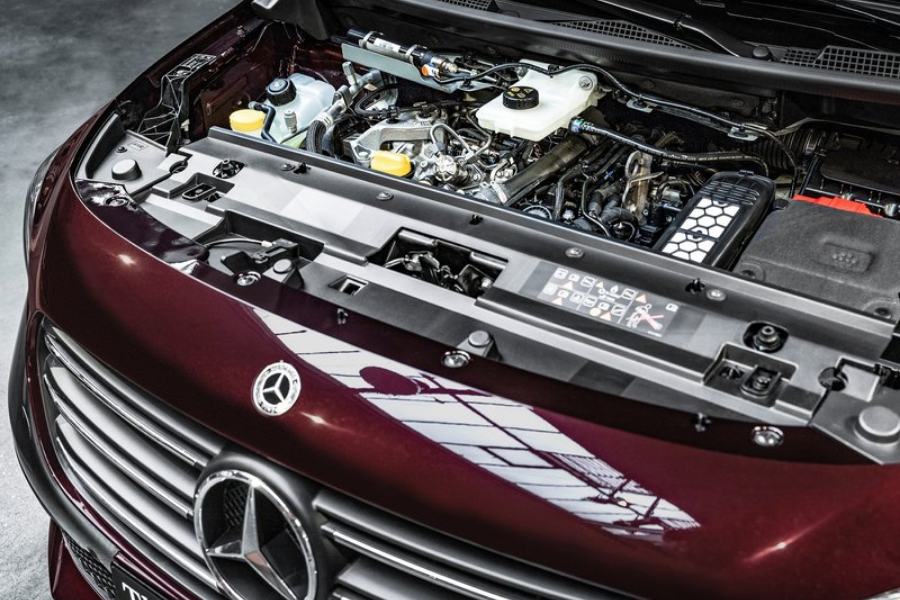 A peek under the T-Class's hood
The diesel variants meanwhile, get a 1.5-liter inline-4 diesel engine. And yes, these also have two different versions with different outputs. On the T 160 d, its engine can generate 95 horsepower and 260 Nm of torque. The T 180 d meanwhile, is a bit more powerful with its output of 116 horsepower and 270 Nm of torque. 
The said diesel engines then feature an overpower and overtorque function that can then raise up its torque output to 295 Nm. 
For transmissions, a six-speed manual is standard. A seven-speed dual-clutch automatic gearbox is available depending on the variant. 
With regards to pricing, Mercedes-Benz says that it will start at below €30,000 (around Php 1.67 million). The brand however, is yet to release exact numbers. Also, the said figure is before taxes and other fees.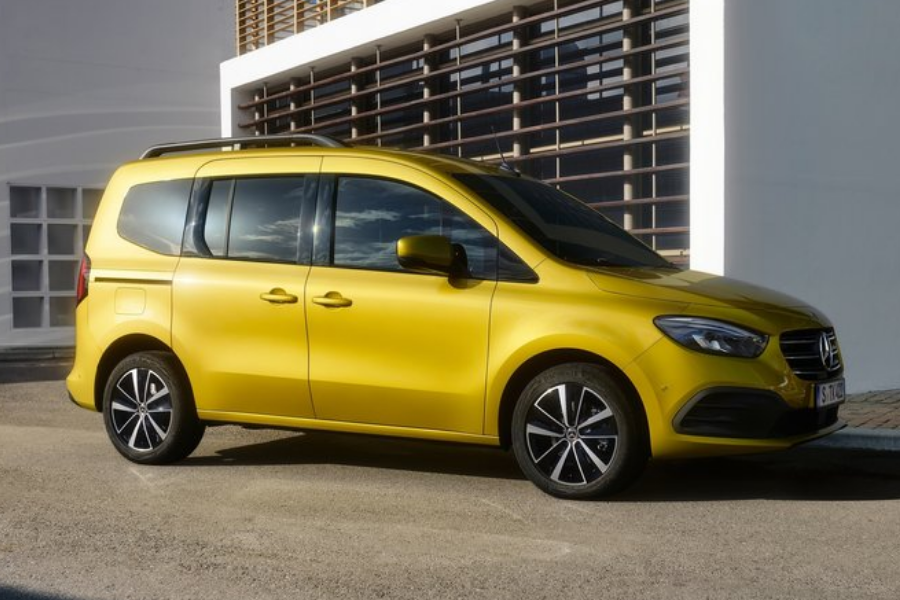 It's still large, but it isn't as gargantuan as the V-Class
Would you like to see the 2023 Mercedes-Benz T-Class as a luxury option for the local MPV market? As we've said above, it can serve in the local market for those who want a large Merc for the family, but something not as bulky as a V-Class.
For the latest car releases and more automotive industry updates, keep it here on the Philippines' largest automotive portal. 
Know more about Mercedes-Benz

Mercedes-Benz Philippines currently has a total of 13 models available locally. The most affordable model from the German brand sold in the Philippines is the A-Class subcompact sedan which starts at Php 2,490,000 and is sold in three variants. Other models in the lineup includes the C-Class compact executive sedan, CLS-Class and CLA-Class compact executive sedans, E-Class executive midsize sedan, G-Class luxury SUV, GLA-Class luxury subcompact crossover, GLC-Class luxury compact crossover, GLE-Class luxury midsize luxury crossover, GLS-Class fullsize luxury crossover, the S-Class luxury fullsize sedan, and the V-Class luxury van.
Besides the Mercedes-Benz Price 2022 price list we update regularly, Philkotse.com also lists down the hottest car promos from all dealerships nationwide. These include enticing deals like low monthly amortizations, low downpayments, and cash discounts.

Cesar G.B. Miguel
Author