The most powerful, road-legal Mazda model ever.
Mazda has announced that it is releasing the all-new 2022 CX-60 for the UK market. It will sit on top of the CX-5 in the brand's crossover lineup, and it will be using a plug-in hybrid powertrain.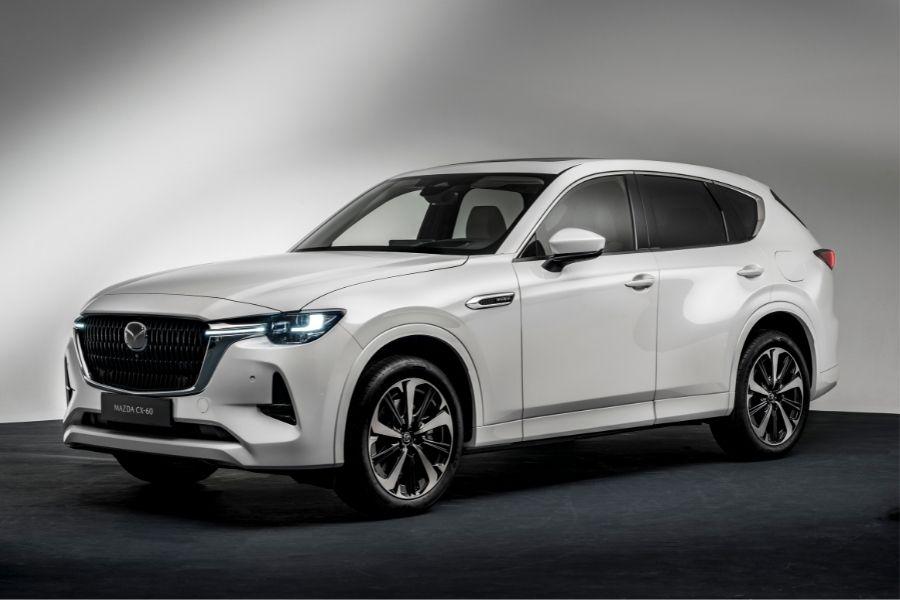 The all-new Mazda CX-60
Of note, this is the first time that the brand has launched a model with a plug-in hybrid powertrain. Sure, there are other currently available Mazda cars that are dubbed as "hybrids", but those aren't of the "plug-in" variety.
Let's check this new Mazda out in better detail.
Exterior
Style-wise, the CX-60 for the UK market still follows the famed Kodo design language. For that matter, it looks like a cross between the CX-8 and the CX-5. It has a long hood, and its angular lower bumper bears a lot of resemblance to other Mazda crossover models.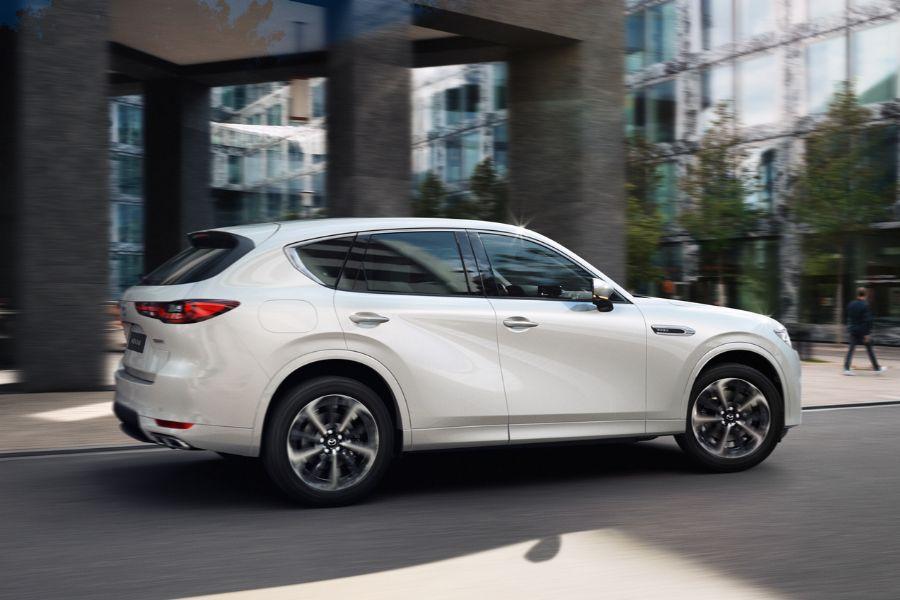 The CX-60 from the side
Notable exterior features on the top-spec "Takumi" variant of this model include a set of 20-inch black machine alloy wheels, a chrome plated wing grille, a gloss black bar type radiator grille, and body-colored mirrors.
Interior
Like any Mazda model currently sold right now, the CX-60 offers a premium interior that can seat up to five occupants. There's the familiar multi-tiered dash which is also present on the CX-8 and CX-9, and it gets a rather expansive center console as well. However, the controls for its dual-zone automatic climate control system are still tactile buttons.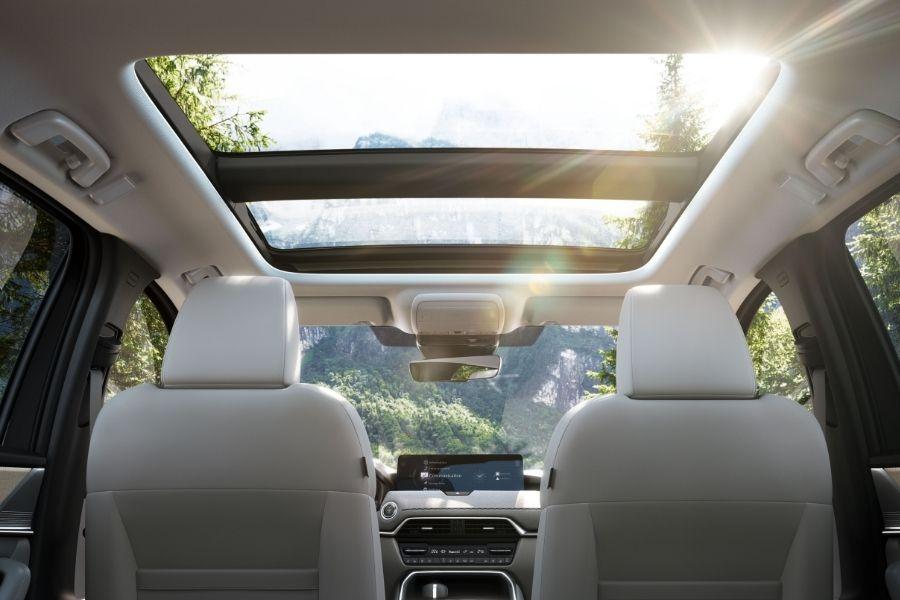 The CX-60's interior feels open and expansive thanks to a sizable sun roof
Depending on the trim, the CX-60 is also kitted out with heated and cooled seating, ambient lighting, as well as an electronically adjustable driver's seat with facial recognition to automatically adjust the interior of the vehicle.
Tech & Safety
The said collection of safety technologies is made up of adaptive front lighting and high beam control, blind-spot monitoring, driver attention alert, among others.
The 2022 Mazda CX-60 high-tech set of features also includes a 360-degree monitor, adaptive cruise control, hill-descent control, etc.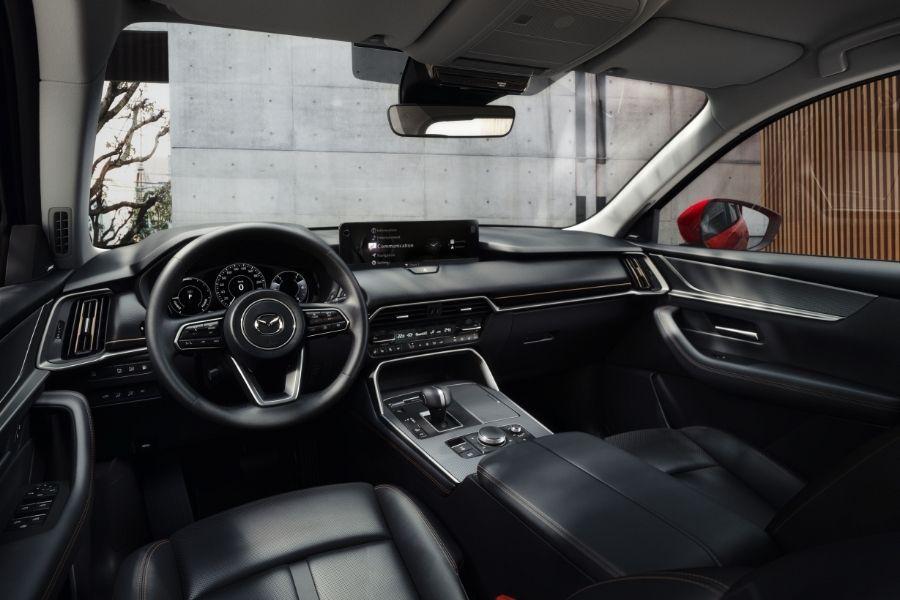 The CX-60's classy interior
For entertainment, the CX-60 gets a 12-inch central touchscreen infotainment system. The said system comes with wireless Apple CarPlay, Android Auto, keyless entry, among others.
Engine
The new CX-60 uses a 2.5-liter SkyActiv-G inline-4 gasoline engine together with a 100 kW electric motor, and a 17.8 kWh high-capacity battery. Together, this powertrain can deliver a beefy 323 horsepower and 500 Nm of torque.
That said, this makes the CX-60 the most powerful road-legal model that Mazda has ever released. Heck, with that output, it is more than a match for most turbodiesel vehicles and even many sports cars currently sold in the Philippines today.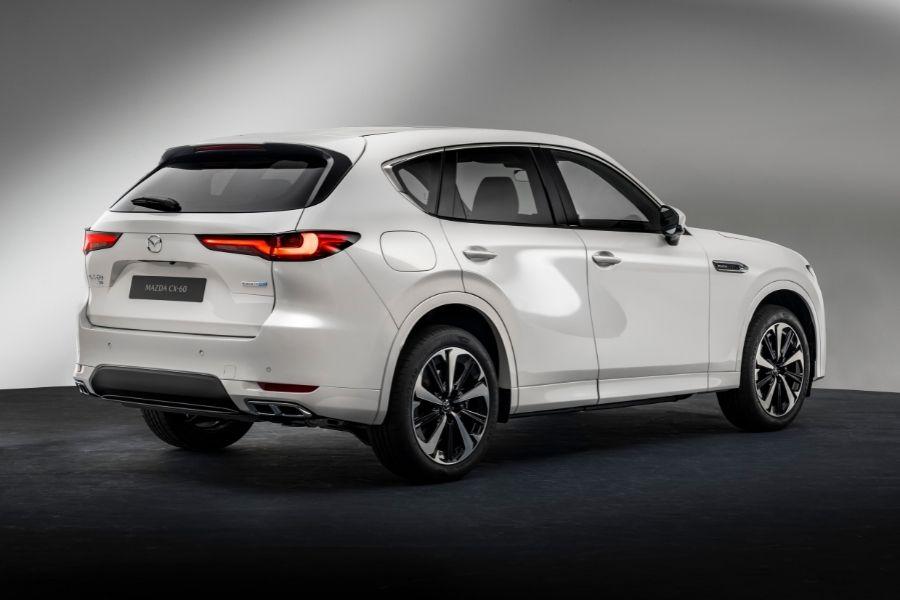 The CX-60 from the rear
And yes, the CX-60 is also all-wheel-drive (with a rear wheel bias), and it uses a new eight-speed automatic gearbox. It then gets multiple drive modes which include normal, sport, off-road, towing, and of course, EV.
Being a PHEV, the all-new 2022 Mazda CX-60 has an electric only mode, which it can provide for up to 62 kilometers. It also has a 0-100 km/h time of 5.8 seconds, which is great for a vehicle of its size and weight.
Do you want to learn more about the all-new 2022 Mazda CX-60? If you do, keep it here on Philkotse.
Know more about Mazda

Mazda Motor Corporation is a Japanese-grown brand that began in the city of Hiroshima. In January of 1920, the company was established as Toyo Kogyo Corporation under the ownership of Jujiro Matsuda. They were considered to be Japan's best cork producers that eventually made a name for themselves in manufacturing machining tools. Soon after, Matsuda ventured into producing the first motorized rickshaw in the market. The vehicle was called the Mazda-Go which was a reference to Matsuda himself.

Cesar G.B. Miguel
Author