Remember the SUA debacle? Well, Toyota wants to keep you safe from that.
If you've driven a manual car all your life, and for some reason you need to drive an automatic, most of the time, you'll get used to it immediately. Sometimes however, a few people won't.
Also, remember that time when everyone was talking about sudden unintended acceleration? Well, Toyota wants none of that so it introduced the "Plus Support" for news cars, as well as the "Pedal Misapplication Acceleration Control System II", which can be fitted in existing car models.
How Toyota developed the PACS II
In 2012, Toyota introduced the Intelligent Clearance Sonar (ICS), and in 2018, it had also launched a retrofit "Pedal Misapplication Acceleration Control System" (PACS), which adds on the latter device. These systems detect obstacles such as a wall or a glass, which in turn help prevent accidents caused by accelerator pedal misapplication.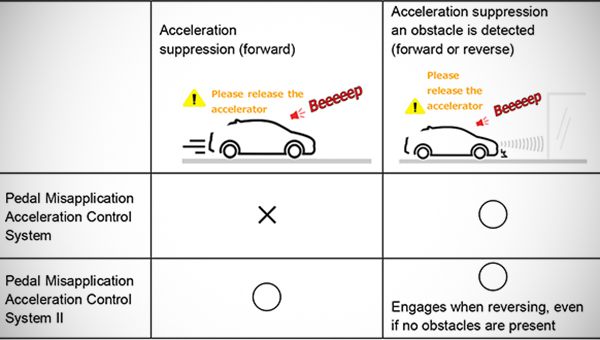 PACS II compared to the conventional system
Toyota said that around 70 percent of all potential accidents caused by accelerator pedal misapplication were prevented. To address the remaining 30 percent however, Toyota had to work on new technologies with a particular focus on instances where obstacles were absent.
To do just this, the Japanese brand analyzed incidents where the accelerator pedal was pressed fully. The data gathered was then compared with data collected from Toyota's connected vehicles, and then eliminated some instances where a driver needed to accelerate rapidly on purpose. By identifying these, Toyota was able to come with a computation that was able to identify when the accelerator was misapplied.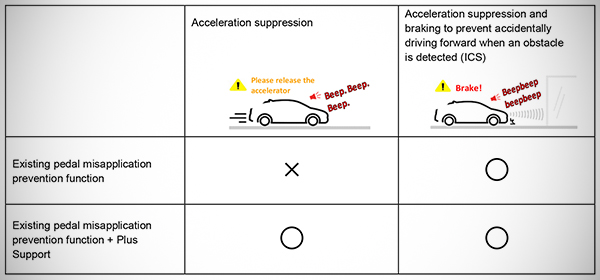 Examples with the Pedal Misapplication Prevention Function
As a result of Toyota's data gathering and experiments, the company was able to develop a function setting that mitigated the number of accidents caused by accelerator pedal misapplication by adjusting and controlling acceleration even when there are no obstacles such as a wall or a glass.
>>> Related: 
Plus Support availability
The Plus Support will be available on the new Prius and Prius PHV models, with other models following suit. The way it will work is that it will come in the form of the Plus Support Smart Key, and will activate as soon as a car's doors are unlocked by the said keyfob. Note however that this feature is an extra dealer option, and it just won't work using a normal Toyota key fob. For the PACS II, it will come as a retrofit for models that already come with the existing PACS, but it will be introduced together with the new Toyota Mark X, and the Toyota Crown in January 2021.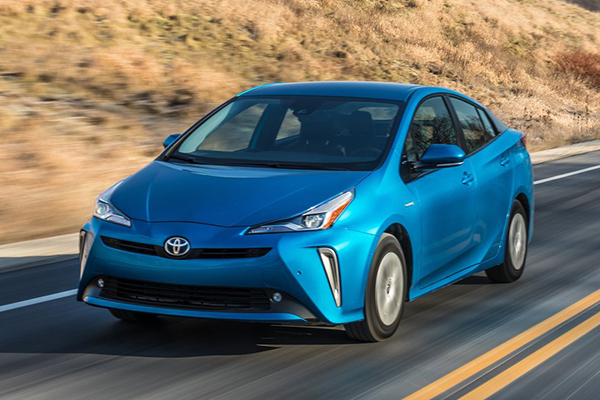 These new safety technologies will first be available on the Prius, then on other Toyota models in the near future
Do you want to see this feature on other Toyota models particularly the ones available here in the Philippines? We think that this will be a useful feature in the local market considering that there were several incidents in the country that could be linked to pedal misapplication.  
For more automotive news, keep reading here on Philkotse.com.


Cesar G.B. Miguel
Author