Toyota Camry 2019 has officially arrived in ASEAN nations.
Though having been debuted on several markets like the United States and Australia, Toyota Camry 2019 (previously refered to as 2018 model year) has yet been released in regional market. However, Thai Facebook users have captured it rolling wheels in the neighborhood to prepare for its official introduction.
According to Chobrod.com - a Thai auto portal, several Thai accounts have seen Camry 2019 on road, looking identical to available versions in other markets. It was once rumored that Toyota would produce a different variant for ASEAN region.
​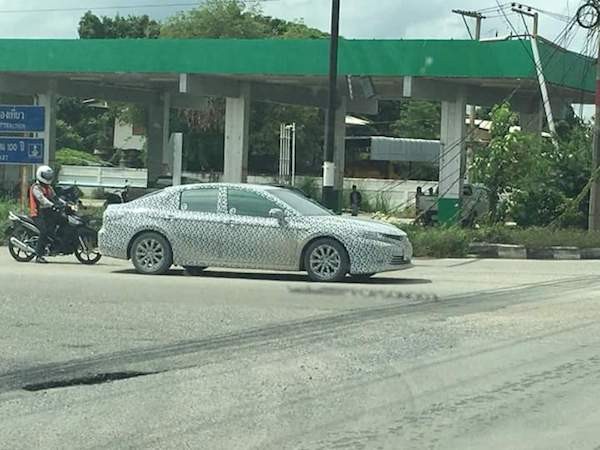 Spyshot of Toyota Camry 2019 in Thailand from Facebook users
However, the photo shows that the model is covered in camouflage, that's why it's hard to say for sure whether regional variants will be the same or have slight modifications compared to other countries. Overall, a quick look through its body, we can see that this sedan will have a sportier look, slim headlights and roofline in sweeping style.
Official information regarding its engine has yet been announced, either. Two available options in the US and in Australia is 2.5L Dynamic Force engine and 2.5L type respectively.
Following the debut of Toyota Camry 2019 is expected the introduction of Camry Hybrid which uses 2.5L mills and electric motors, reaching 214 hp at max.
While waiting for further updates, let's refer to the table below for the latest price of the Toyota Camry currently marketed in the Philippines:
Toyota Camry 2018 price in the Philippines
Model
2017 SRP
2018 SRP
Difference
Toyota Camry 2.5 V AT White Pearl
P1,815,000
P1,896,000
P81,000
Toyota Camry 2.5 V AT
P1,800,000
P1,881,000
P81,000
Toyota Camry 2.5 G AT White Pearl
P1,610,000
P1,720,000
P110,000
Toyota Camry 2.5 G AT
P1,595,000
P1,705,000
P110,000
Toyota Camry 2.5 S AT
P1,729,000
P1,819,000
P90,000
Toyota Camry 2.5 S AT White Pearl
P1,744,000
P1,834,000
P90,000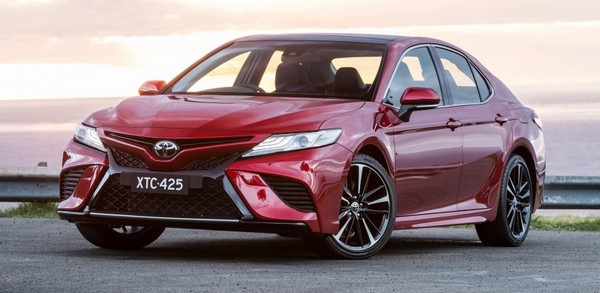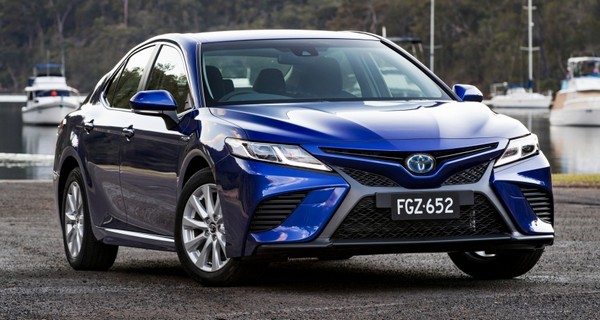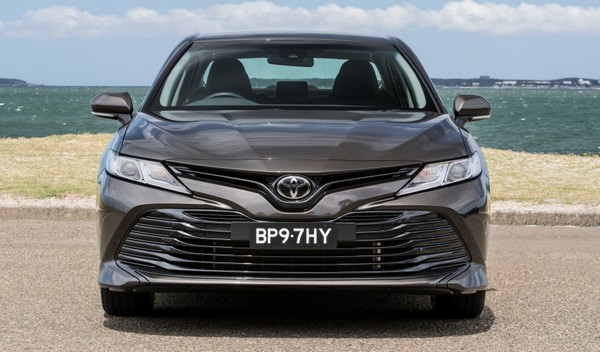 Toyota Camry 2019 variants available in Australia
>>> Check out more spy shots of upcoming cars on Philkotse.com at: Car sneak peeks
Know more about Toyota Camry 2021

The Toyota Camry is one of the longest-running nameplates in the Japanese carmaker's lineup. It was introduced in 1982 and is currently continues to be a top-seller for the brand. When the model was first introduced, it was designed to compete in compact sedan markets. But in the early 90s, Toyota decided to increase the configuration size, making it a midsize sedan. Toyota Motor Philippines (TMP) launched the 8th-gen Camry in the local market in late 2018, arriving with a sleeker and sportier exterior appeal as compared to the outgoing generation. Inside, the 5-seater midsize sedan provides an executive and modern feel thanks to the wood trims, spacious cabin, an ergonomic leather interior, and adjustable seats for both the driver and passengers. In consideration of the size and features, the PH-spec Toyota Camry is offered with a price that plays around the P2-million mark, making it one of the most expensive in Toyota's Philippine lineup. This midsize sedan is marketed for those Filipino car consumers who are in the market for a premium, quality, and upscaled vehicle.
Recent posts