Toyota Camry 2018 & what is waiting for you
The US-spec Toyota Camry 2018 comes in with 10 variants and many other goodies.
The US marketplace is always considered as loyal worshippers of the midsize sedan and Camry always is their best choice since its launch 35 years ago. Camry itself has made its own fame by being the best-selling vehicle in the US market for 15 consecutive years, between 2002 and 2016. There is no doubt Camry is crushing the SUV wave.
With the introduction of the Toyota Camry 2018, we have a lot to talk about.
Toyota Camry 2018: Walkaround & Features | Toyota
The first impression it makes may be that the model has two aggressive faces: one with the massive wide-mouthed LE/XLE and the other with a pinched-mouth named SE/XSE. The platform it uses is the fresh TNGA which is wider and longer yet lower than its that of its predecessor.
The US-spec Toyota Camry 2018 comes in with 10 variants. Other goodies can be seen from the above video. Standard across the range is the Toyota Safety Sense P.
There is no doubt Camry is crushing the SUV wave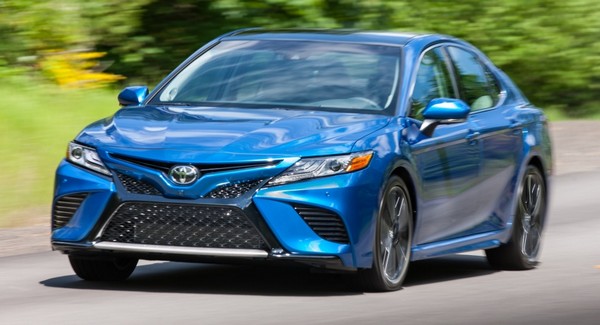 Pinched mouth named SE/XSE
The all-new Camry is offered with three powertrain options, including:
A 3.5L V6 with D-4S fuel injection;
A 2.5L "Dynamic Force" 4-cylinder;
A next-gen Toyota Hybrid System (THS II).
With a big motor provided, the V6 is said to be capable of delivering 301 hp and 363 Nm of torque. Among those three aforementioned choices, the new Dynamic Force Engine has proved to be the most picked one. It produces 206 hp and 253 Nm of torque at 5,000 rpm, while these figures are 176 hp and 222 Nm for the Hybrid. VVT- iE is used on the intake side while it has VVT- I for the exhaust. A high compression ratio of 13:1 helps the enhanced fuel economy and thermal. An electric motor is used for controlling timing instead of using oil pressure.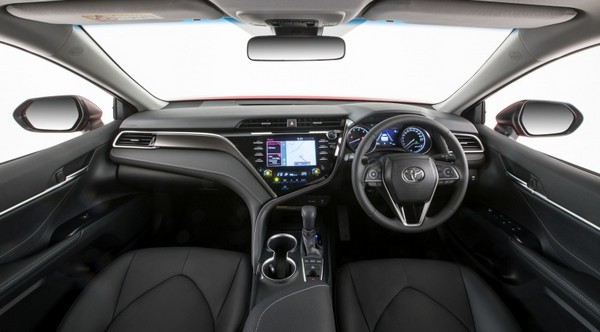 The day Asian markets welcome the all-new Camry will not be long
While two petrol engines are connected to a new Direct Shift 8-speed automatic gearbox, the Toyota Camry 2018 hybrid is offered with a CVT featuring an brand-new Sport Mode using 6 virtual ratios.
This time Toyota endeavors to bring you an improved sports experience and ride quality. A new 4-point engine mounting system, a new double-wishbone rear suspension system and a better structural rigidity are what will prove Toyota's words.
Masato Katsumata, the Camry Chief engineer, once said to create something soul-stirring to car lovers, they'd laid out the concept of a new sedan that offers fun and exciting experiences while behind the wheel. In building the next-gen Toyota Camry 2018, they might be able to begin with a clean slate, which enables the Japanese automaker to provide a true driver-centric vehicle.
The Toyota Camry 2018, the eighth-iteration, already appears in Australia. The day it arrives in Asia will not be long. As the all-new Camry 2018 was already unveiled early last year and the V6 model is no longer available in Philippine market, we have high hope that the next-gen Camry will hit out shores some time within this year.
Meanwhile, take a look at our in-depth review for the current-gen Toyota Camry 2017.