This miniaturized Toyota Mirai runs on an equally small fuel cell.   
Current fans will say that Tamiya is synonymous with mini 4WD track racers, but older enthusiasts know that the Japanese hobby company also became popular for its superbly detailed radio-controlled (RC) models. Thankfully, it hasn't turned its back on this part of the business. 
Mini Mirai: How Toyota shrunk its hydrogen saloon
The latest RC runabout that Tamiya's mad geniuses have come up with is a 1/10 scale replica of the Toyota Mirai using a Tamiya TT-02 chassis, complete with a working scaled-down hydrogen fuel cell. It's the first of its kind in the United Kingdom, one that Toyota U.K. was only too happy to demonstrate with a matching miniature-scale setting in Gloucestershire. 
Take note that this isn't the first time a Tamiya chassis has been made to host a hydrogen power source, with existing platforms such as the TRF 416X, TRF 417X, and TT-01 already used to carry a hybrid hydrogen-electric setup. However, the latest RC model is the first to run exclusively on hydrogen fuel, granting the mini-Mirai a 20-watt power output to double the range of conventional battery-powered RC models. For comparison, the new full-size version has a 400-mile (644-kilometer) operating limit on a full tank of hydrogen.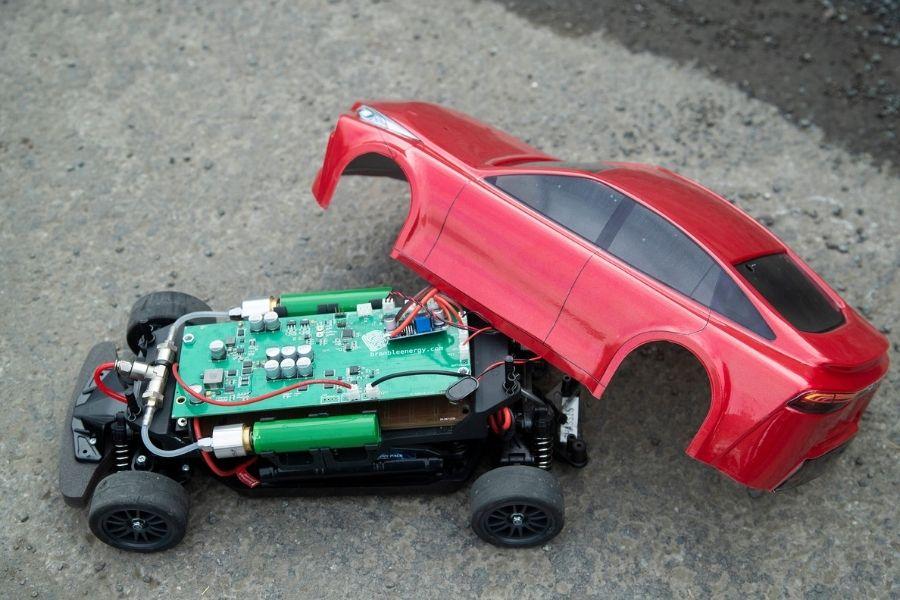 This one-off replica mounts a miniaturized hydrogen fuel cell on a Tamiya TT-02 chassis 
Apart from Tamiya U.K., Toyota also roped in Bramble Energy, a company specializing in innovative hydrogen fuel cell technology and applications. "We had to shrink a whole fuel cell system down to the size of an RC car, which gave our engineers a good challenge," said Bramble Energy CEO and Co-founder Tom Mason. "The biggest hurdle was to make all the system components required to run the fuel cell small and compact enough to fit onto the Tamiya TT-02 chassis and inside the Mirai RC car shell."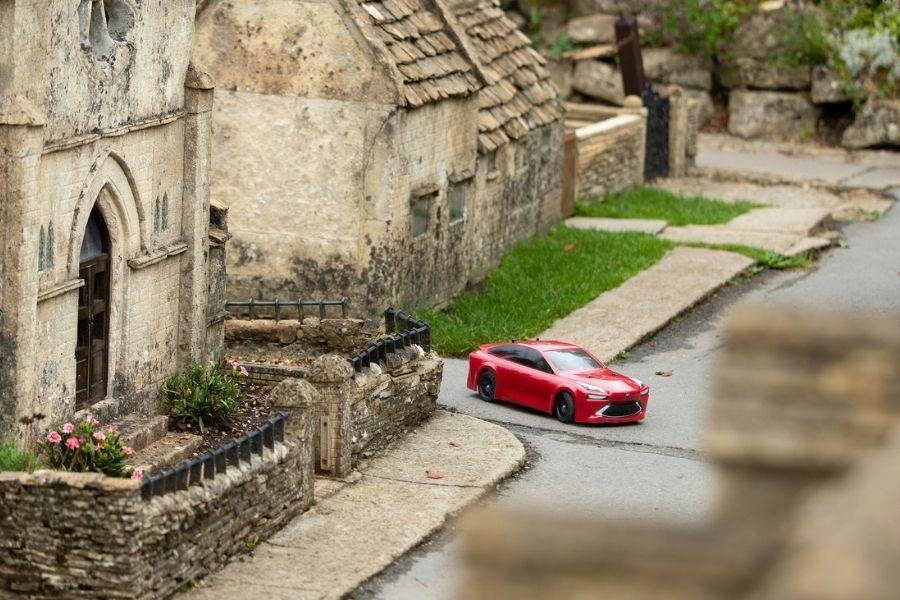 Zipping around the miniature village with water as the only by-product
Toyota wanted to demonstrate the alternative fuel's potential for multiple uses beyond automotive applications. The carmaker is raising the torch for hydrogen technology, with more than 20 years of research culminating in the first-generation Mirai back in 2015. With the second-generation model's launch, Toyota has pledged to boost hydrogen fuel cell production from 3,000 to 30,000 units annually.

"We undertook this challenge to have some fun and show what can be done with fuel cells and we think the results are great," enthused Toyota (GB) spokesperson on alternative fuels David Rogers. "Hydrogen will play a key role in meeting our future energy needs, bringing zero emission driving for both big cities and small villages."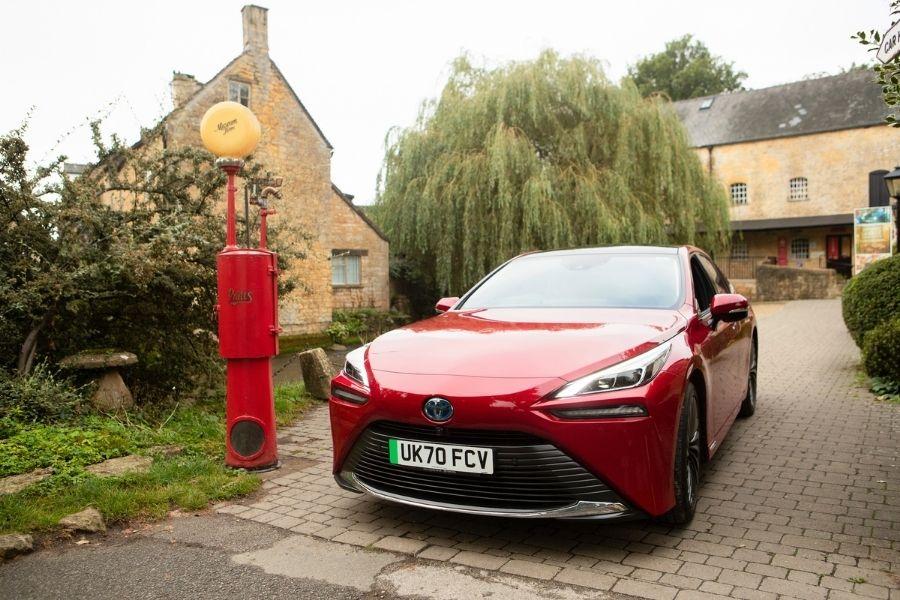 The full-size Toyota Mirai can do 644 kilometers on a single tank of hydrogen
Science buffs will probably be sad to learn that the RC Mirai is the only one of its kind and isn't for sale. "While we are a long way off being able to offer a hydrogen-powered RC car for purchase, this challenge has proved that a scaled down and adaptable version of H2 can be a superb energy platform for our cars," noted Tamiya U.K.'s Alistair Brebner.   
There are no small updates when you read our stories at Philkotse.com.
Know more about Toyota

Toyota Motor Philippines has led the local automobile industry for years. It has a staggering total of 23 Brand Models in the Philippines, the most popular models are: Toyota Vios, Toyota Hilux, Toyota Camry... The brand has 27 dealerships in Luzon, 15 in the Visayas, 11 in Mindanao, and 20 in Metro Manila, including Lexus Manila, Inc. for its service centers and sales distribution. TMP has the most extensive car lineup in the country, with its current range consisting of 20 vehicles in total. See the latest price list of Toyota vehicles in the Philippines here.

Joseph Paolo Estabillo
Author