After a long wait, here comes a much more significant update to a longtime Filipino favorite, the Suzuki Carry 2020!
Just like the Japanese, Filipinos all over the country love the Suzuki Carry. It's really affordable, very easy to fix, and is very economical to run and maintain. And as a vehicle model, it's pretty versatile and can become anything you want it to. Also, note that the model itself is pretty well established with the first generation initially introduced in 1961.
The catch, however, is that it hasn't had a real update since its 10th generation models in 1999, at least here in the Philippines. As such, we had to make do with exported, refurbished units before the eighth generation models were made available here way back in October 2016 and even those, despite being larger, had the same-ish power output.
1. Suzuki Philippines confirms all-new Carry's launch
As we've reported before, the Indonesian division of Suzuki, called Suzuki Indomobil Motor, has already released the DC61T/DN61T, or the 2019 version of the 11th generation Suzuki Carry.
While initially launched in Indonesia, Suzuki had plans to export the nifty and new Carry to 100 countries, including the Philippines. And recently, Suzuki Philippines has revealed that the new and improved 2020 Suzuki Carry will indeed be coming to our shores by the end of September.
So if you're in the market for a reliable and affordable hauler, we might hazard a guess that you'll be pretty interested in the new Suzuki Carry.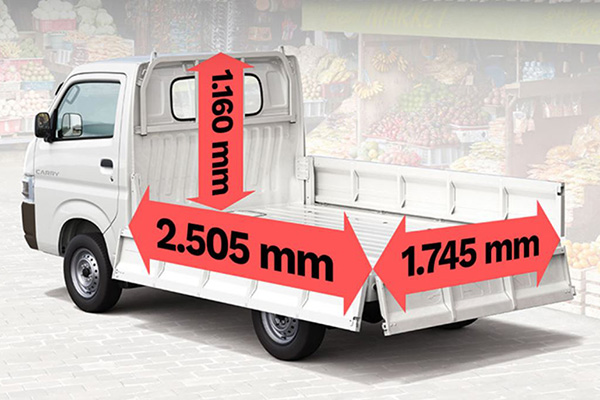 The upcoming 2020 Suzuki Carry is a much larger vehicle than its predecessor
2. Suzuki Carry 2020: What we know of its specs
Despite having a simple, utilitarian exterior design, the all-new Carry has apparently grown up significantly. Instead of having the usual sub-1-liter engine that its predecessors had, the new Carry now comes with a 1.5-liter K15B-C gasoline engine.
The said engine has double overhead cams, 16 valves, is an inline-4 and will be able to make around 96 horsepower and 135 nm of torque which is obviously a very huge improvement. 
And in lieu of the more powerful engine, it also comes with a much larger 43-liter fuel tank. Also, if we go by the one released in Indonesia, the Philippines spec Suzuki Carry will also have a 5-speed manual gearbox.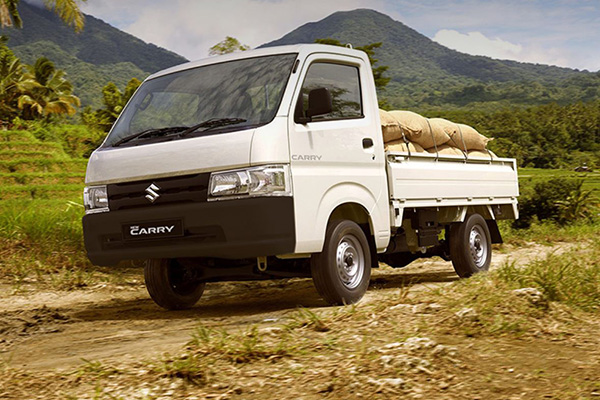 Affordable, tough, and it can now fit three people in its cab. A pretty decent update indeed!
Apart from having more power under the hood, or rather, under the cab, the all-new Carry has also grown in size. It now measures 4,195 mm long, 1765 mm wide, and has a wheelbase of 2,205 mm. This means it now has more room for cargo and its cab can now fit three adults with a decent amount of legroom.
Also, note that the pick-up versions of the new Carry can now haul up to a ton of cargo which is due to its front MacPherson-strut suspension and it's a rear leaf-rigid-axle suspension.
That also means that while being very rigid and bouncy when unladen, the all-new Suzuki Carry can actually take all sorts of punishment from harsh terrain. This is quite a boon for people who are in need of an affordable yet tough cargo vehicle that can take on bad roads and sketchy terrain on the regular.
So are you excited about the new Suzuki Carry? For more automotive news and the latest car reviews, please keep reading here on Philkotse.com.
Know more about Suzuki Carry 2021

The all-new Carry by Japanese small-car specialist Suzuki reflects the typical Filipino as a highly efficient, hardworking, and resilient workhorse. This compact, a commercial vehicle is the best alternative if your enterprise needs a small truck. It can carry a maximum load of 940 kilograms. Its size, measuring 2,375mm long, 355mm tall, and 1,660mm wide is ideal when maneuvering narrow streets in the city or tight spaces in rural areas. Locally, available variants include the Suzuki Carry Cab and Chassis 1.5L, Suzuki Carry Truck 1.5L, Suzuki Carry Cargo Van 1.5L, and the Suzuki Carry Utility Van 1.5L.

Cesar G.B. Miguel
Author