Suzuki introduces its all-new Suzuki Carry 2019 at Indonesia Auto Show, which comes with a more powerful engine and more cargo space.
At the 2019 Indonesia International Motor Show, Suzuki revealed the latest iteration of one of the most recognizable vehicles here in Asia especially in Japan where it originally comes from Suzuki Carry 2019
1. Suzuki Carry 2019: Introduction
It's no question that the Carry has been around for a long time and has been a familiar sight in roads, markets, construction sites, and farms here in the Philippines.
For a little bit of history, the Carry series of vehicles were first produced in 1961 at Shizuoka, Japan and was known as the Suzulight Carry FB for the truck version and the Suzulight Carry FBD for the van version.
Suzuki New Carry Pick Up "Rajanya Pick Up"
Since then, the Carry has been distributed worldwide under a number of different badges and brands. Decades later today, we now have the eleventh generation International version Carry which is very different than its Japanese cousin. 
Still known as the Suzuki Carry, it is now designated as DC61T/DN61T and instead of being made and exported from Japan, this new Carry is now assembled in Indonesia, specifically by Suzuki IndoMobil Motor which is a joint venture between Suzuki and IndoMobil, an Indonesian car and motor vehicle manufacturer.
2. Suzuki Carry 2019: Size and Looks
A striking major difference the new Carry has from its predecessors is that it's no longer a Kei-class car. In fact, it is much larger in most if not all visible dimensions as it is now 2,505 mm long, has a width of 1,745, and is 1,160 mm tall. That's quite smaller compared with the Suzuki Carry 2017 for sale, which measures 3.395 in length, 1.475 in width, and 1.765 in height.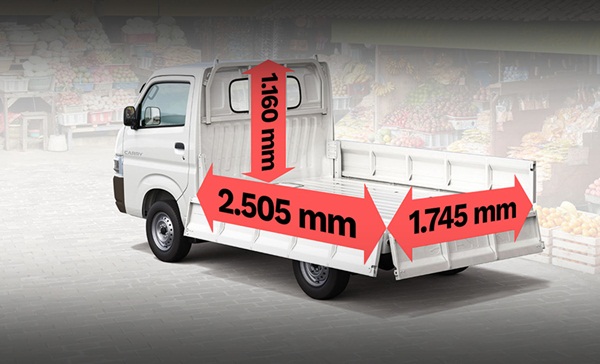 Suzuki Carry 2019 is 4,195 mm long,1,76mm wide and 1,910 mm tall
The new Carry now also has a wheelbase of 2,205 mm which is quite massive to what the very common Ninth Gen Carry Kei-Trucks we see in the Philippines today. In conjunction to the massive size change, the new Carry can now haul up to a ton of cargo and because of this change in size, Carry's compartment can now carry three adults instead of two.
These points will definitely be appreciated by many as the previous Carry generations had a rather claustrophobic interior. And speaking of the interior, not much has changed in terms of instruments and creature comforts but overall, it looks much comfortable and definitely safer.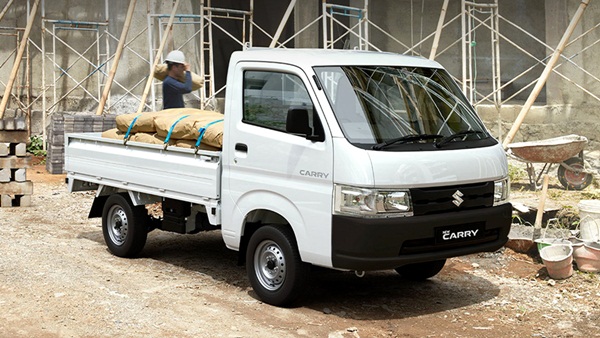 The new Suzuki Carry is larger and is capable of carrying up to a ton of cargo
Looks wise, the new Suzuki Carry still has that rugged and simple look that may not catch people's attention but is no doubt still durable and functional.
>>> Check out Suzuki Carry for sale in the Philippines to look for the best truck.
Up front, the new Carry has larger headlights which are a welcome change from the smaller older lights that the previous versions had. The signal lights in fact, are now seamlessly integrated to the headlights which give the new Carry's front a streamlined look.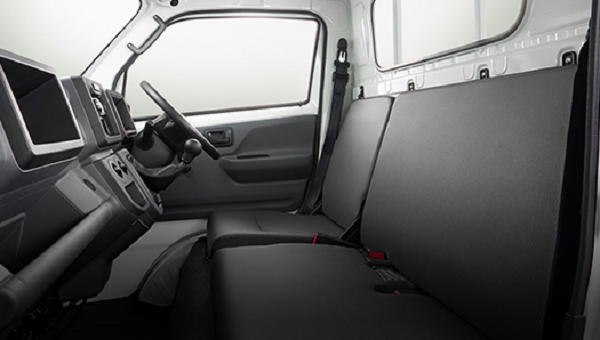 The windshield is now also much larger giving the front passengers and driver a much wider field of vision. The new Carry also sports a durable, plastic bumper which is reminiscent of the one found on the smaller Ninth Generation and the previous Indonesian made version of the Carry.
Towards the side, the new Carry retains a lot from previous truck versions but indeed as we've said, it is now larger and can definitely fit more stuff. Due to this change in size, the new Carry can also perform well in other configurations such as an Ambulance, a passenger van, and as a closed cargo van. 
3. Suzuki Carry 2019: Engine
And finally, the most surprising and welcome change made to the new Carry is its KB15C 1.5-liter engine which is rated to make up to 95 horsepower and 135 Nm of torque.
This is a much larger output than the previous Carry which only made 23 hp. This makes the new Carry a more capable cargo vehicle plus it can make it much suited for highway speeds.
Suzuki IndoMobil Motor plans to export the new Carry to up to a hundred countries with an initial 70,000 units for 2019. It is of no doubt that the Philippines will be included in the 100 country list and as such we are excited for more details regarding the new Suzuki Carry 2019.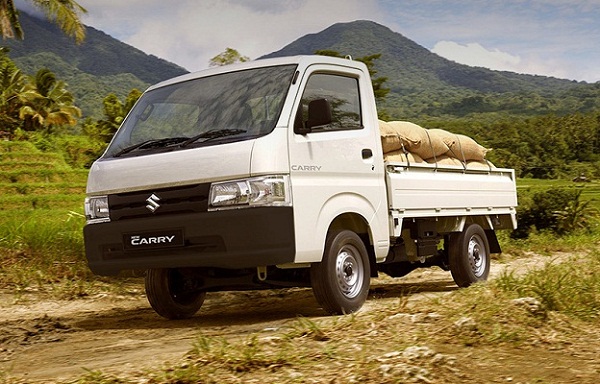 The new Suzuki Carry is also quite capable on rough terrain
Stay tuned for more updated automotive news here at Philkotse.com.

Know more about Suzuki Carry 2023

The Suzuki Carry 2023 is the Japanese marque's entry to the commercial vehicle (CV) segment. It is available with various configurations and the Suzuki Carry 2023 starting price of Php 614,000 for the Cab and Chassis option. Powering this CV across the range is a 1.5-liter K15B gasoline engine capable of delivering 95 hp and 135 Nm of torque. This engine is connected to a 5-speed manual transmission as standard.
Dimensions-wise, the Carry Utility Van Body (UV) and the Lineman (LV) spans 4,344 mm in length, and 1,765 mm in width. The Utilivan is 2,030 mm in height, while the Lineman is 2,515mm in height with its ladder rack. Meanwhile, the Carry Truck is 4,195 mm long, 1,765 mm wide, and 1,910 mm high. And as for the Carry Cargo Van Body (CV), this configuration has a length of 4,237 mm, a width of 1,765 mm, and a height of 2,167 mm. In the Philippines, this CV is competing against the likes of the Mitsubishi L300, Isuzu Traviz, and Kia K2500.

Cesar G.B. Miguel
Author
Recent posts