Honda City 2020's very first look is no longer a mystery because it just has been caught on Thai street.
Honda is actually testing the fifth-generation City model on Thai streets, and the latest images of this trial version have been recorded. Come with Philkotse.com accompany you to grasp the very first look of Honda City 2020.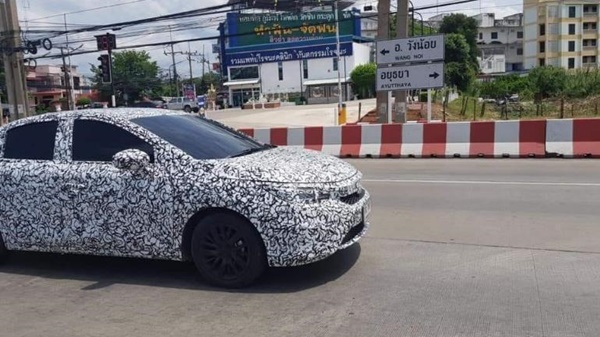 The newest Honda City is come across in Thai street
The current Honda City has been launched since 2014. And since the Auto show in 2018, the public has been looking for the City's descendant which can bring a new taste. As understanding the public, Honda has launched the Honda City 2020 and its first trial on city road was recorded in Thailand just now.
1. Honda City 2020: The very first look
The Honda City 2020 was seen in Ayutthaya, the area of one of Honda's two creation center points in Thailand. At the moment, we still need to wait for some fluffy photographs took from Thailand. Yet, you can make out certain features.
The leaked images of this model of 2020 show that the body is longer and wider than before. Although most parts are covered, the test car still reveals some details that are paying attention. For example, we probably can experience a likely-Civic front end with its upswept headlights and a bold grill slat.
The first street-trial of Honda City 2020 in Thailand
Up front, LED headlights are creating a new style for City 2020. Next, there is a large grille accompanied by a thick strip made of chrome metal. The logo, as usual, is positioned in the middle. As looking at these features, we can assume that this City is somehow similar to the Honda Accord, the recent Honda model.
The sides of this Honda City 2020 will bring back retro feeling when side mirrors are directly connected to the door. This is the signature design for Honda City from 2003 to 2008.  Besides, it is likely that the new model also has multi-spoke alloy wheels. This kind of wheel seems not really fit the overall look.
At the rears, the City 2020 also has a significant combination of tail lights beside the outstanding trunk lid. The slimmer wraparound light is linked to the body with a lower position. About the rear windshield, it is not really similar to a coupe's but still, like the Civic's.
2. What are you looking for in Honda City 2020 mechanic features?
It is hard to say because there has been no official information about this. However, according to the latest auto news, 1.0-liter mill which similar to Honda City specially-designed for Europe is possibly an easy guess. As Honda has said about adding some turbocharged engines in this car range, we can hope that it can generate 129 PS with 200 Nm of torque.
Not only the 1.0-liter engine is likely added, but the 1.5-liter mill also can be an option. This kind of engine is inside the current edition of Honda City. With this City 2020, there might be updates and upgrades happening to the engine which can help it activate cleaner.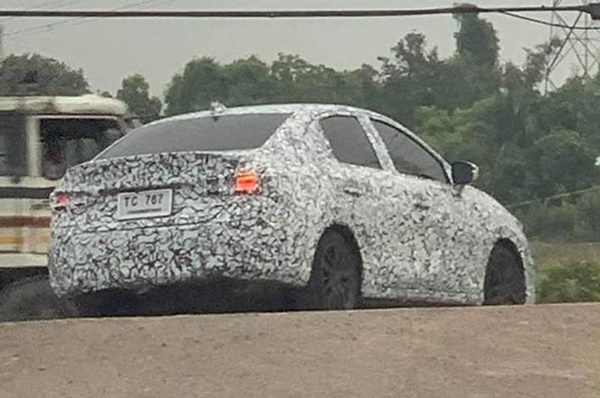 The next generation of Honda: Honda City 2020 is coming
Generally, it is just a grasp of Honda City 2020 which cannot be assure anything about it. However, we believe that this is a particularly significant model for Honda in the Southeast Asia automotive market. At the same time, it is promised to be a smash hit in our nation, in different countries as well. Latest updates on upcoming Honda cars can be found in our Complete guide to the Honda Philippines' local lineup.
While waiting for the most official updated information about the Honda City 2020, why don't you grasp a look at Honda City 2019 Philippines review?
Source: Pantip.com

Know more about Honda City 2023

The City is Japanese subcompact car stalwart Honda's entry in the segment. Now on its fifth generation, Honda Cars Philippines, Inc. (HCPI) is offering the City 2021 in four variants: RS CVT, V CVT, S CVT, and S MT. Honda City Price Philippines from Php 953,000 to Php 1,093,000. All variants come with a 1.5-liter four-cylinder i-VTEC gasoline engine which generates 119 hp and 145 Nm of torque. In addition, all variants come with a continuously variable transmission (CVT) except for the entry-level S variant that uses a six-speed manual gearbox instead. As for the dimensions, this small sedan has a length of 4,553 mm, a width of 1,748 mm, and a height of 1,467 mm. From the looks of it, this vehicle looks well suited to go up against its rivals in the subcompact sedan segment such as the Toyota Vios and Kia Soluto.
As compared to the outgoing model, the exterior of the latest release looks sharper and sportier. The new model comes with a sleeker design along with a revamped interior and updated in-cabin features. Upfront, the top-spec RS variant comes with full LED headlights, LED fog lamps, a more prominent fog light garnish, a glossy black mesh grille, and a sporty bumper. On the other hand, the non-RS City variants also come with a striking facia but it doesn't have fog lamps. Also, non-RS trims are integrated with halogen projector headlamps.