Find detailed information in our Honda Accord 2018 Review on Philkotse.com covering price, specs, 10+ pictures and its release date in the Philippines.
In this review...
Introduction

Exterior

Interior

Engine & Performance

Specs

Price & Release date

Pictures
1. Honda Accord 2018 Review: Introduction
In July 2017, the 10th-generation Accord 2018 finally broke cover in Detroit, stirring up excitement among car enthusiasts worldwide with its heavily revised premium look, all-new engines and a wealth of new technologies. The launch of the midsize sedan last year was even called as a "redefining" moment for one of the the best-selling vehicles in the US market.
Having spanned through 9 generations, the Accord is now entering its 10th iteration with a brand new direction in which it will be given heightened level of refreshment inside and out.
Official release date of the all-new Honda Accord 2018 Philippines has yet to be confirmed at the moment.
Meet the all-new 2018 Honda Accord
While waiting for its official arrival to our shores, let's look through our US-spec Honda Accord 2018 Review on Philkotse.com to understand why Honda's efforts in redefining its executive sedan have been highly appreciated by the world.
2. Honda Accord 2018 Review: Exterior
First of all, it is worth mentioning that Honda has given the sedan an all-new overall dimension. In detail, due to a newly-equipped platform, the 2018 Accord is now widen by 10 mm and also features a longer wheelbase of 2,830 mm, meaning an increase of 55 mm.
Not to mention, the streamlined package with decreased overhangs also shortens it by 10 mm and lowers it by 15 mm. As a result, the cabin also becomes roomier with 10 mm additional legroom for the rear seats.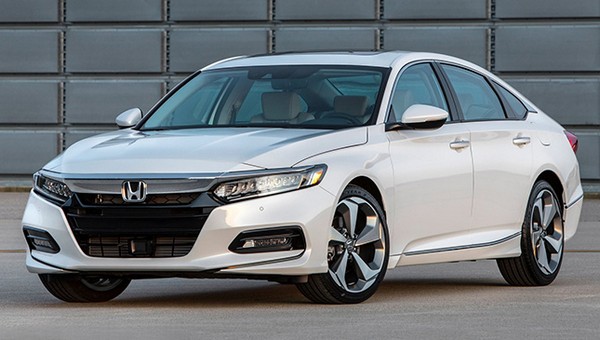 The midsizer receives all-new overall dimension
Speaking of exterior design, it is easy to notice the fastback styling is chosen for the Accord with sweeping greenhouse located a bit further to the back. While the upright front fascia enhances boldness, the width is emphasized thanks to the signature solid wing grille which is framed by full LED head lamps and fog lamps. The sporty appearance is brought about by a chiseled bonnet with a lifted centre. Also, you can pick between 18- or 17-inch alloy wheels.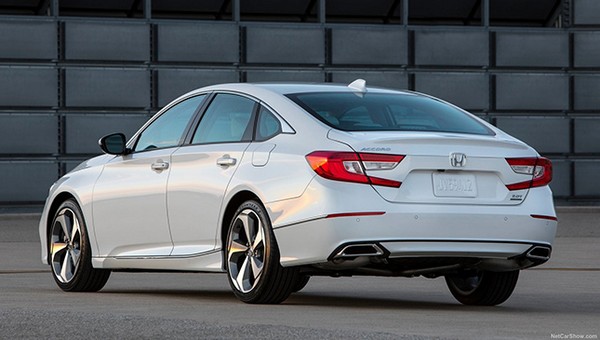 Fastback styling is noticeable on the exterior design of the sedan car
Moving on to the back, the car is beautified by LED light-pipe tail lamps, upswept trunk and integrated dual exhaust ports. It is also interesting to notice that there is no garnish over the rain channels, which has brought a clean look for the sedan. All of this is made possible by the German techniques of manufacturing in which the body side panels are joined with the arching roof line in a so-called 'laser brazing process'.
>>> See more:
YOU MAY WANT TO READ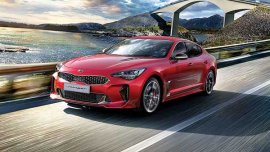 Model Price Philippines
₱ 3,235,000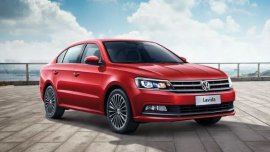 Model Price Philippines
₱ 1,251,000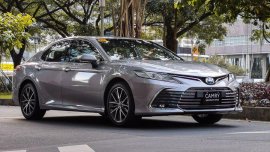 Model Price Philippines
₱ 2,442,000 - ₱ 2,457,000
3. Honda Accord 2018 Interior
Cabin
It can be said that the Japanese automaker was quite busy changing up the Honda Accord 2018 Interior.
Entering the car, you will be welcomed by a sense of premium which comes from the greater use of soft-touch materials. This refinement significantly improves not only the visual, but also the tactile feel of the midsize sedan.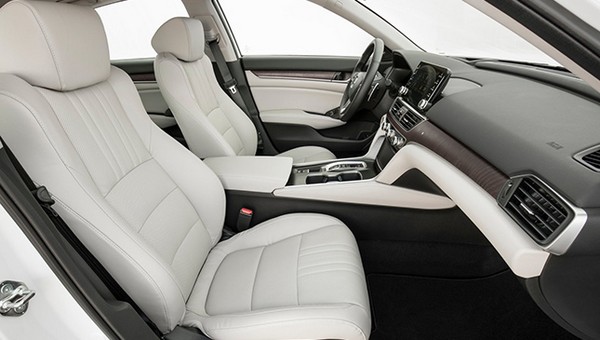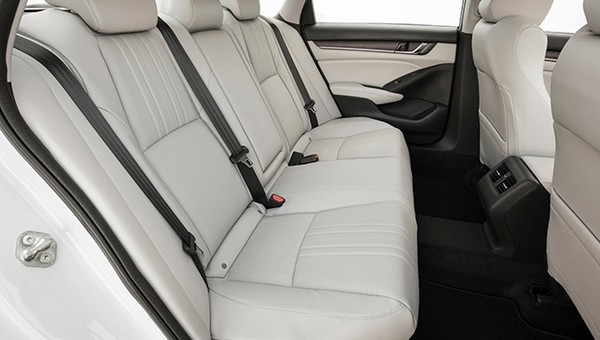 Inside, Honda has offered greater used of soft-touch materials
Other noticeable revisions for the interior mainly focus on improving the driving comfort for occupants. In particular, optimized padding is offered for the seats, enabling improved firmness, better comfort and side support. Not to mention, a 12-way power adjustment together with cooled and heated functions for driver's seat is also introduced for the first time.
Accessories
The all-new Honda Accord features a new Human Machine Interface (HMI) which comes loaded with an 8-inch Display Audio touchscreen interface equipped with physical knobs for tuning and adjusting volume together with a 7-inch TFT driver's meter. It is compatible with both Android Auto and Apple CarPlay. An 6-inch heads-up display can be found at models of higher trim levels.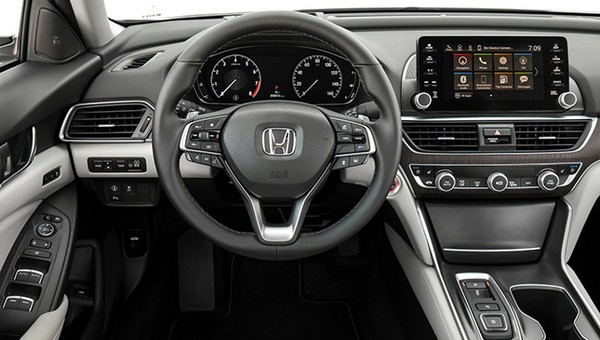 The 10th-gen Accord gets improved considerably in terms of driving comfort
In addition to the cameras to support maneuvering and parking, the next-gen Accord is still equipped with LaneWatch feature which offers an additional camera mounted on the right of the sideview mirror so as to provide a live feed of the blind spots. This handy feature has been highly appreciated by motorists who only have basic parking skills.
4. Honda Accord 2018 Review: Engine & Performance
Engine options
One of most welcome improvements for the new Accord is the introduction an all-new lineup of 4-cylinder engines.
Let's begin with the new 1.5L direct-injected turbo 4-cylinder engine replacing the current offering of a 2.4L 4-cylinder. Connected to a CVT transmission or a six-speed manual gearbox for the base model, the engine is capable of producing 192 hp at 5,500 rpm and 260 Nm of torque between 1,500 and 5,000 rpm.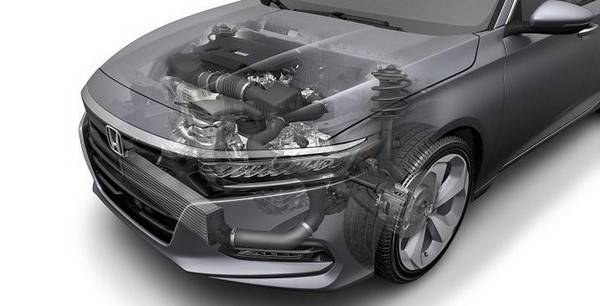 Drivetrain is one of the biggest changes for the new Accord
Meanwhile, the V6 engine option is no longer offered for the newest generation of Accord.  Instead, present on the car is a 2.0L direct-injected turbo 4-cylinder engine which is also found on the Civic Type R's mill. The engine is claimed to reach 252 hp at 6,500 rpm and 370 Nm of torque between 1,500 and 4,000 rpm, hooked  up to a ten-speed AT.
Lastly, the North America is also offered with a hybrid variant which is powered by a 2.0L Atkinson cycle 4-cylinder with a lithium-ion battery pack.
The current Honda Accord 2018 Philippines is offered in 2 variants, namely 3.5 SV Navi and 2.4 S Navi. The former produces an output of 277 hp, mated to a 6-speed automatic gearbox, while the latter delivers 173 hp, married to a 5-speed automatic transmission. Hopefully, the PH-market Accord will also receive the new drivetrain.
On-road performance
In addition to a new range of engines, the Japanese car brand also equips its midsize sedan with 29% ultra-high-strength steel which helps:
Improve torsional rigidity by 32%;
Enhance bending rigidity by 24%;
Decrease the overall weight by up to 80kg;
Lower the center of gravity by 10 mm;
Raise front-back weight distribution to 60/40.
Along with new drivetrain, the 2018 Accord also gets weight reduction in its chassis with new aluminum control arms attached to an aluminum front sub-frame. The rear multilink suspension is also revised so as to become more closed-packed while the bump absorption and driving comfort are significantly enhanced thanks to fluid-filled bushings.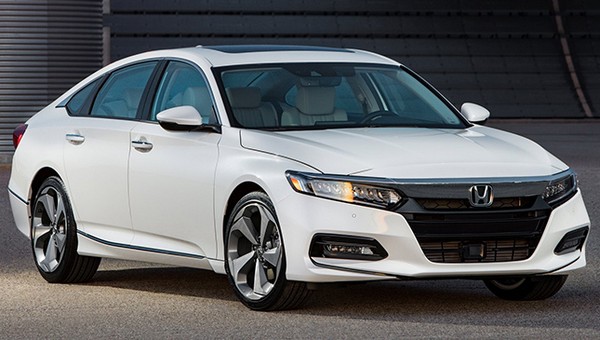 Besides new drivetrain, the 2018 Accord also gets a lighter chassis
It is worth pointing out here that this is the first time the Honda Accord comes equipped with an Adaptive Damper System. With this newly-added feature, the ride gets even more flexible as the damping force is adjusted by shock absorbers once every 1/500 of a second.
Standard on all Accord models is a 2-Mode Driving including settings for Sport and Normal mode. This system employs different drivetrain parts and multiple chassis which include:
Automatic transmission;
Adaptive dampers;
New dual-pinion variable-ratio EPS (electric power steering);
Active Sound Control system;
Drive-by-wire throttle.
In terms of driving comfort, the next-gen sedan receives significant improvement when it comes to cabin quietness. This highlighted change is made possible by a comprehensive sound-insulating system which is consisted of acoustic laminated windshield glass, full underbody covers, a set of alloy wheel with proprietary resonator technology, a new 3-microphone Active Noise Control system and sound-absorbing carpet.
5. Honda Accord 2018 Specs
Specifications for North American market
Honda Accord 2018 Specs
 Overview
 Body type
Sedan
 Length (mm)
4,880 
 Weight (mm)
1,860 
 Height (mm)
1,450 
 Wheelbase (mm)
2,830 
 Ground clearance – no-load/full-load (mm)
149/125
 Cargo space (L)
743
 Seating
5
 Fuel tank capacity (L)
56
 Suspension

Front: MacPherson Strut
Rear: Multi-Link (Adaptive Damper, optional)

 Steering

Dual-Pinion Variable Ratio
Electric Power Steering

 Wheel Sizes

Standard: 225/50 R 17
Optional: 235/40 R 19

 Fuel consumption

City - 8.9 (Est) L/100 km
Highway - 6.7 (Est) L/100 km

2.0L Engine
 Turbo Type
Mono-Scroll IHI RHF5 Turbo and Electric Wastegate
 Displacement (cc)
1,996
 Engine Horse Power (bhp)
252 @ 6,500 rpm
 Engine Torque (Nm)
370 @ 1,500 - 4,000 rpm
 Transmission
10-speed automatic transmission
 Direct injection
Yes
1.5L Engine
 Turbo Type
Mono-Scroll IHI RHF5 Turbo & Electric Wastegate
 Displacement (cc)
1,498
 Engine Horse Power (bhp)
192 @ 5,500 rpm
 Engine Torque (Nm)
260 @ 1,500 - 5,000 rpm
 Transmission
6-speed manual transmission / CVT
 Direct injection
Yes
Honda Accord 2018 Philippines specs
Honda Accord 2018 Philippines specs
(Nineth-generation version)

| | |
| --- | --- |
|  Model | Honda Accord 2.4 S Navi  |
|  Price | P1,884,000  |
|  Engine Size | 2.4L  |
|  Transmission Category | 5-speed Automatic  |
|  Power Train | Front-Wheel Drive  |
|  Max Output (HP) | 173 hp @ 6,200 rpm |
|  MAx Torque (Nm) | 226Nm @ 4,000rpm |
|  Fuel Type | Gasoline |
|  Wheel Size & Material | 17-inch, Alloy |
|  Seating | 5  |
|  Door | 4 |
6. Honda Accord 2018 Philippines: Price & Release date
Up to now, the official price list as well as availability of the 10th-generation Honda Accord has yet to be announced. Latest car news suggests that the North Amarican-market Accord models will still be manufactured at Honda plant in Marysville, Ohio.
While waiting for further information from the Japanese automaker about the car's release date to our country, let's refer to the table below for the Honda Accord 2018 Philippines price due to the new excise tax:
Honda Accord 2018 price in the Philippines

|  Model | Price |
| --- | --- |
| Honda Accord 2.4 S Navi | P1,938,000 |
7. Honda Accord 2018 pictures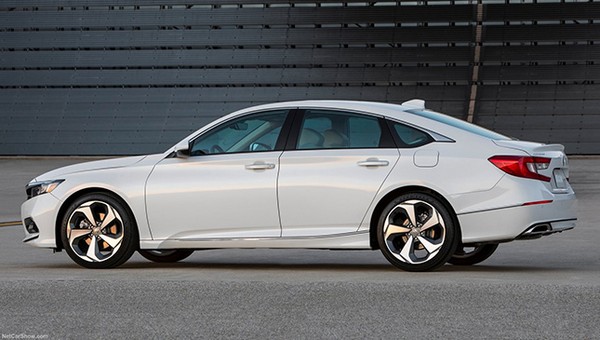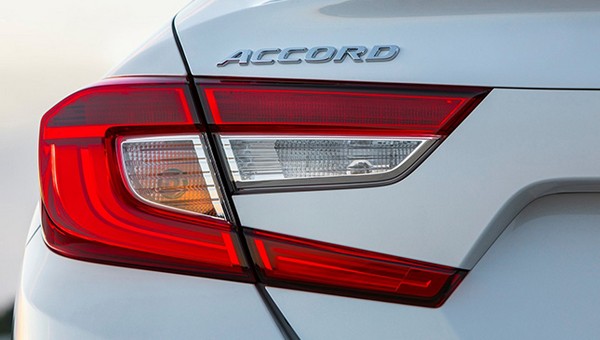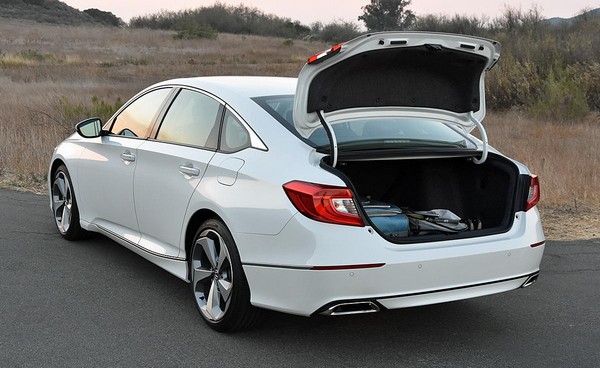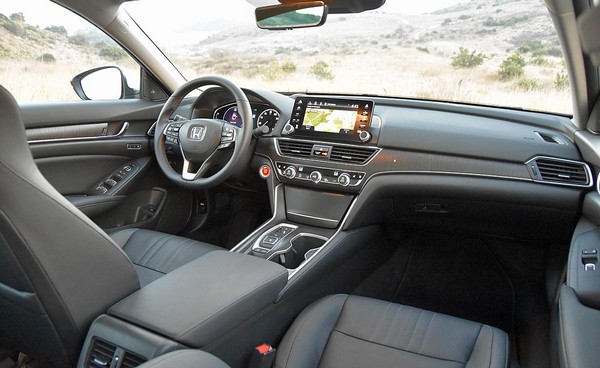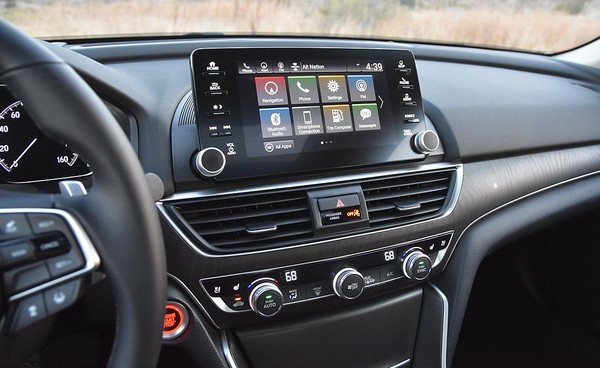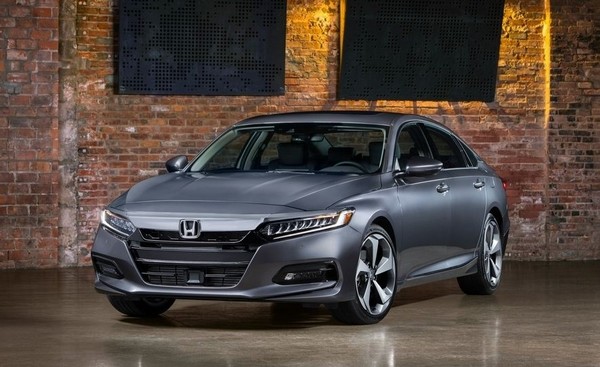 >>> Click here to find series of in-depth reviews for best-selling and upcoming cars in the Philippines